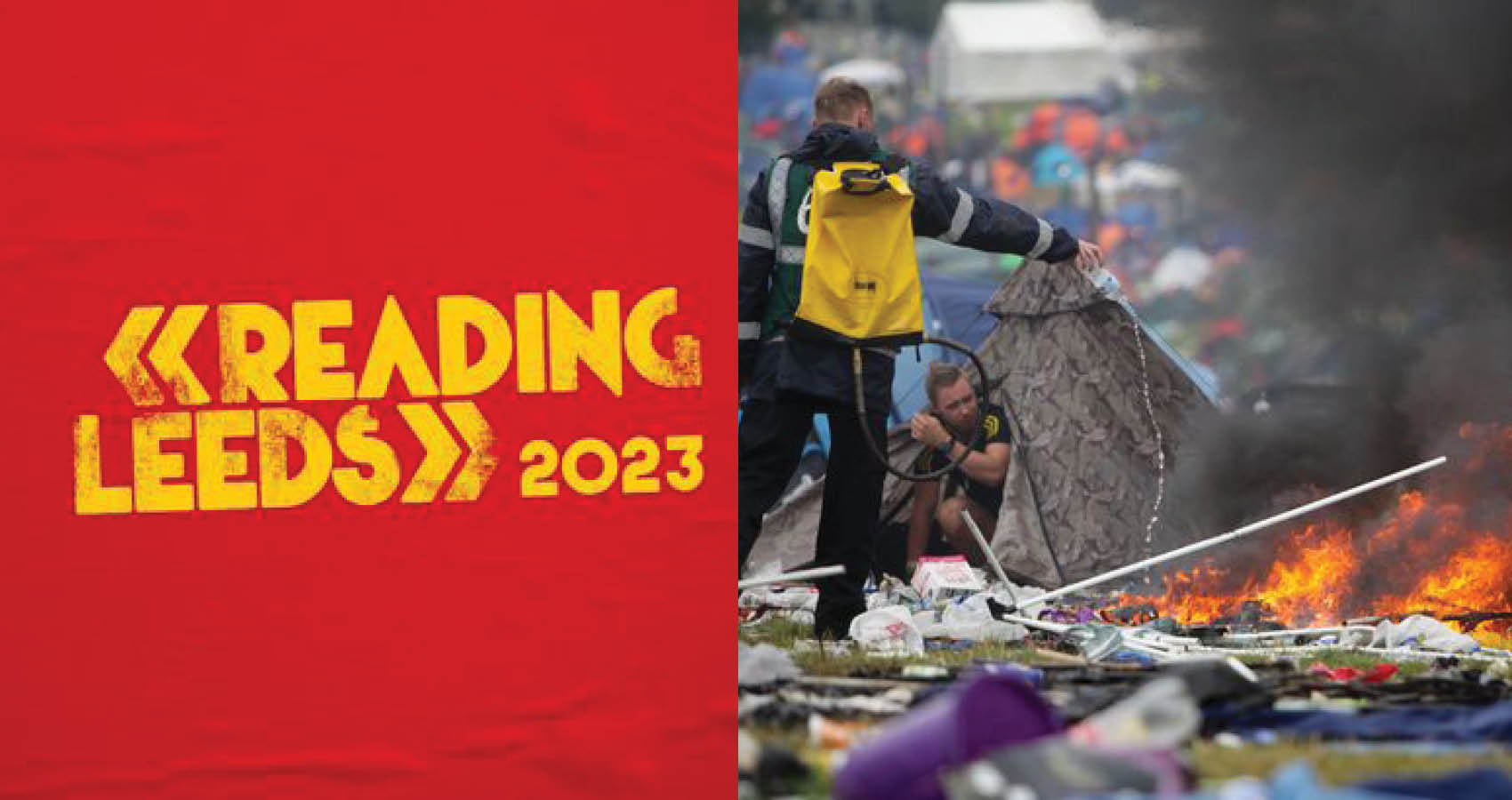 What on Earth is Happening at Leeds Fest?
Its (literally) going up in flames.
For a while Reading and Leeds were one of the best festivals for alternative music fans and festival goers, but social media has shared a side of the festival this year that shows fewer good times are more chaos. From tent burning to camp wars, clips seen on TikTok will have made fans who missed out on tickets grateful to be sat at home. So, what exactly is going wrong at the festival?
First and foremost, old school fans of the festival were not too impressed with the lineup, feeling that the original alternative touch the festival had has gone. With headline acts such as Meghan the Stallion. This in itself isn't really an issue, but originally festivals would have a genre niche so fans could go and see multiple acts they enjoy at once however this first idea is gone as promoters would rather sell more tickets as people of all different music tastes go to see their favorite bands. Yes, this isn't hugely an issue, however some fans were upset at this and a good example of why this might be an issue was at 2022 TRNSMT, where indie band Wolf Alice were booed by fans waiting to see Lewis Capaldi. This is incredibly unfair on the band as their crowd was filled with people waiting to see an artist of a completely different genre. There was no issue with the groups performance, they have even been described as "the best band at reading", it was just the crowd were fans of pop and waiting for slow ballads. Had the group opened for a rock act the crowd would have been much more supportive. Yes, this is mostly an issue with the crowd who do not follow the etiquette of supporting and respecting all artists, but the situation as a whole could have been avoided
On the subject of lineups, another issue fans had was with the festival was with a performance of one iconic band in particular. Arctic Monkeys are a pretty important band for many festivals and draw a big part of the crowd, having played four years prior, making 2022 their fifth and headlining a lot of people were excited to see the band. Fans however expressed disappointment and a lack of energy on stage with the group appearing uninterested in the performance, and disengaged with the crowd. It's completely normal for some bands to not really engage with crowd but a lot of people seemed to think their performance stood out as poorer that the years prior which is a small issue but still an added disappointment to a weekend many looked forward to.
So, before the festival even began some people were feeling disappointed at the line-up and headlining performances, however this is nothing compared to the other issues present at Leeds fest. Arguably the biggest issue was many felt the event lacked security which is the most important thing at festivals. With them being places full of pushing, shoving, drugs and alcohol. Its completely normal for things to be taken too far at gigs and live music events but without security things get dangerous. Videos are circling of tents being set on fire and bottles thrown, some while festival goers chant "let's go f*cking mental". To them it was probably harmless fun, but other festival goes expressed fear as they were told to stay awake in case of fires, others reported being hit with litter, cups and even tent pegs and bottles. In addition to this there was flooding at the start of the three day fest, meaning many lost belongings to the floods and were left in damp clothes all weekend, this means the fires and chaos were much more than just the icing on the cake for many.
A lot of music lovers expressed leaving early out of fear for their safety and the general overall negative atmosphere, as all around there was fire, fighting and people passed out. All issues that could have been avoided with better security. Festival tickets are not cheap so to just up and leave gives a good idea of just how bad things got. Thankfully there have been no serious reports of injury but the risk was certainly far too high, and it is unlikely anyone will be refunded tickets or given compensation for lost belongings.
It's safe to say that Reading and Leeds 2022 will be up there with the 2005 floods as one of the worst years for the festival and memorable for the wrong reasons.
Up Next, On The Eve of Turning 100: Dickies Launches "Dickies Icons"