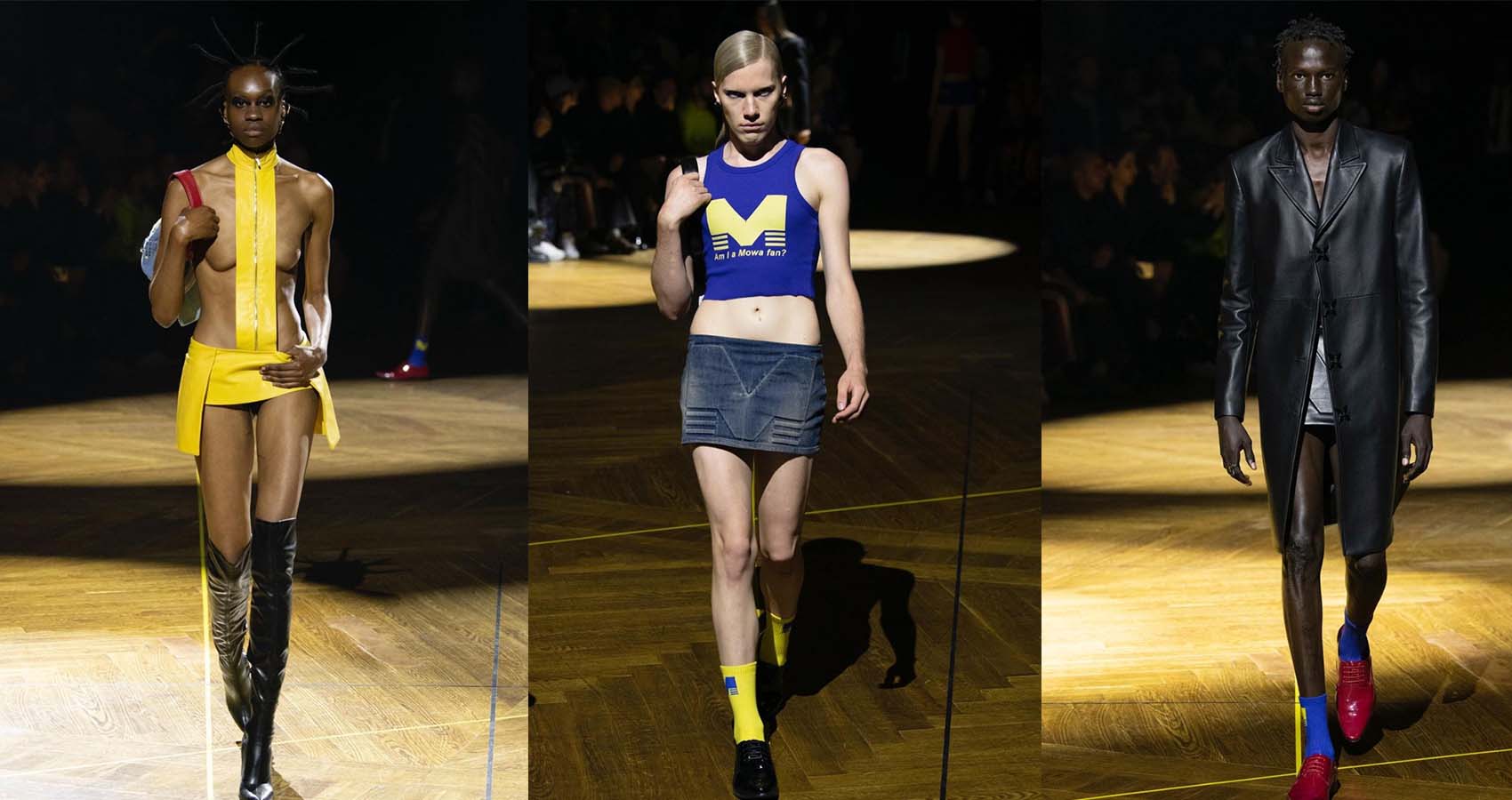 Graphic Eyeliner Took Center Stage At The Mowalola SS23 Show
The runway makeup looks were criminally captivating.
A three-year hiatus didn't stop Mowalola from taking Paris Fashion Week by storm. For her inaugural Spring/Summer 2023 show, the Nigerian-born designer conceived "Burglarwear," an off-beat collection inspired by thievery. The catwalk was rife with asymmetrical silhouettes and skirts shorter than micro – so good it's criminal. But the show hinged on beauty just as it did fashion, with dramatic kohl eye looks topping off the sartorial spectacle.
Makeup artist Inge Grognard (favorited by the likes of Balenciaga and Jean Paul Gaultier) took the reins backstage. If she wasn't bringing smolder to the eyes, she was cultivating dewy, air-brushed skin. A stand-out look featured black liner extended towards the bridge of the nose and along the water line. Browless faces accentuated the kohl-rimmed eye, especially because the rest of the makeup was kept minimal. Grognard didn't shy away from vivid colors either. Mowalola's sultriest dresses were paired with a bright red cross stamped across the face, if not electric blue smokey eyes.
Exotic updos, courtesy of hairstylist Virginie Moreira, paralleled the makeup looks. While a handful of models wore their hair slicked back, others stunned in spiked-up hairstyles that gave a spider-like aesthetic.
Mowalola's SS23 show proves that graphic winged eyeliner is in vogue this season. Take it from perennial muse Julia Fox, who made headlines with her cybergoth take on the trend. Neo-noir eyes have since become ubiquitous in the fashion industry – Roberto Cavalli, Versace, and Schiaparelli have all sent models down the runway in exaggerated wings.
Suffice to say, Mowalola delivered feline sex appeal from head to toe this year. After leaving Yeezy Gap, the designer set the bar high for her return to the ready-to-wear scene.
Up Next, Bella Hadid Shaves Her Head For The Marc Jacobs Show.