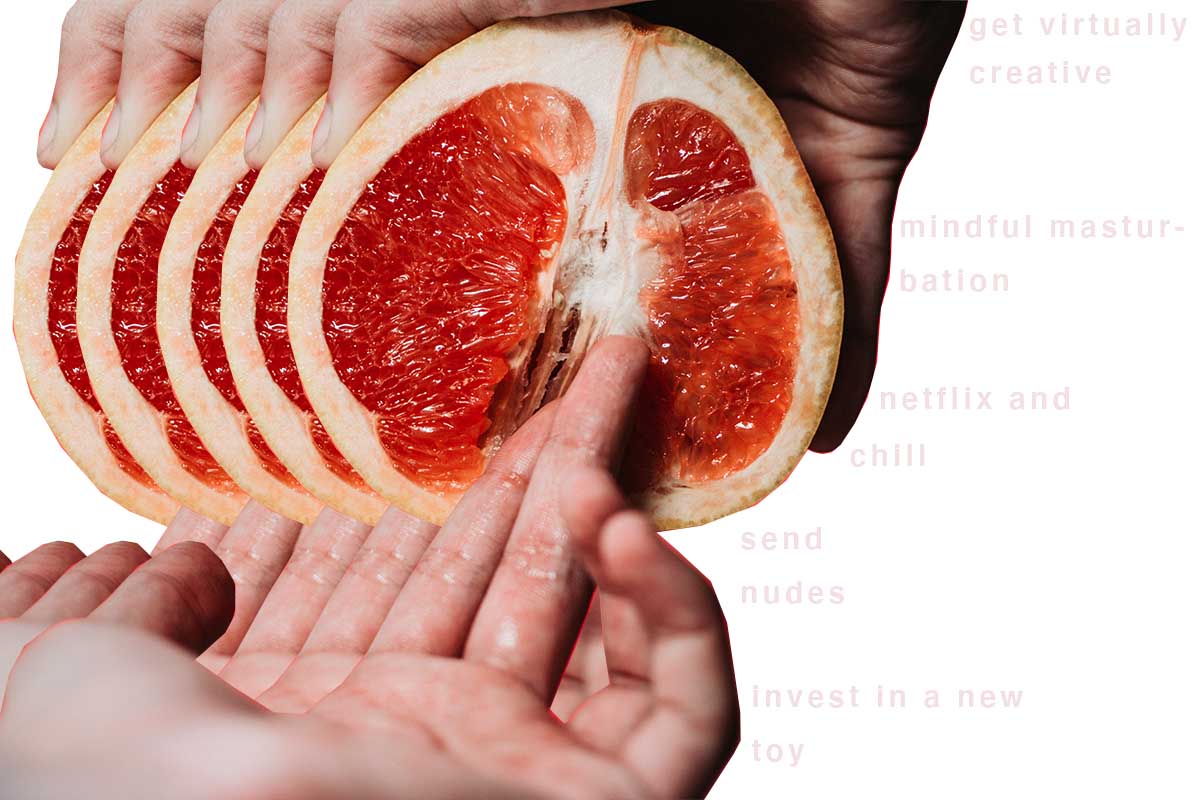 How To Keep Your Sex Life Alive During Lockdown
Top tips from a sex and relationship therapist.
We've spoken a lot about our physical and mental health during lockdown but there's something important we've neglected, sex, or the lack of it.
Although COVID-19 may have put a stop to our sex lives, we spoke to Kate Moyle, Psychosexual and Relationship Therapist and Certified Psycho-Sexologist and host of The Sexual Wellness Sessions Podcast about all the things we can do to keep the spark alive with our partner.
Sex is beneficial to both our own well-being, and the health and happiness of our relationship. Not only do orgasms boost our happiness, but sex creates intimacy and pleasurable experiences with our partner and it aids our physical health. According to Kate, "sex and orgasms can make us feel good about ourselves, and pleasure and orgasms can reduce stress and lower the hormone cortisol".
To get into the science behind it, during sex our body releases oxytocin, also known as the 'love hormone' or one of the 'happy hormones' because it increases our serotonin and dopamine levels (the hormones that stabilizes our well-being and happiness), therefore we feel a happiness boost. Kate adds, "sex can also improve sleep as the hormone prolactin released in orgasm makes you feel sleepy and relaxed".
But on an emotional level, sex can make us feel closer to our partner and it can connect our emotional selves to our physical selves by showing love to our naked body. A 2017 by Debrot et al., study concluded "sex seems not only beneficial because of its physiological or hedonic effects…but because it promotes a stronger and more positive connection with the partner".
Our five top tips:
Get virtually creative - it may be daunting at first, but think of this experience as a new opportunity to explore each other, and more of your own desires. Exchange risqué texts or even write your own erotica, send nudes or FaceTime your partner while masturbating. This personalized activity has the power to satisfy both your emotional and physical needs.
However, Kate suggests having a conversation about it first, "translating your sex life to a new medium or platform may just take some getting used to, but if you haven't clarified your yes/no/maybe list then you don't know what to expect from each other and this might cause some worries or anxieties that will hold you back from enjoying yourself. Talk about what you would like - is it sexting, sharing photos, video sex or phone sex?".
Dating and relationship expert at Dating Scout, Chris Pleines reminds us to use a secure platform if you are exchanging conversation, pictures and videos virtually.
Mindful masturbation - let us explain before you write it off! Kate says, it isn't "about changing anything in the act of what you are doing, but is about how you are doing it" by being mindful of and intimate with your physical body. You masturbate as if you were loving your body and the practice involves conscious breath, mindful movement and touch. No one ever taught us how to masturbate, it's still considered a taboo subject for many so it's only natural that we haven't discovered all there is to explore yet. Plus, you've probably got into the same routine, doing the same thing each time so this is your chance to really get to know yourself and your sexual desires.
Kate also suggests using the Love Sleep products from This Works and turning off any tech and distractions to fully embrace the present moment.
Send nudes - simple but effective. Firstly, putting on your favorite lingerie and making yourself look and feel sexy will give you a confidence booster. Secondly, your boyfriend / girlfriend will love it, especially when they're least expecting it! But, Kate notes, "if you are sharing images then make sure that you set rules around how they will be stored etc, and you may want to think about keeping your face out of any nude photos".
Invest in a new toy - plan a FaceTime date and choose a new toy to purchase together. If you've never bought a sex toy then it may feel a little awkward, but they're designed to help your sex life and improve pleasure so don't feel embarrassed. If you want to take it further, you can buy vibrators that your partner can control via an app to make your remote sex life fun, exciting and spontaneous.
Netflix and chill - kind of like porn, but watching a raunchy movie is a little more intimate. Choose a movie, watch it at the same time and text each other about it. It may be beneficial to find a movie that relates to you as a couple too in terms of your emotions.
Any relationship can still be perfectly healthy and enjoyable without sex! and if you're struggling to find an emotional connection at the moment due to distance, Kate suggests researching emotional conversation starters or buying games like 'connect' from The School of Life. Additionally, Chris encourages us to be mindful of each other's love languages to best show our love and intimacy.
Experiment
When it comes to sex life, it's easy to get stuck in a rut and get used to a certain routine. That lack of passion in the bedroom can ruin seemingly perfect relationships. Even if you don't have a partner and you develop a certain routine, your sex life will become monotonous and no longer will be a source of joy and excitement.
Fortunately, lockdown offers new opportunities for self-discovery, and you should use this time to its fullest! If you want to spice up your life in the bedroom, try going out of your comfort zone. Sweep your partner off their feet with a new sex swing, or change things up and buy sexy outfits to dress up. If you're feeling lonely, you may even consider getting a sex doll - check out Silicon Wives and see for yourself how realistic they can get! You can also try new positions, and get intimate with your partner anywhere but your bedroom. Don't be afraid to experiment and change things up - you'll bring that spark back in no time.