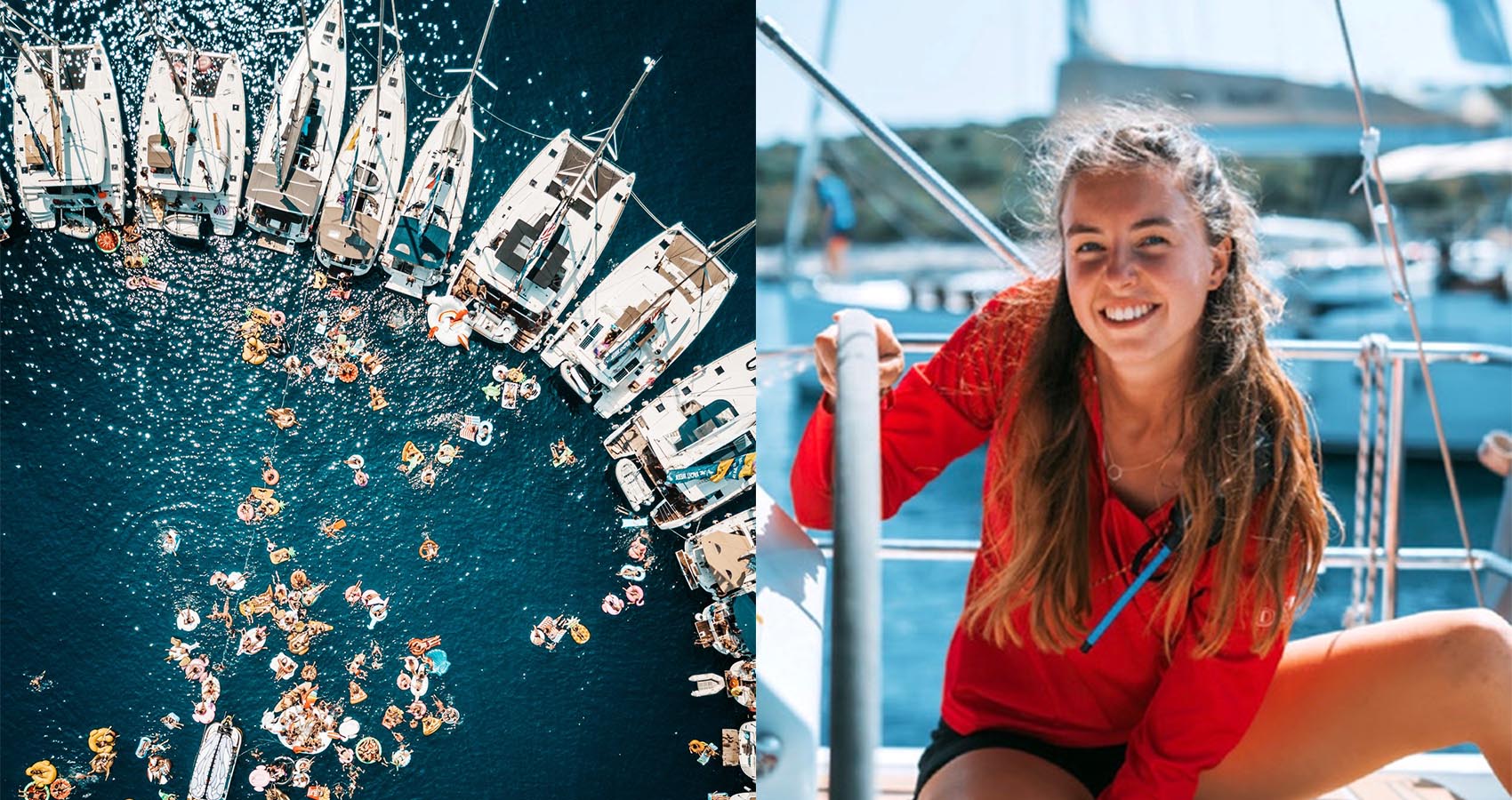 The Yacht Week: We Meet The Female Skipper Subverting Gendered Stereotypes
Read the full interview below.
Dubbed "the best week of your life" – the original floating festival is a seven-day sailing excursion, docking at a range of exquisite destinations. From picturesque backdrops in Croatia, Greece, and St Lucia, to showstopper parties – what more could you want?

With a range of preferences available to tailor your trip exclusively to you – the unique travelling experience provides a pocket of paradise for all twenty-somethings looking for an escape.

Shedding an insight into what life is really like on board is female skipper, Livs Housley. The 25-year-old spoke to us about challenging expectations – both personally and professionally, revealing why it's never too late to embark on a career change.

You are currently studying for your master's degree in Psychology and Neuroscience of Mental Health. How did The Yacht Week originally come about?

I first heard about The Yacht Week from someone who was going to be a guest. Realizing that I couldn't afford it, I mentioned it to my sister, and she pointed out that I had the skills to work as a host. Our mum is a chef - I grew up knowing how to cook and I love being on the water. I originally worked as a host when I was finishing my history degree, prior to undertaking my masters. I applied with the intention of only doing it for one summer – but I knew deep down that I would rather be a skipper.
What sparked your decision to change job roles?
To get qualified as a skipper takes a lot of time – the money is a big investment. However, I realized that I'm here to be on the water – not to cook. So, that's when I made the switch. When I was due to start my year-long masters, I applied for a part-time course, which allowed me to pursue both avenues.
Tell me about the training program at Quarterdeck. It seems like a grueling process – but a rewarding one, I'm sure. Did you have any sailing experience prior?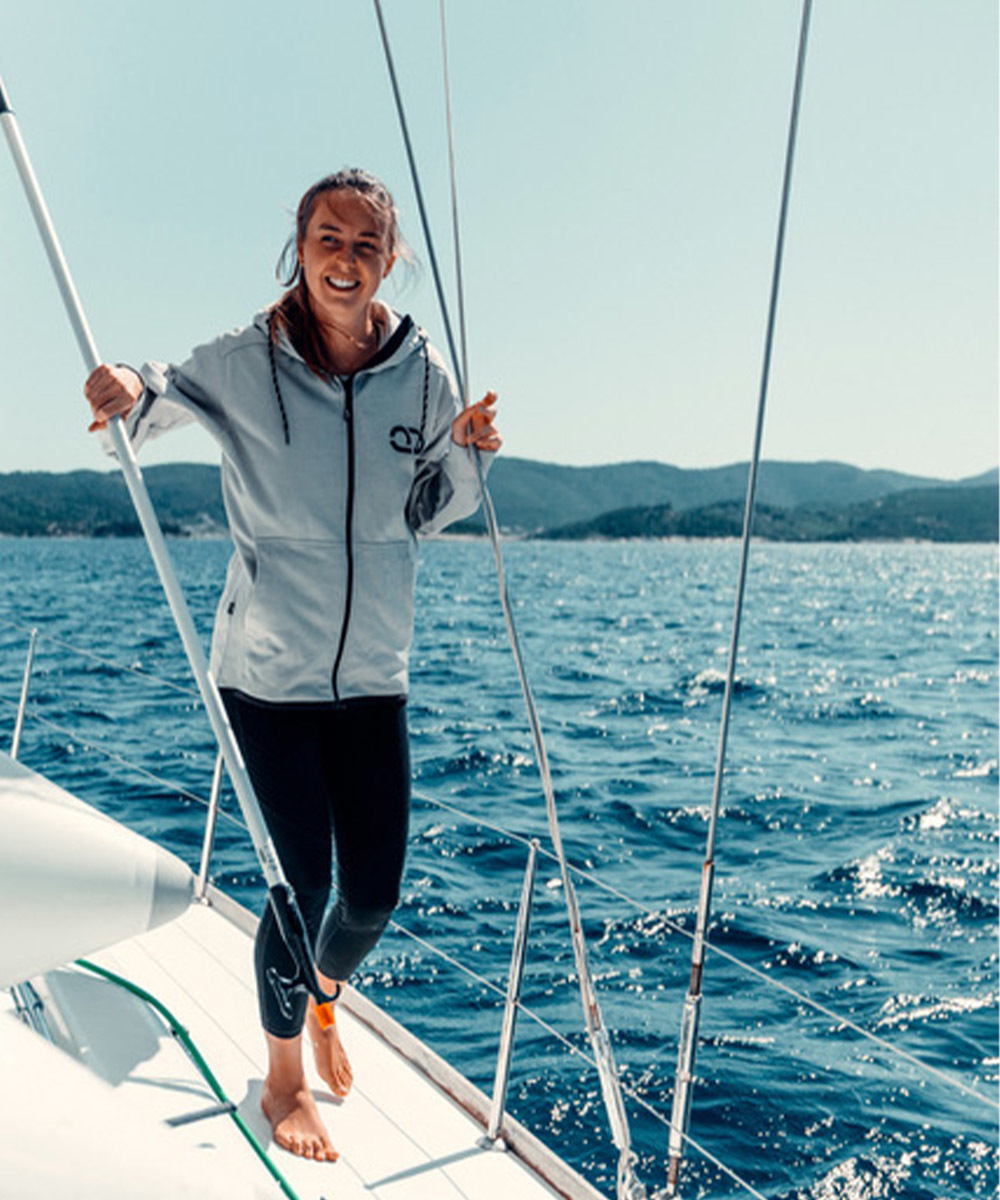 It is. For me, I went from very basic sailing skills to getting my yacht masters – which is a time-consuming process. It's different for everyone - a lot of the skippers I know grew up sailing and had that basis of knowledge. You have to spend two to three months on a boat so you can build up your miles, and then you take a theory and practical exam - that's the first step. Then, if you want to work on deck, you enroll on the Quarterdeck Academy, which is potentially the most intense week of your life.
I can imagine. I presume, compared to the hosting - it's completely different when training to be a skipper.
It's incredibly stressful when you're doing Quarterdeck Academy for the first time – regardless of which role you're going for. The whole thing is a week-long interview – you're being watched the whole time. They want to get a sense of who you are by testing you in different situations. Not only does your sailing have to be competent – your personality needs to be the right fit for the company. It's worth it in the end though.
The Yacht Week is described as "the best week of your life" - does the lifestyle on board ring true to its idyllic reputation?
From a guest point of view, I would say it's the best week of your life. For staff, it's hard to say, because you work day in day out – just like any job. However, despite the ups and downs - I would definitely say that it's the best job in the world. I love the sailing and sense of freedom you get when being on a boat in general. The other skippers and hosts become your family – no one understands what it's like to work for The Yacht Week unless you have.
There must be quite a stigma against female skippers. Stereotypically, I would imagine that there is an expectation for women to take up the hosting role. Have you experienced any prejudice from male colleagues for being a skipper?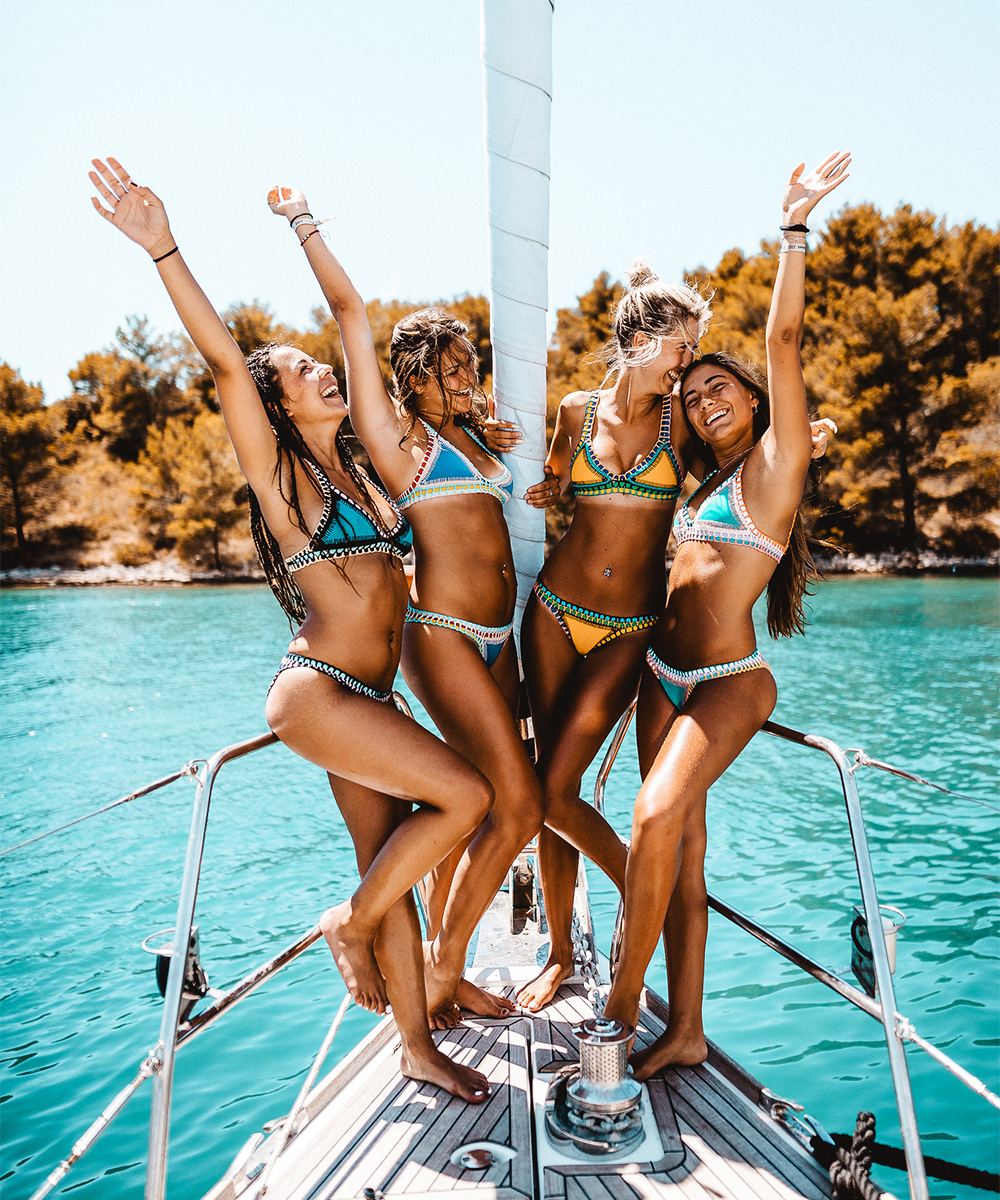 There is an element of having to prove yourself - it's easy for people to assume that you're not as good at something just because you're a girl. I have a huge amount of respect for the female skippers that come in and aren't hosts first, as they've clearly grown-up sailing and just love what they do. They aren't taking the easy route – and I think there's an element of mutual respect amongst most male skippers for that.
Given that you're challenging gender stereotypes within your industry – is it a career that you would encourage other women to embark on?

Absolutely. The more girls that are out there, the more we can support each other. The industry is always changing too. In the year just gone there were twelve skippers in the week that I spent at the academy, and over half of them were women.
I believe you only work during the summer months at the moment, for a season at a time. Is the role really that lucrative, financially?

A large part of your income is tip dependent. It's a standard practice within the industry, and it's completely up to the guests own discretion. Our base pay rate isn't huge - the tips are what we are working towards. It also depends on what kind of lifestyle you live outside of yachting. Some people will work the summer season, and then they'll go to the Caribbean and work freelance or do private charters. I think sailing is the most effective way to be able to work and save – ultimately, you don't have any living expenses.
What is the end goal for you career-wise? Are you keen to progress in this industry, or do you have other ambitions?

I want to create a workshop for schools, which focuses on teaching people how to ask for help when they're struggling – an extension of life learning. My goal is to prevent young people needing therapy later in life. I'd love to have the freedom to still go and sail for six months of the year – but ultimately, I want a land life. My family and friends are here, and I want stability.

In today's climate, there is a large emphasis on "corporate" job roles, meaning that many "unconventional" work opportunities are missed or not known about.

What is your stance on this? Does more need to be done to highlight the more eclectic job market?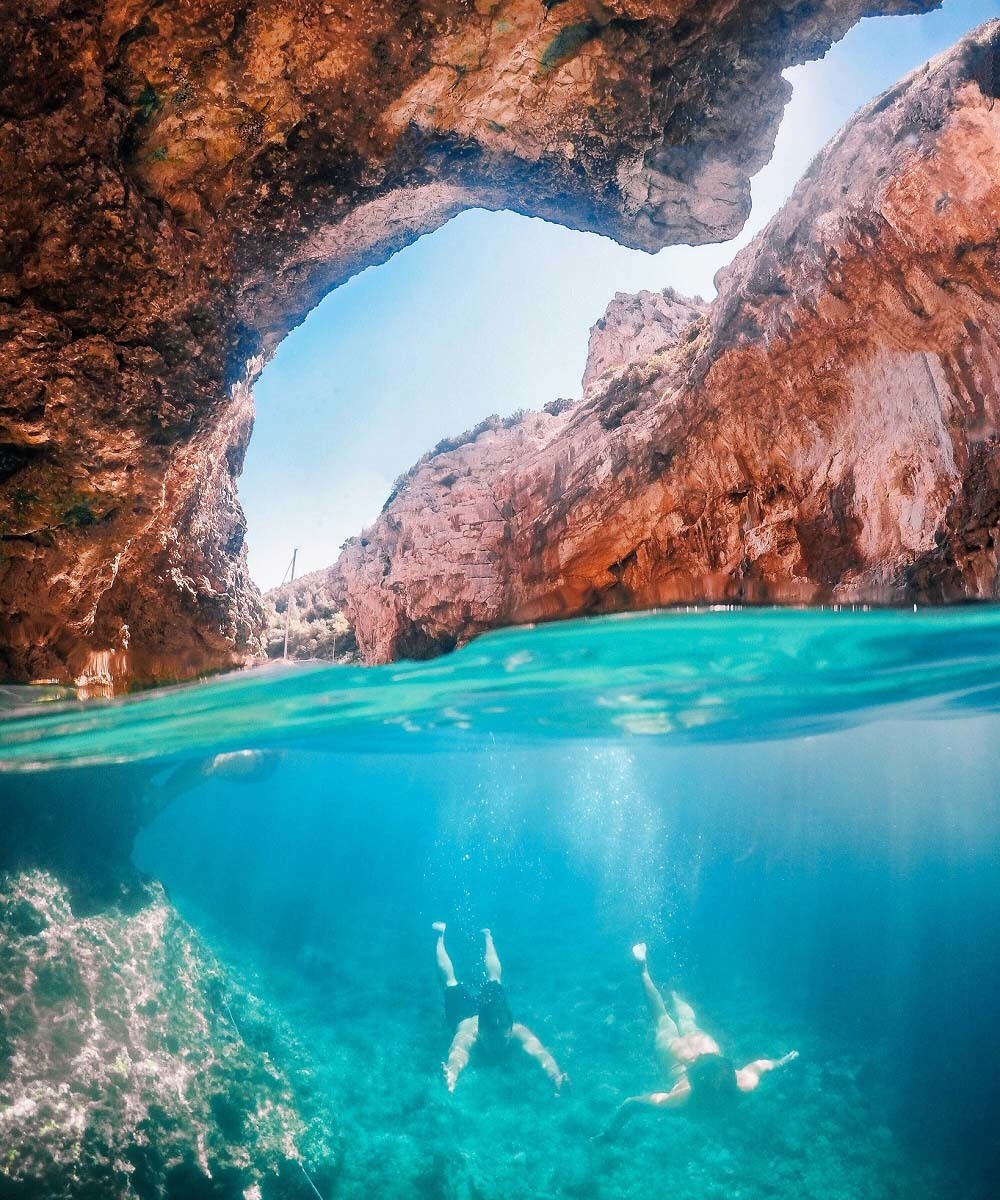 Absolutely – it all comes from the education system. There's a lot of pressure, particularly once you get to university, to secure a great job when you come out. I had friends who had jobs lined up from the February beforehand, but I had no idea what I wanted to do. With "Below Deck" being the only mainstream show that documents yachting - it almost makes people feel as if they have the right to comment on what I do. A lot of my friends have these "career" jobs that they're so proud of, but when we have a conversation and I share what I love - it's a completely different thing. My idea of hell would be being sat at a desk all day.
What advice would you give to young, upcoming professionals who are thinking about a career change?
You should always do what's right for you and trust your intuition. I would also say to learn as much as you can from as many different people as possible. All your skill and knowledge come from experience – and everyone can teach you something. I think COVID has taught us all that life is short, and that we should make the most of every opportunity. Life is supposed to be fun, and you've just got to go along for the ride – work to live, not live to work.
Applications for the Quarterdeck Academy are open now until the end of February 2022. Apply now to secure your place!