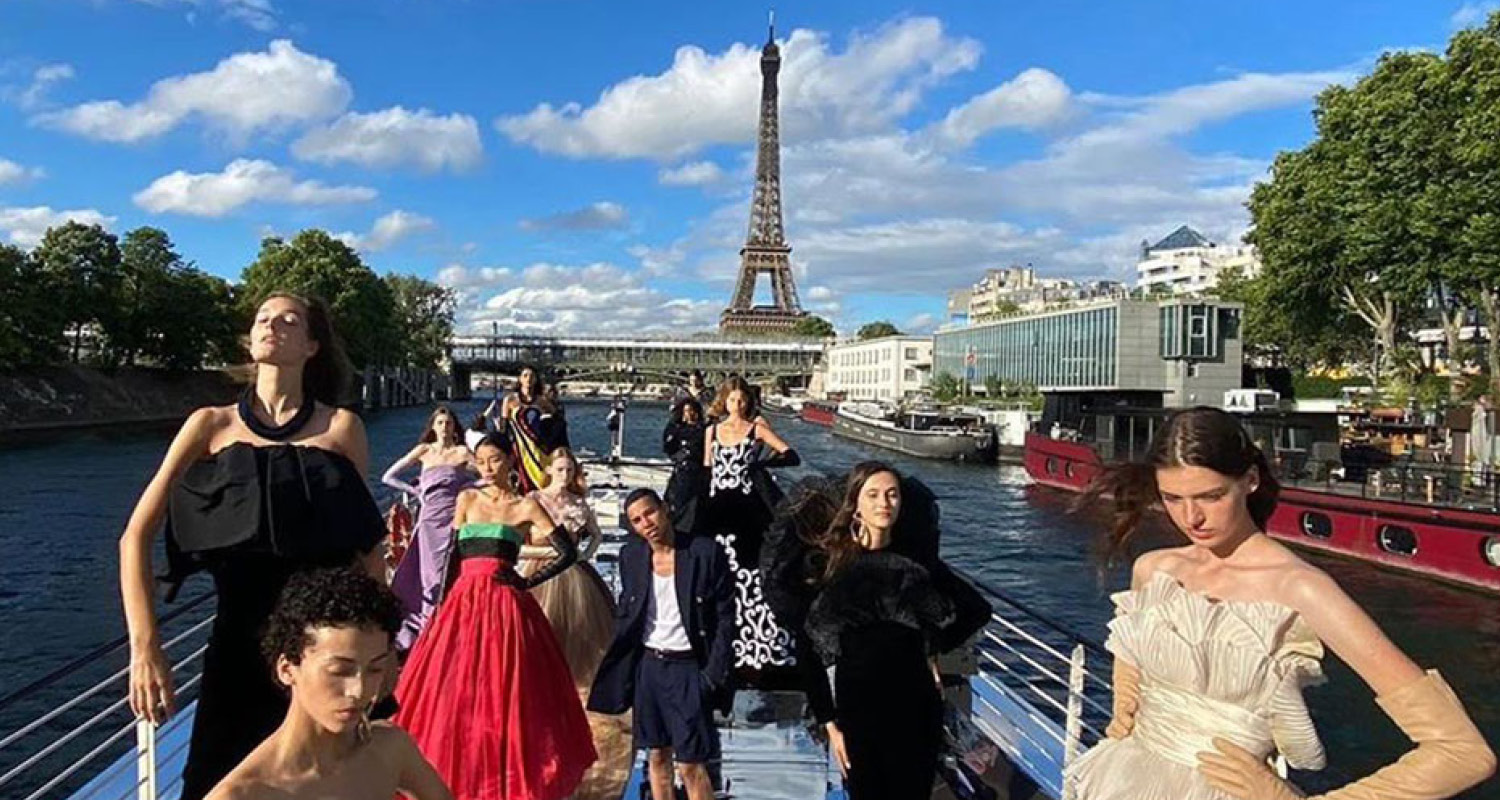 Balmain Take Us On A Boat Trip For Couture Week
Fashion, but make it float.
Couture Week is always an elaborate affair. The richest of the rich rub elbows with each other and greedily decide which beyond extravagant pieces to throw their money at this season. The others, (that's us) watch from afar, unable to comprehend a world where a dress can set you back a 7-figure sum. But we enjoy the spectacle of it all the same.
This year, with traditional Fashion Week being turned on its head due to COVID-19, Couture Week was first up to test the waters (literally in Balmain's case) to see how ready-to-wear will cope in September.
Creative Director of Balmain, Olivier Rousteing, thought outside the box about how he could make the brands 75th couture show a celebration following a dark few months, and also how it could be inclusive for the people of Paris to enjoy.
The solution took place last night on July 5th, as 21 socially distanced models sailed down the river Seine on a barge, wearing archive Balmain looks, allowing the public to view from the bridges and banks of the river. Entertainment was provided en route, with dancers and live music adding to the atmosphere of the event as the boat sailed towards Notre-Dame Cathedral.
Rousteing mixed some of his own iconic runway looks with archive couture pieces dating back to 1946, from founder Pierre Balmain and his successors, Oscar De La Renta and Erik Mortensen. Luckily, the weather was idyllic, and the evening sunlight reflected from the boats mirrored floor, making golden hour seem that little bit more golden. Elegant strapless evening gowns from the past made way for Rousteing's more recent embellished mini dresses, all made to look even more spectacular when accessorized with the backdrop of the city.
Afterward, Rousteing reflected on Instagram, 'My point was spreading some beauty and love in the world that we are living in. It was so beautiful, millions of people all around Paris enjoying this moment and sharing it with you.'
Next Up, The Year Of Digital Runway