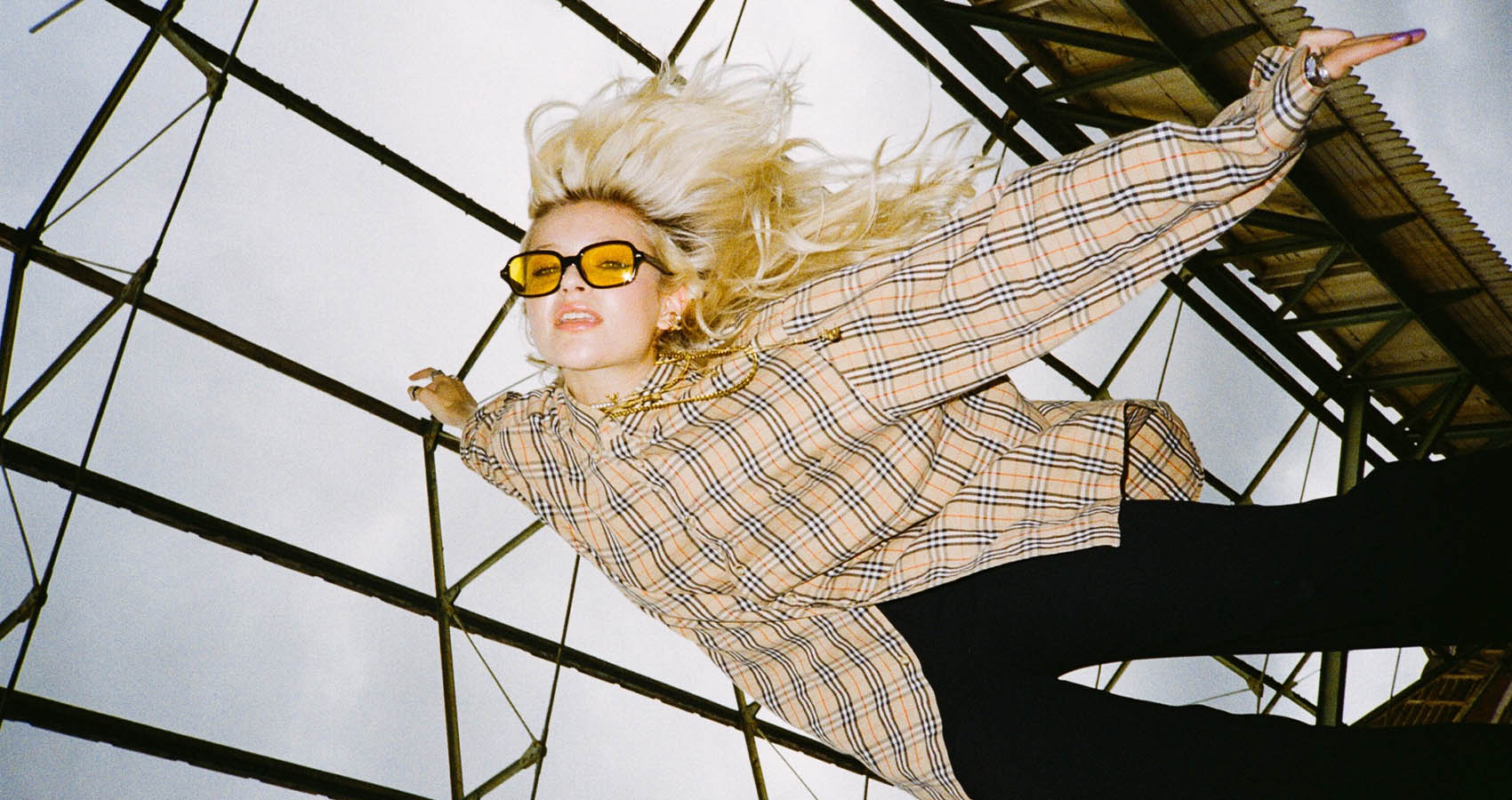 We Talk To Dylan About Harry Styles, Taylor Swift, Misogyny And Haters
'If you're too much for someone, then they need to find less.'
She describes herself as an incredibly emotionally intelligent person with main character energy. Add an incredible voice, charisma and endless energy bursting out on stage and you'll get a music star that 2022 needs. Meet Dylan, a badass musician, dedicating her newest single 'You're Not Harry Styles' to everyone who thinks they deserve better. On 23rdFebruary, she's playing her London headline how at The Garage. Two months ahead of it, she opened up to us about misogyny in the music industry, reclaiming of sexist slurs and… her ultimate type.

You won't believe it but whenever someone is too full of themselves, I always tell them to slow down cause they're not Harry Styles.
Ahhhhh, you see, I think it's something many of us have in common!
What is so special about Harry that you decided to use his name as the epitome of a perfect man in your newest single?
Granted I don't know Harry personally, I can't say whether he is the perfect man or not. But what I can say is the way he presents himself as a human, emotionally and physically, is otherworldly and beautiful. I think it's fair to say everyone is in love with him; but I chose him specifically because the person who inspired YNHS seemed to believe that they had the same quality.
So, other than Harry, what is the single 'You're Not Harry Styles' about? How did it come to life?
The whole song is a wonderful juxtaposition. Half of the lyrics are complimenting the subject, and the other half in essence are begging them to pipe down. The song is exactly what I needed as I was so done with feeling worthless. It was a very quick song to write, and very quick to finish.
Did it feel vulnerable or rather liberating to scream out to the whole world what your ultimate type is?
I wouldn't say Harry is my ultimate type, because I'm not sure I have one in general, but I absolutely have no shame in saying that I fancy the bloke.
Are any Harry-Styles-wannabes reaching out to you, trying to reassure you that they actually are like him?
Hahaha, no wannabes as of yet have reached out, but probably, because after writing that song, they're terrified to try.
They should be because the song is becoming incredibly popular. Why do you think the hashtag #yourenotharrystyles reached over 4 million views so far?
I think it gives people the opportunity to embrace seeming 'flaws' and get their power back. My constant goal is to aid people in getting their confidence back after being shot down, or heartbroken. The trend is important because everyone that has participated in seems to get a sense of relief as the final effect. And so do I. Like dude, no, you can't do better than me.
And similarly, many of your songs seem to be filled with empowering, authentic, and relatable female rage. That's why, on the one hand, you maintain an admirably coherent style, yet, on the other, we are noticing a wonderful artistic growth, after two EPs and three fresh singles. Do you draw your inspirations from one big story or multiple experiences?
Multiple. I think in the first two EPs it was petty teenage drama, I was so angry about the way that I was being treated that I put it all on them - but I've grown a lot since then. I think that now I address my own feelings in my songs, which makes them way more relatable.
Have the reactions to your music changed in this case?
The songs are gaining so much more traction now because I'm not trying to hide anything anymore, I'm just saying it how it is.
Last year, in one of the interviews, you mentioned that you received a lot of backlashes from ex-boyfriends, expecting even more after the release of 'Red' EP. How is it now? How do you think it will be after the single 'You're Not Harry Styles'?
Yes, there will always be backlash, but the point of these new songs is that I was in love. Completely and utterly head over heels for the first time, which increases the emotion by one million percent. I have no resentment towards the experience I wrote these songs about, and I don't think they do either. As far as I've heard they've resentfully enjoyed the songs! But my private life is private, and I'm happy to take the backlash.
Speaking of backlash, I can tell that you have quite a few things in common with Taylor Swift, although probably not musically. Not only do both of you like Harry Styles and color 'Red,' using it as the title of your albums, but also, you're both criticized for being unapologetically honest.
I love Taylor Swift. In fact, I came to the conclusion the other day that she is almost writing my existence. She has taught me that it's okay to write your truth, and it doesn't matter what the haters think, because you are helping so many more people scream theirs.
And yet women like her, speaking openly about their emotions and relationships, still receive criticism. Is this approach currently changing?
I don't think the world is changing and unfortunately, people are still mad when women address their feelings, and they always will be.
Has someone been mad at you for this reason? Have you ever been told that you are overly emotional or overdramatic?
Heaps of times. But I don't think it's a bad thing. I see it more of a compliment. It just means I am an incredibly emotionally intelligent person with main character energy. I saw a quote the other day that said if you're too much for someone, then they need to find less. So, take that.
Or maybe they're just not enough. I think this is exactly what your music expresses. For example, the track 'You're Not Harry Styles' ridicules the sexist phrase 'dumb blonde,' whereas the previous single 'Someone Else' is dedicated to 'psycho' girls. Moreover, on one of your recent Instagram stories, you shared that Urban Dictionary defines the name 'Dylan' in a 'short and sweet' way as 'a bitch.' You are clearly reclaiming these misogynist slurs and imposing a new meaning on them. What message do you wish to send across, particularly to women who heard them?
Unfortunately, I don't have much of a filter, I say what I think, and I am not afraid to do it. If that makes me a bitch, so be it, I don't really care. The only problem I have is when these words are used towards people who don't deserve them. It's such a tricky topic because I've been in the position where I've deserved to be called some of these slurs, and also not. 'Someone Else' is a great example, though because loving someone shouldn't make you a psycho, but I was projected to feel like one. I love taking those words and putting power in them.
How does it feel to literally perform them on stage?
It seems to set a fire inside people when they shout them live. It's like we're taking the words created by men and taking them back as our own.
So, is misogyny still doing fine in the music industry?
When I first started as a musician, I was eighteen, and I had had a very sheltered childhood. I was incredibly naive going into the industry, so at the start there was some disquiet, yes, but I was completely oblivious to it, until I spoke to my management. You have to grow up very quickly doing music and I have been incredibly lucky to have an extremely protective team. There's always going to be misogyny, but my mother taught me to stick up for myself and so I do. I will not be made to feel less because of my gender and think that goes for every gender. The business is changing.
That's great to hear. Another positive change in the industry is that live shows are back. You play your London headline show in February in The Garage and I think your aesthetics perfectly matches this venue.
I agree, I played my first gig in The Grace which is above The Garage, and all I wanted was to be playing in there.
Are you preparing anything special for this gig?
I think it's definitely going to be special, but I won't give anything away yet.
It's not your first show though and you have already played quite a few. How has touring treated you thus far?
It has been amazing, I just adore playing live and meeting people. God, it feels good to be back.
Up Next, We Interview Queen Millz, the UK Rapper Redefining What it Means to be a Queen