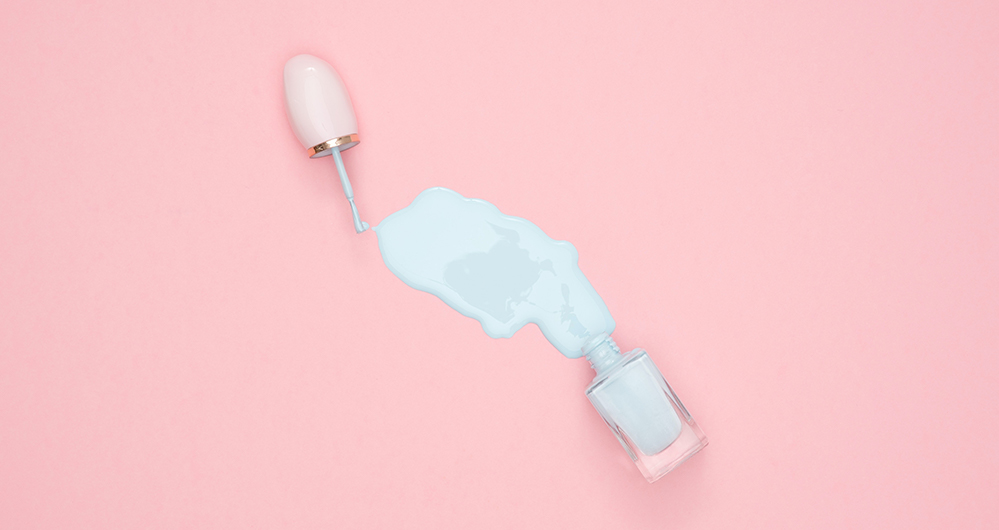 The Ultimate Pastel Nail Polish Guide
It's time to give your manicure some serious spring cleaning.
Spring has sprung, and as style lightens up for sunnier months, it's time you give your nails some much-needed attention. So, grab your nail polish remover, and let's shed that winter coat of dark polish for something a little bit lighter. Let's start with our 3 favorite pastel nail polish colors this season:
Lavender


Of course when it comes to pastel nails, this is our first pick. Digital Lavender is already being predicted as 2023's color of the year, so even though we've been loving lavender nails since Sophie Turner paired them with her wedding dress, it looks like lavender's here for the long haul. We're having a lavender love affair with this lovely OPI shade.
Shop it here for $10.50.
Pink


Pastel pink is kind of like classic red's warm weather fraternal twin. It's a time-honored nail tradition. Even though a pretty in pink manicure isn't exactly a new trend, there's pretty much no better way to freshen up your fingertips than with a crisp light pink. The perfect pink, however, isn't easy to find. It can really change from skin tone to skin tone, and you want to find a pink that isn't too transparent (no one wants to apply 8 coats of nail polish.) We're fans of this delicate and super opaque option from sundays.
Shop it here for $18.00.
Blue

If you'd like to take your pastel in a funkier direction, Hailey Bieber showed us pastel blue can be a breath of fresh air for your fingers. This Olive and June shade is sweet with a sprinkle of boldness.
Shop it here for $8.00
Now that you're up to speed on the colors we love, let's take things to the next level. Here are 3 ways to spice up your pastel nails: (and you don't have to be a professional to do it.)
Ombre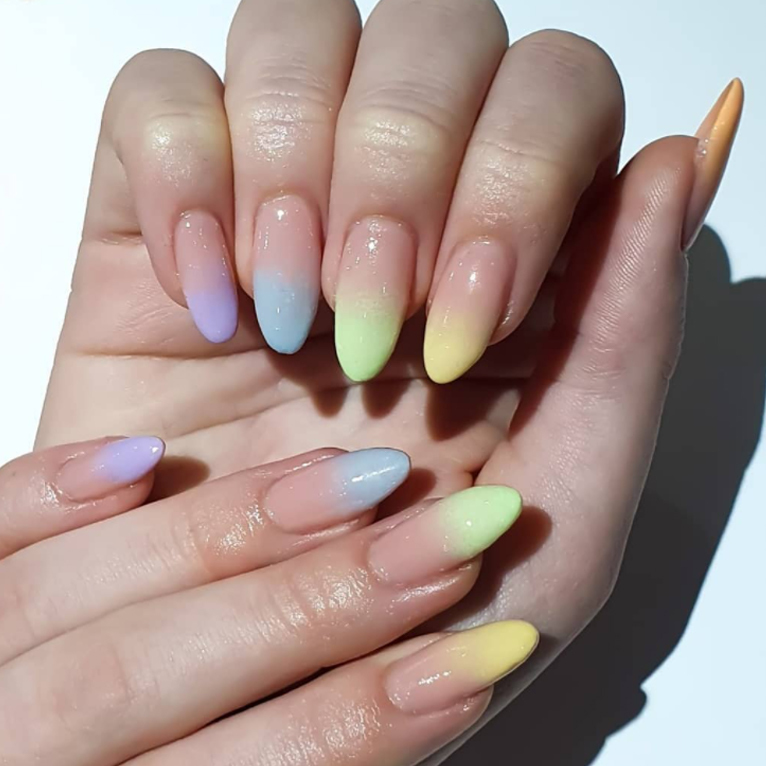 Ombre nails have the two traits of the ultimate nail trend: super cute and way easier to execute than it looks. All you have to do is paint your desired colors in rows on a makeup sponge and then press the sponge onto your nail. Follow up with some top coat to blend the colors and seal your look. You can also invest in this ombre nail art tool.
Shop it here for $8.99
Matte


If you really want to update your mani, matte nail polish is modern and chic. The best part is, it goes on just like your regular polish. In fact, you can use any nail polish for your matte look simply by layering on OPI's matte top coat.
Shop it here for $10.50.
Pastel Rainbow


Rainbow nails can be cool and unexpected, but if you go full ROYGBIV, it's probably going to be a little too much (major 'quirkiest girl in the whole 8th grade' energy.) We're obsessed with channeling any rainbow nail urges into pastel rainbow nails. They're fun, flirty, and will definitely attract attention (and compliments!) And, if you're unsure about picking the perfect shades for your rainbow, no worries. Colorclub has the perfect set of pastel polishes that will leave your hands leading everyone to a pot of gold.
Shop it here for $35.00.

You did it! You're officially ready to pastel-ify your manicure. And, don't worry-- you're gonna nail it. Break a leg (but not a nail!)

Images via Instagram: lovefreshpaint , opi_france , jennifergeorge_nailartist ,