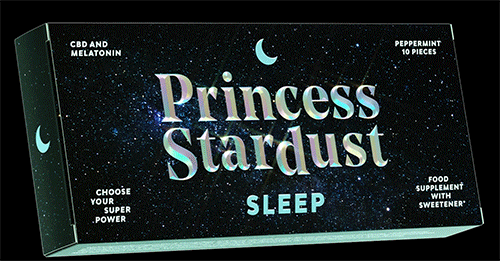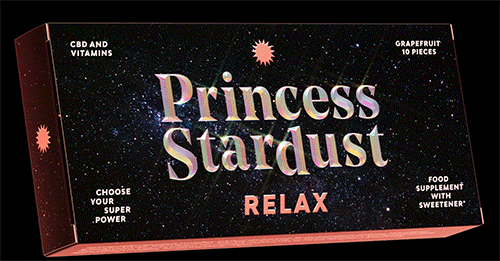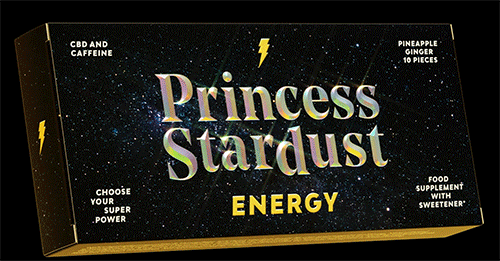 Princess Stardust, The New Superhero From The Well-Being Universe Has Landed
On board are super-powered soft gums and glow for our skin that is out of this world.
Andrea founded Princess Stardust during a global pandemic in which people were probably more sleepless, anxious and depressed than ever before. She herself was also experiencing insomnia for the first time. Sleep had been her superpower until then and thanks to the magical plant fuel CBD, she quickly found her way back to restful nights and relaxed, energized days.
Specialized in magical botanical ingredients like premium CBD, Princess Stardust knows how to turn astronomical stress, crappy days and sleepless nights into antimatter. Their products are designed to keep us feeling good (and looking good) through the day and night.
CBD Soft Gums That Can Melt Stress Away
The soft gums are available in three versions: RELAX, SLEEP, and ENERGY. The different varieties are loaded with natural CBD, vitamins, melatonin, or caffeine depending on your needs. Whether stressed, upset, or endlessly tired Princess Stardust gets rid of any unwanted mood and pampers even the most demanding taste buds.
Relax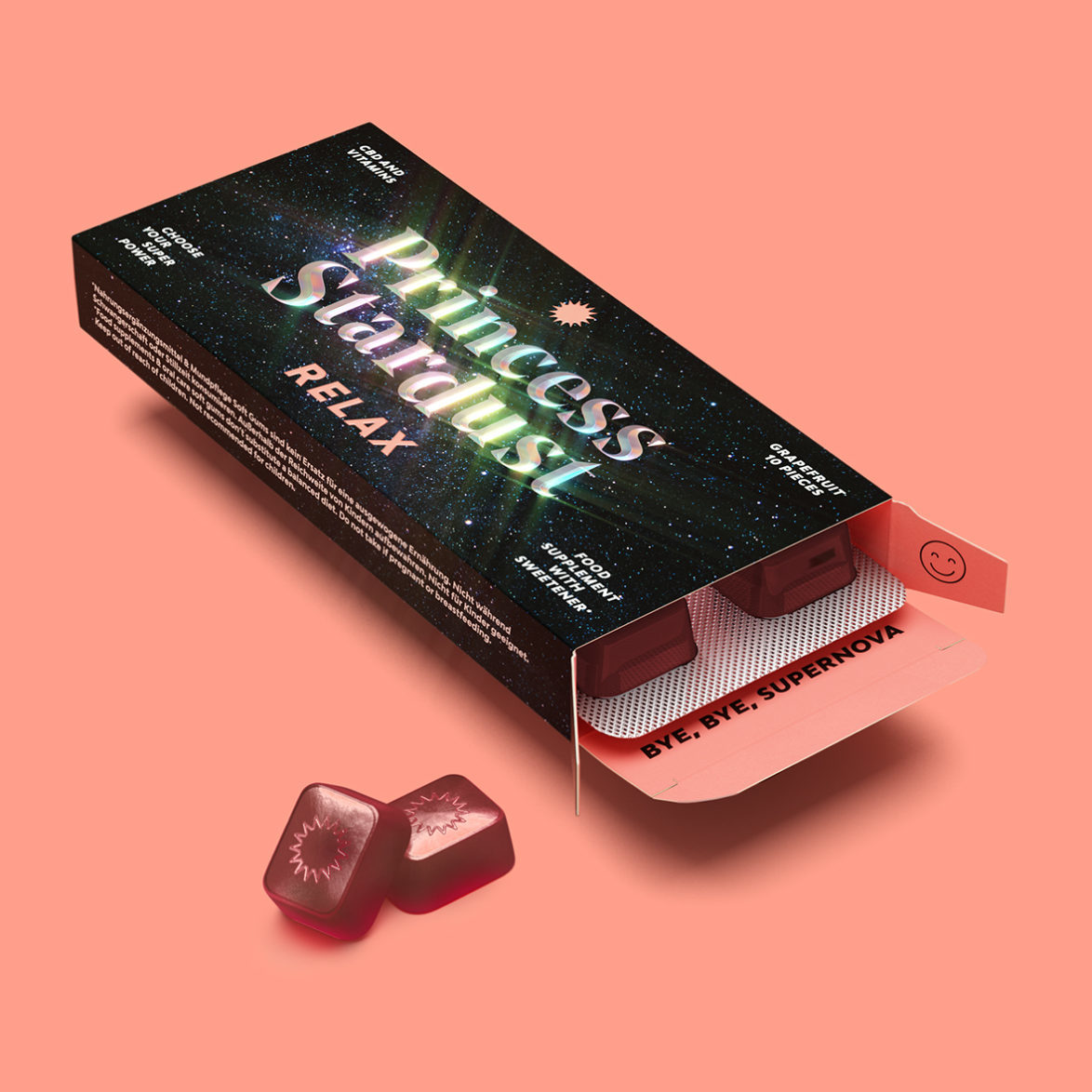 Some days you would love to shoot towards the moon. With Princess Stardust Relax Soft Gums we can reach for the relaxation stars. The formula of natural CBD, vitamin C, B12, B6, B1, and fresh grapefruit flavor makes us super ready for supernova days!
Relax, box of 10 pieces, €14,90
Sleep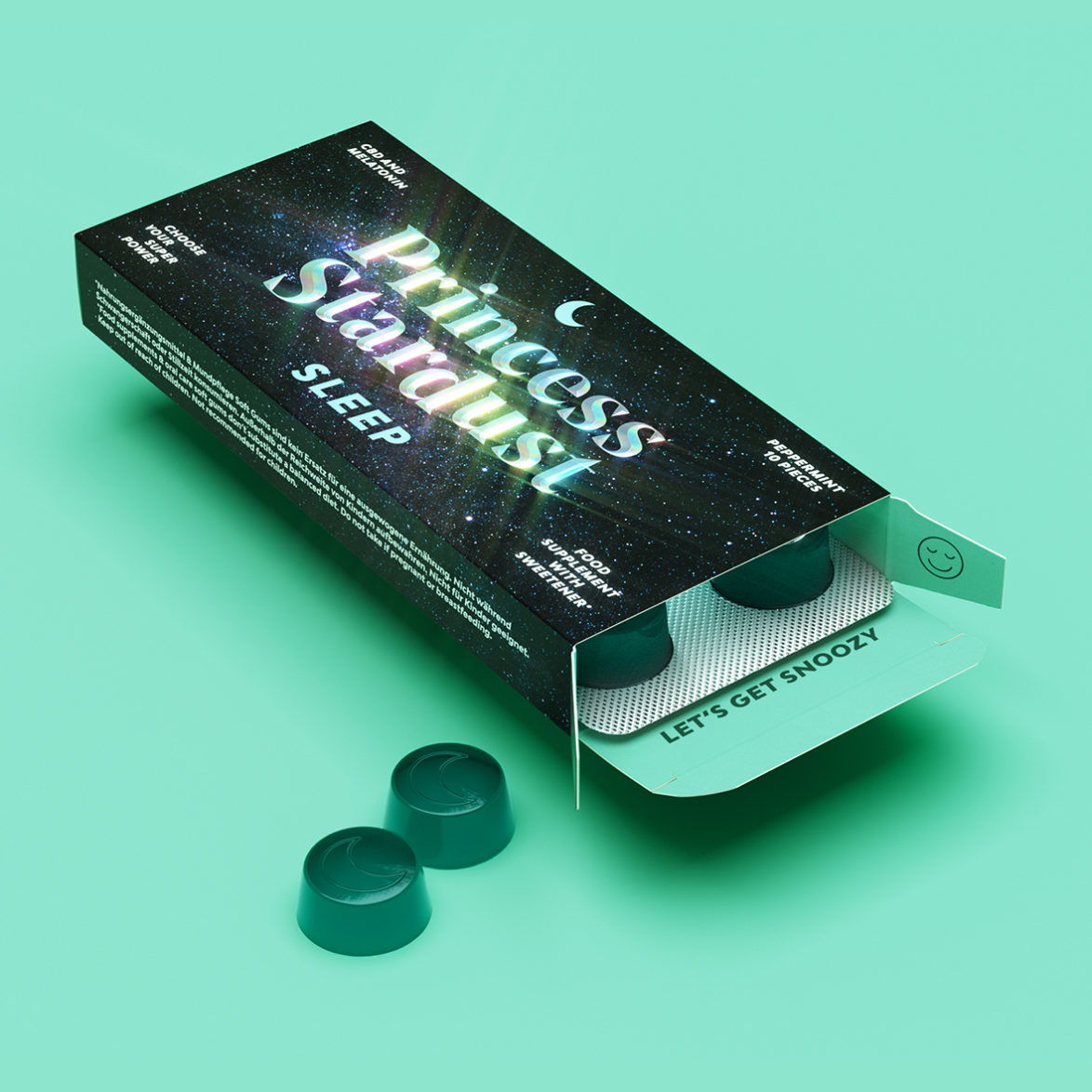 The perfect partner on the nightstand after a stressful day to turn racing thoughts into SlowMo. Princess Stardust Sleep Soft Gums know the way to dreamland and gently shuttle us through the night with a blend of natural CBD, melatonin, vitamin C, and fresh peppermint flavor.
Sleep, box of 10 pieces, €16.90
Energy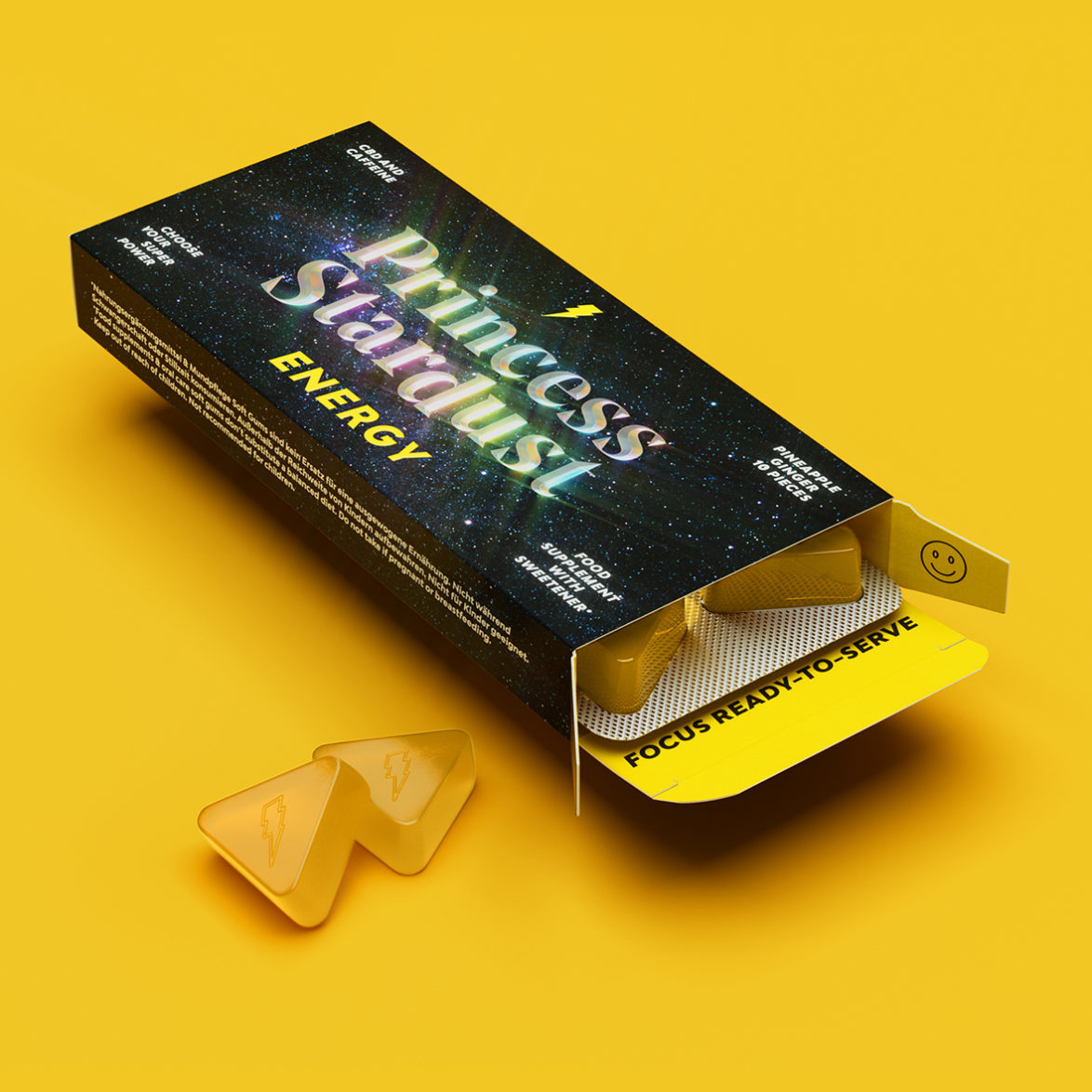 Endless to-do lists, a broken heart, or a cosmic workout on the moon? Princess Stardust Energy Soft Gums fly straight to our command center with natural CBD, caffeine, B12, and a fresh pineapple ginger flavor. What better way to get your energy to skyrocket than having a healthy, out-of-this-world snack?
Energy, box of 10 pieces, €15.90
Skin Care On A Space Level
Princess Stardust works from the inside and out for a balanced feeling and a cosmic skin glow. To launch the brand, the first skincare product is a powerful detox mask. It's time to shine like a night sky!
Detox Face Mask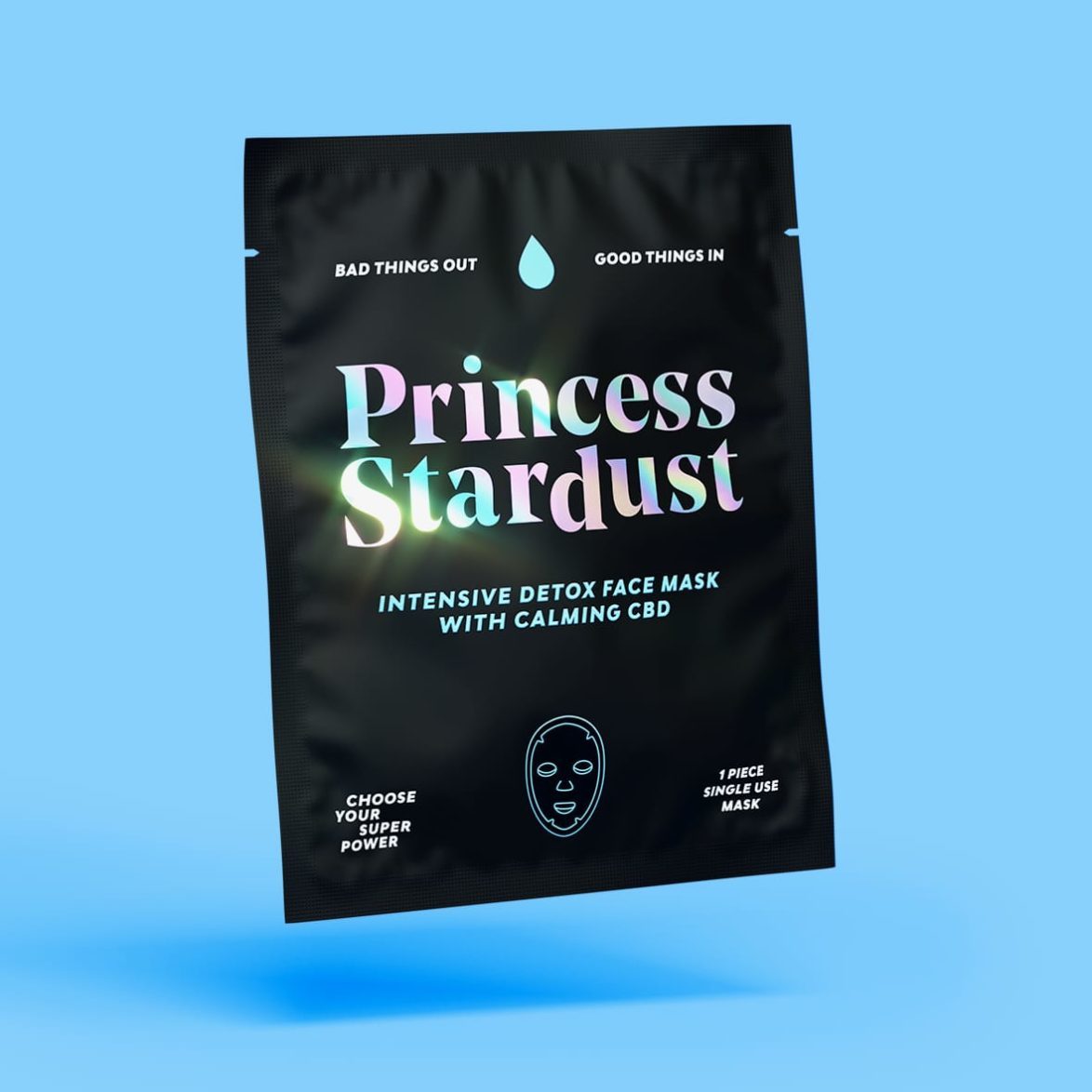 Infused with precious ingredients, the silky cloth mask detoxifies with Amazonian white clay. CBD soothes while fighting inflammation and irritation. Four types of hyaluronic acid, panthenol, antioxidant vitamin C unfold at the speed of light leaving skin glowing like a clear night sky.
Detox, €14.90
Hydration Face Mask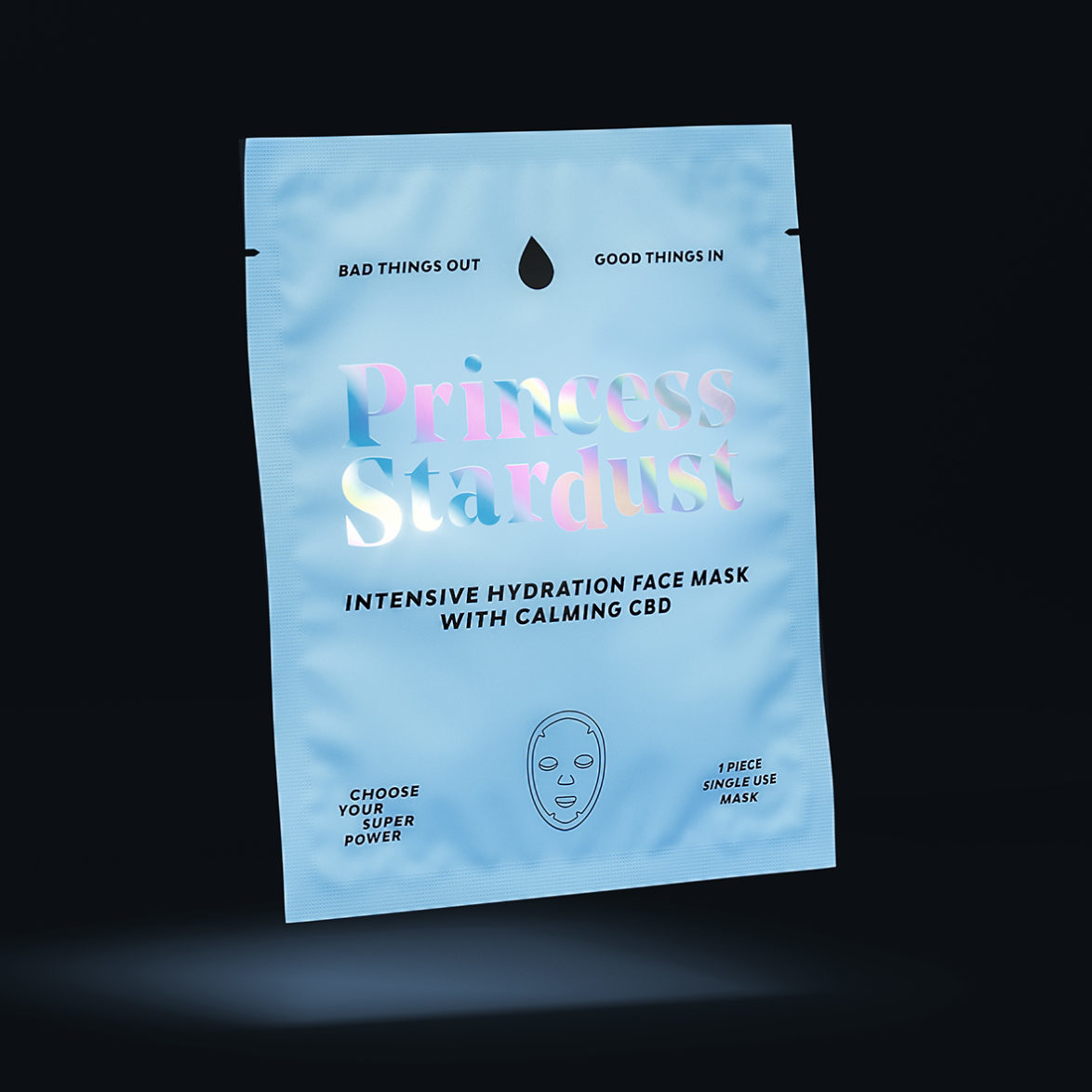 Just in time for the holidays, the Intensive Hydration Face Mask provides a Christmas and New Years glow that is out of this world. It contains spilanthol which relaxes the facial muscles and helps to visibly reduce facial wrinkles more quickly. It also contains valuable hyaluronic acid, CBD, panthenol, and allantoin. As a true multi-talent, it is extremely moisturizing and makes the skin appear smoother, firmer, and more radiant. Regular use improves skin elasticity and moisture retention in the long term.
Hydration, €14.90
Princess Stardust places the highest emphasis on quality and uses only lab-tested ingredients to the highest industry standards. All products are developed and manufactured in Germany. Vegan and free from animal testing.
In case you missed it, Find Your Fragrance: Fairy Week