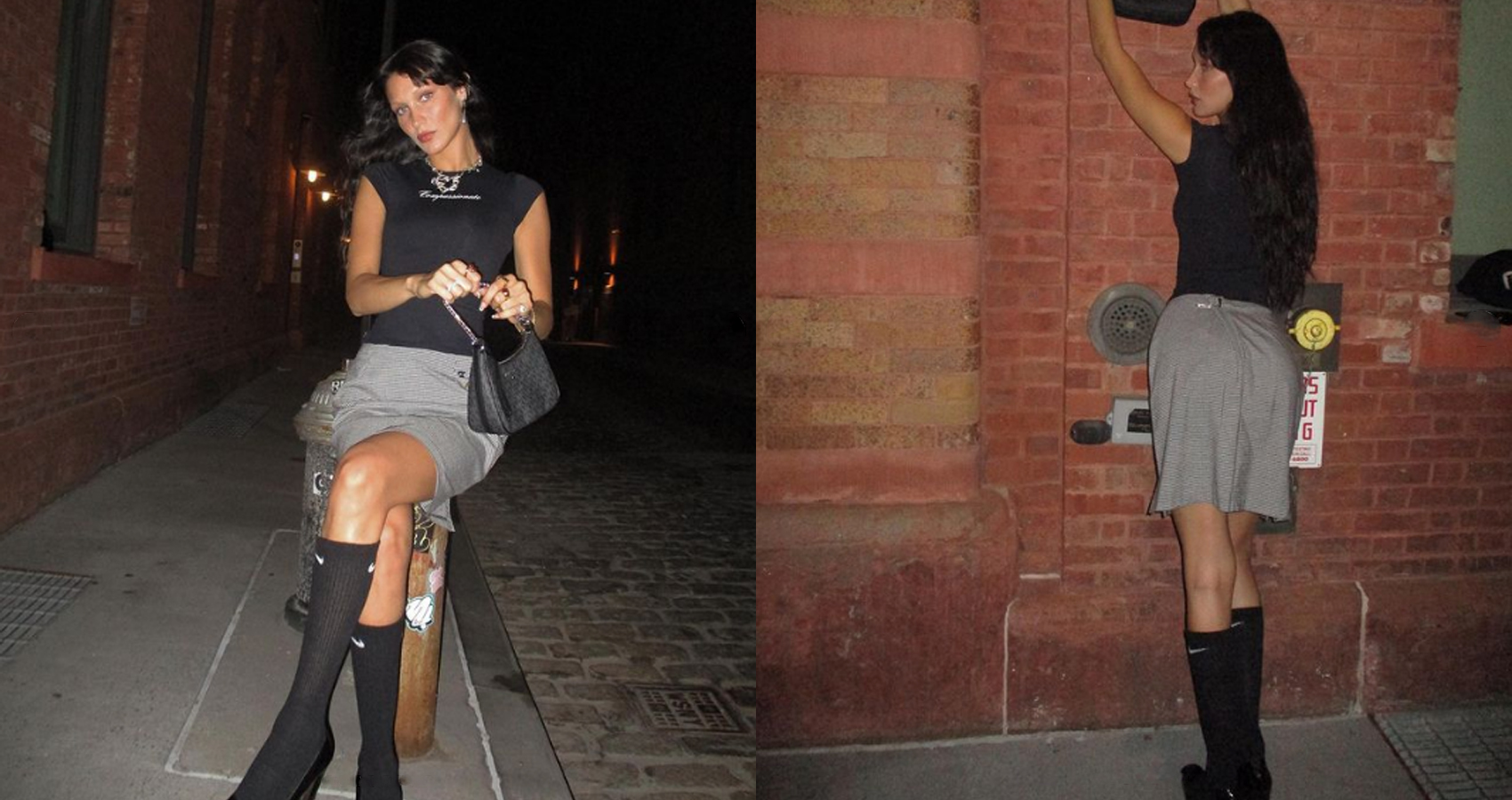 I Saw Bella Hadid Wearing Knee-High Socks, So I bought Knee-High Socks
Yet another trend being set by Miss Bella Hadid.
You might feel a sense of Déjà vu when reading a headline that says there's a surprising new trend that Bella Hadid was pictured wearing, that's because Bella has become the it-girl of the moment with her unique style that often incorporates a mixture of vintage and designer.
Bella has played into what has become known on TikTok as the 'weird girl aesthetic', a combination of colours and textures which is reminiscent of Kawaii fashion, so maybe she was in "a silly goofy mood" when she decided to wear knee-high socks with all her skirts recently or maybe she was looking to the, now infamous, Miu Miu AW22 collection for inspiration.
In photos posted to the model's Instagram, she sported knee-high athletic Nike socks, paired with a round-toe heel and a plaid A-line mini skirt. On her top half, she flaunted a Tankair baby tee and a silver statement necklace which was ultimately tied together with the addition of oval sunglasses and a Michael Kors bag.
Earlier this month Bella was seen styling a pair of white knee-high socks at an event in collaboration with 'Bumble' for her non-alcoholic drinks brand 'Kin Euphorics'. She teamed the socks with 90's style white loafers and the double denim duo of a mini skirt and corset that featured a large black rose on the bust.
Of course, Bella isn't the only babe to be rocking the knee-high sock trend. Iris Law, another model credited often on TikTok as wearing the weird girl aesthetic, and Emma Chamberlain have both posted on their Instagram flaunting knee-high socks.
Would you wear this It-girl trend?