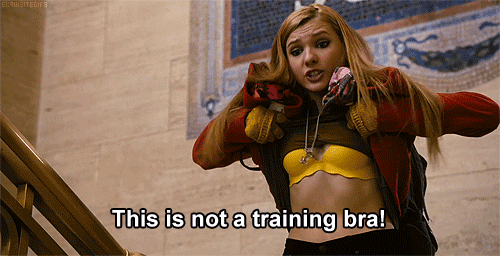 Classy Or Trashy? The "Exposed Bra" Returns To The Red Carpet
Lingerie but make it classy.
The sheer-dress continues to remain fashionable over the years, and in 2022, underwear as outerwear quickly became a popular fashion statement. From high fashion designers like Miu Miu incorporating it into their designs to supermodels Bella Hadid and Kendall Jenner showcasing it in their streetwear.
The Cannes film festival began on May 16th and we couldn't help but notice a recurring concept making its way to the carpet. The exposed bra. Lingerie style attires have become pretty common, though this trend is meant to display it in a more discreet and classy way, making it fitting for formal occasions like film festivals. The celebrities leading the trend this week included Scarlett Johansson, Rosie Huntington-Whiteley and Sydney Sweeney.
Marvel's Black Widow looked stunning in a custom, baby pink Prada gown that was heightened by a peek of a white, beaded bra. It almost appears sewed into the gown, making the embellishment undetectable while making it appear more seamless and modest.
British Supermodel, Rosie Huntington-Whiteley has a reputation of exuding elegance and luxury. Her outfit at the Cannes Film Festival did just that. She looked chic in Fendi ss23 couture, with a sparkling bra partly exposed and a strong red lip, adding to her allure.
Sydney Sweeney, Euphoria's rising star, has received mixed responses to her fashion choices. She was seen leaving her hotel in Cannes wearing a milky slip dress with a vivid blue bra visible. The styling fell flat in part to the awkward fitting slip dress and undergarment, although the outfit had potential if executed properly.
The exposed bra isn't exactly a new trend, but it's definitely making a comeback on the red carpet this year. The internet was divided on the exposed bra being included into formal gowns, with some believing the concept is trashy and should be dressed accordingly. Take a look at some of their favorite ensembles where they felt it was done perfectly:
Dita Von Teese has some of my favorite exposed bra looks! ❤️ pic.twitter.com/7WoXl2DcOL

— molly (@Molly_D_Munster) May 24, 2023
They will never be her https://t.co/7wLwmASiL1 pic.twitter.com/lyx9Vz94Oq

— stoobs (@thejstoobs) May 23, 2023
Regardless, I believe it's safe to anticipate that similar styles will be replicated more frequently this year, and we can expect more celebs to hop on the wagon.

Up Next: Versace x Dua Lipa's 'La Vacanza' Collaboration Is Bringing The Summer Sun Sooner