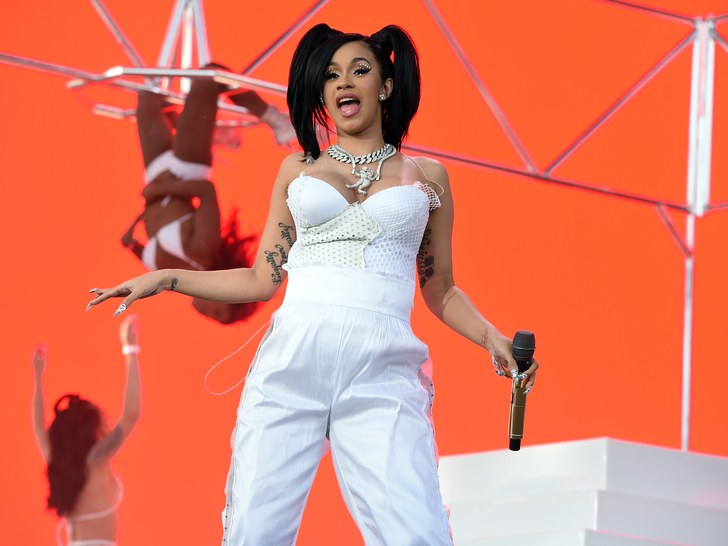 Cardi B To Star As One Of Three Judges In Netflix's New Music Competition: Rhythm + Flow
Could This Be Netflix's Very Own X-Factor?
Cardi B joins ranks with Chance the Rapper and T.I. for Netflix's first-ever music competition series: Rhythm + Flow. All three judges are set to hit our screens on October 9th where they'll be looking high and low for the next breakout hip-hop star.
Given Netflix's recent success with reality competition shows - Nailed It and Blown Away to name a few - it makes sense that the biggest streaming service would pursue yet another of its kind. Rhythm + Flow is created with the intention to find the freshest batch of hip-hop newcomers around whose talents will be judged and sized up by some of the industry's biggest names to date.
The show is set to air 10 episodes throughout the course of three weeks, visiting cities like Los Angeles, Chicago, New York, and Atlanta to see what they have to offer. Following the usual format of reality competition series, the first week will be auditions, the second week will revolve around music videos, rap battles, and ciphers, while the third will focus on collaborations, snippets and eventually, the reveal of the show's winner.
From the outset, this series seems like a real winner. We all love a good reality competition show to binge on and Rhythm + Flow seems like it can offer that and much more. With the likes of Cardi B joining the ranks, how can one not be entertained?
Here at Fizzy Mag we say roll on October 9th!
Image credit: Self.
Next up, Jennifer Lopez, Cardi B And DJ Khaled Celebrating Those Dollar Bills In New Track 'Dinero'