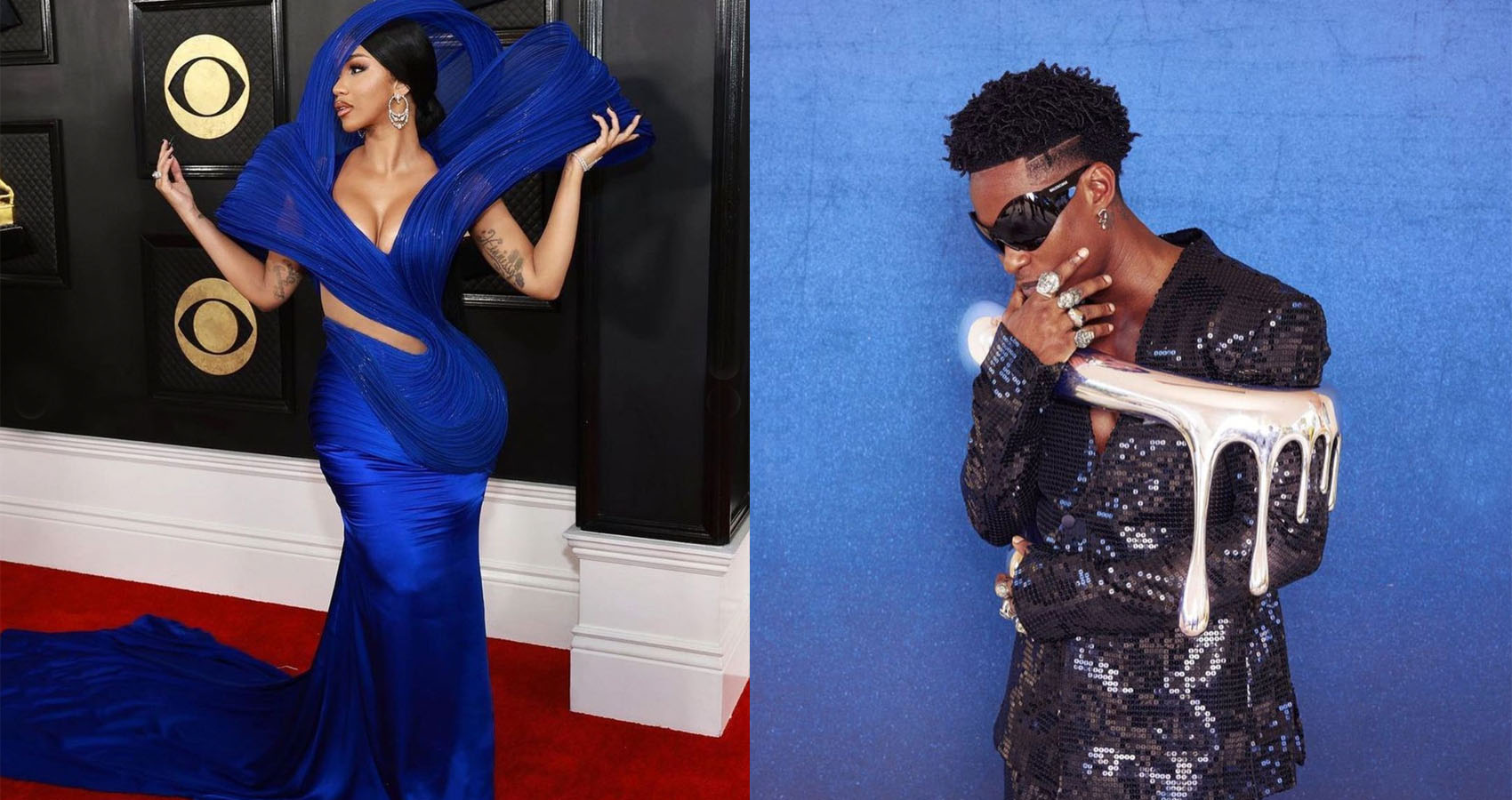 The Best Grammy Looks Of 2023
Celebrity outfits we can't stop thinking about.
The Grammy Awards were on and celebrities hit the red carpet in style. It was an evening that will stay in history; Beyonce broke the record for the most Grammys' won, Harry Styles reunited with Taylor Swift, Bad Bunny had the whole audience dance uncontrollably and Shania Twain wore a tall hat! Naturally, everyone shined in this unforgettable night, bringing some star-worthy outfits to life.
This year, celebs did not hold back from floral application to sculpted ripples to the ruffles and cutouts here are some of our favorite outfits…
Lucky Daye

Wearing a custom Orange Culture suit and custom KWK 3D print body piece with Johnny Nelson rings. This outfit gives a meta-wet look, and we are on fire for it.
Cardi B

Cardi B, wearing a fresh off-the-runaway Gaurav Gupta SS23 Couture to the Grammys, is giving aquatic radiance.
H.E.R.

Ladies and Gentlemen H.E.R,. in a classy-black Bach Mai dress, styled beautifully with jewelry and a pair of black sunglasses.
Sam Smith
Sam Smith in Valentino, alongside Kim Petras, arrived in fire-red Valentino outfits, gave us a hell-of performance, and left with a Grammy for their song Unholy. Things g,ot HOT, and not just at the body shop.
Måneskin

The Italian band, Måneskin, rocked all night long in their glamorous matching Gucci outfits. Even though they left without a Grammy they definitely won our red-carpet heart.
Miguel in Diesel

Miguel pulls up to the red carpet with an all-denim look by Diesel. Britney Spears and JTimberlake'serlake denim looks were made so Miguel can grace denim to beyond.

Lizzo

Lizzo is beyond gorgeous in this custom Dolce & Gabbana gown. Total Mother Nature cover, ed in blood-orange roses slaye,d the red carpet.
Tems
Tems Baby in Vivienne Westwood is an absolute stunner. The scantily beading has us in a chokehold.

Doja Cat

Doja Cat's red carpet appearances in 2023 are definitely showstopping. This time she caught our eyes by wearing a black-latex Versace dress with a mermaid tail and swearling black-thorn earrings, emphasizing her dramatic-villainous look.
Harry Styles
Last but not least, Harry Styles wears a colorful patchwork EGONLAB jumpsuit and nothing more. This look is actually meant to be reminiscent of two of his most memorable looks - the rainbow jumpsuit he wore for Coachella in 2022 and the jumpsuit he wore for his music video "As It Was".
Up Next, Here's What You Missed from "Music's Biggest Night"