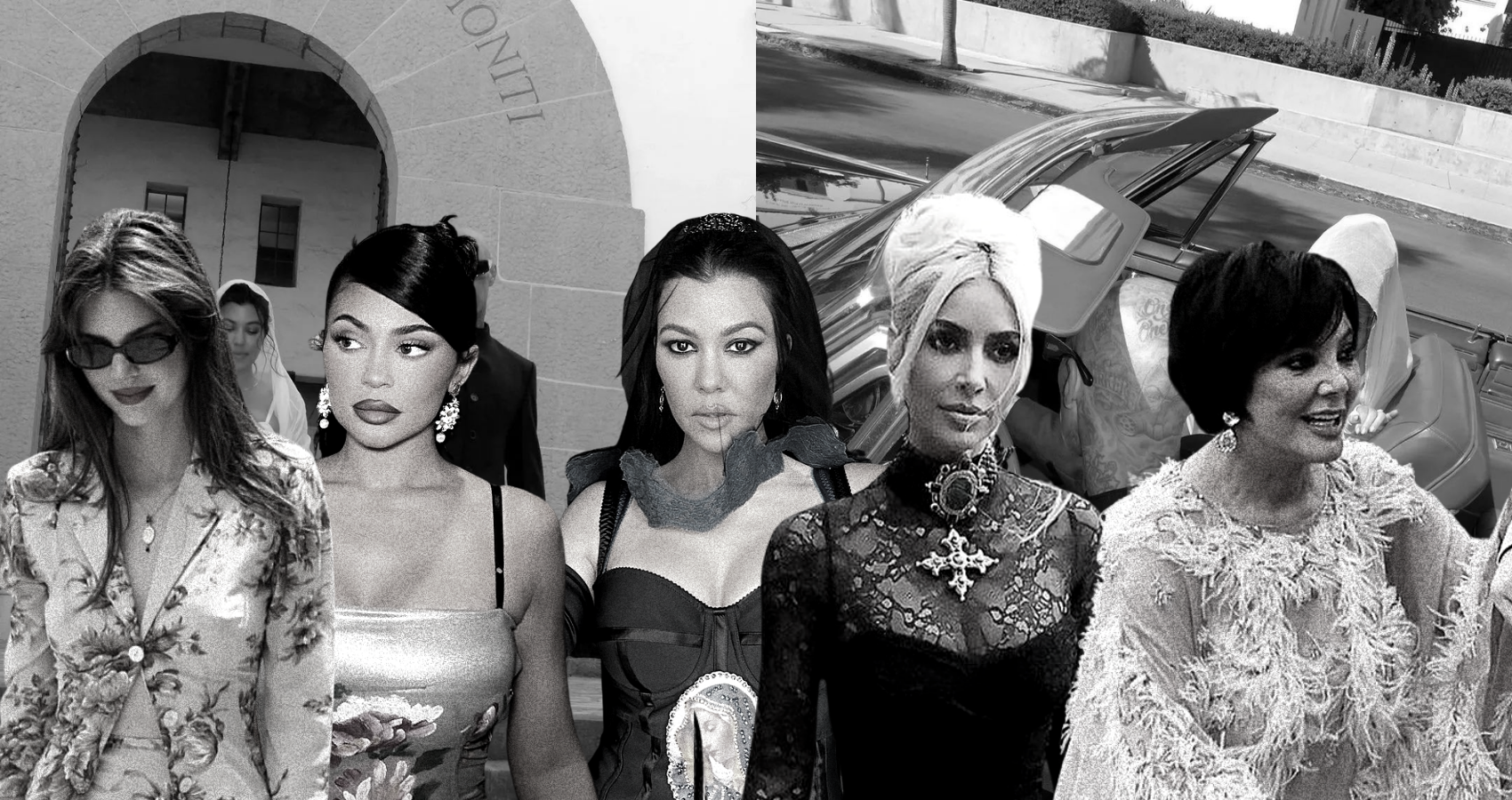 Take A Look At What The Kardashian-Jenner's Wore At Kourtney And Travis's Wedding
The Kardashian- Jenner family definitely showed up in style for the occasion.
For all of those who have been watching the new series of Keeping up with the Kardashian's on Disney +, this is definitely a moment we have all been waiting for. The romantic rose filled proposal that Travis Barker prepared for Kourtney Kardashian was like a fairy-tale to say the least, and with a proposal that grand what less would we expect from the wedding?
As you will know whether you are a fan of the Kardashian- Jenner's or not, they are not the average family that we would expect to be traditional with a wedding. Combine that with Travis Barker and well this wedding is definitely something we could expect.
It would be wrong if we didn't start by mentioning the brides look herself, miss Kourtney Kardashian. She transformed into a goth bride in a black mini dress accessorized with a black veil with blue lace trim. This look followed the wedding ceremony where she has been seen wearing a white figure-hugging mini dress, keeping it traditional. The black dress was changed into by Kourtney for the garter dress and to compliment her and Travis' Mr and Mrs leather jackets on the dance floor.
Kim Kardashian showed off her platinum hair, which she achieved because of her appearance at the MET gala, as she made an appearance in a long fitted black dress with cross necklaces and black sunglasses. Kim must be the only one able to show up to her show up to her sister's wedding dressed fully in black and not make it look like she is attending a funeral.
Meanwhile Kylie Jenner chose a floral number paired with a straw bag and sandals, very fitting for Italy. She paired this outfit with a pair of white sunglasses and a bold red lip. Her floral dress was also of course figure hugging, and who can blame her. If you have a figure like hers, why wouldn't you want to show it off?
Kendall is also seen to have shown up in a floral dress, and skin-tight is definitely one way to describe it. Kylie released a hilarious video on her Instagram story of her sister struggling to walk up the stairs. As wonderful as this dress is surely, she could have managed to have it slightly altered to make it well, able to be walked in.
Khloe Kardashian was seen to be wearing a black off-the-shoulder dress, with thigh-high boots. Her outfit definitely fit the gothic look the bride was going for in comparison to what we have seen of her sisters.
And finally, arguably the main attraction, Kris Jenner. The bride's clearly extremely proud mother was seen in a glamorous pale pink gown decorated with feathers for her daughter's special day.
Up Next, Calvin Klein Shows Rainbow Runs Through Their Veins