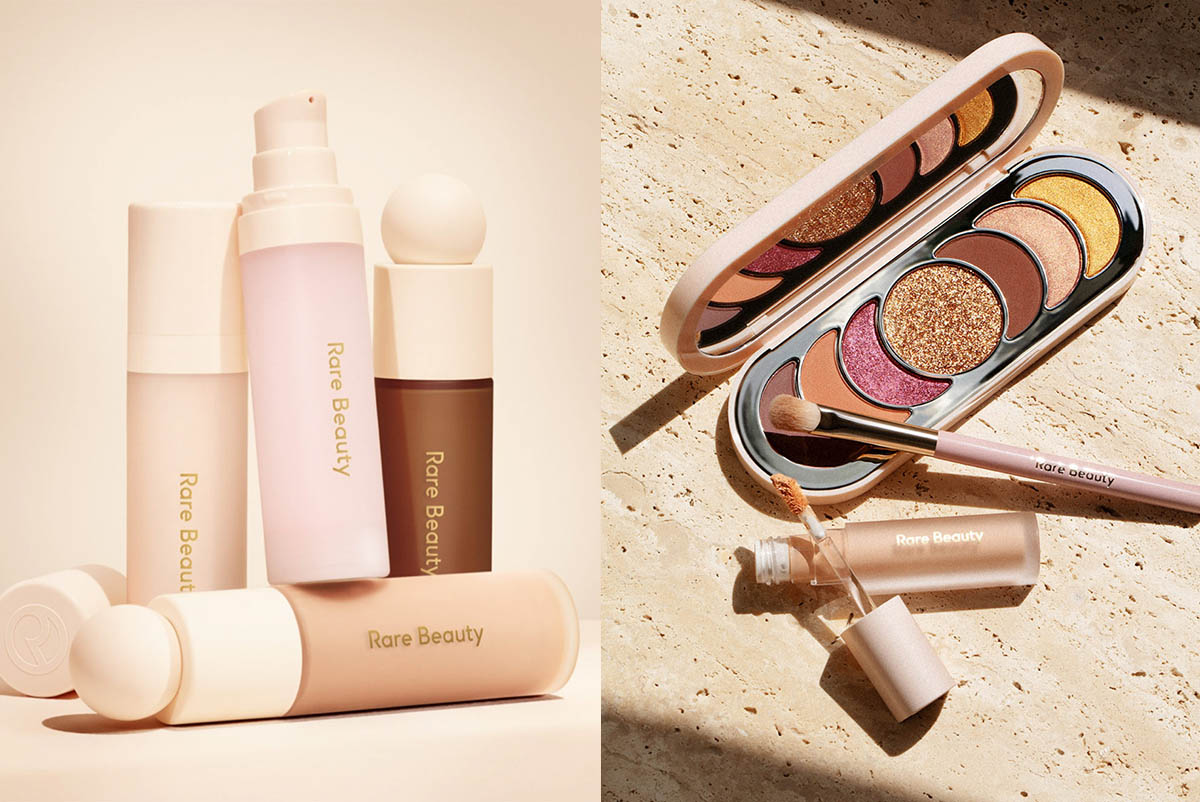 Selena Gomez's 'Rare Beauty' Drop New Eyeshadow and Primer
A makeup line that celebrates imperfections.
Rare Beauty launched last September and caused a viral makeup melt down. Lipsticks were flying off the shelves and with an impressive 48 shades of foundation, there is something for everyone. From peachy toned blushes to the sell-out highlighter, it's easy to see why Rare Beauty is a fan favorite.
Earlier this year, Rare Beauty dropped collection 'Stay Vulnerable', and now the beauty queen herself, Selena Gomez has added two crucial cosmetics to the range just in time for Summer. With a crease-resistant formula that stays all day, who wouldn't want to upgrade their makeup bag?
While the brands main priority is helping women feel more confident on the outside, Rare Beauty also place a lot of emphasis on mental health, which is implemented throughout collection and shade names. A pretty face is a powerful thing, but an inner glow is even better. Since superstar Selena grew up in the spotlight, she aims to use her platform to break the stigma on perfection and unrealistic beauty. "I definitely challenge the idea that mental health and beauty can't coexist," she says. "When you're feeling a certain way inside, there's always a part of you that reflects on the outside." To help provide more people with access to mental health services, the brand has recently announced The Rare Impact Fund which consists of a 10-year fundraising goal of $100 million.
Now the moment we've all been waiting for: the products themselves. First off is The Discovery Eyeshadow Palette, featuring seven wearable shades titled 'True To Myself'. The creamy consistency glides effortlessly across lids and the colors pop on every skin tone. With rich pigment for days, the eyeshadows are slotted into a portable case, ready for any handbag adventure.
Next, we have the Always An Optimist Pore Diffusing Primer. The gel like consistency smooths down pores, making skin appear texture-free as well as helping makeup stay in place. Noncomedogenic in formula means it won't clog up pores, making it a lightweight primer that mattifies while fighting breakouts. With ingredients of hyaluronic acid, white water lily and lotus, it hydrates the skin deep down, keeping makeup looking glowy and feeling fresh all day long!
Priced between $26 and $29, read all the details over on the Rare Beauty website.
Next Up, 5 Common Lip Liner Mistakes to Avoid