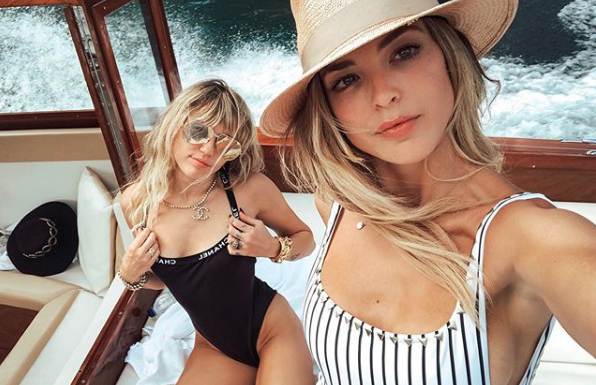 Miley Cyrus And Kaitlynn Carter Strolling Around LA In Matching Outfits
Cuteness Overload.
Ever since pictures of blogger Kaitlynn Carter and Disney-star-gone-bad Miley Cyrus making out on a boat in Italy have emerged on the world wide web, the two have seemed to be inseparable. Their newest 'thing'? Matching outfits.
The couple was spotted walking happy and closely entwined in matching ribbed, light-washed jeans and black cropped t-shirts around Los Angeles. Earlier last week, the two lovebirds were photographed on their way to a romantic date night during NYFW in matching head-to-toe black looks. Cute!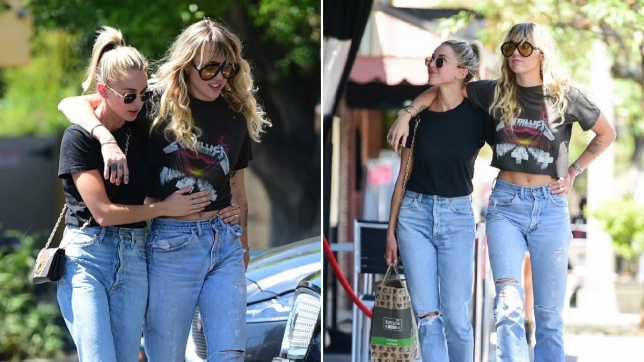 For everyone who's been living under a rock this past month ("What, did Miley not just recently marry Liam Hemsworth? And what about Brody Jenner?!"), here's a little breakdown of what's been happening.
After yeeeeaarrss of on-off relationship, Liam Hemsworth and Miley Cyrus knot the tie during a private ceremony on 23rd December 2018. Half a year later, the couple announced that they're splitting up through their personal rep. "Liam and Miley have agreed to separate at this time. Ever-evolving, changing as partners and individuals, they have decided this is what's best while they both focus on themselves and careers", the statement read.
Hours later, pictures of Miley getting all cuddly during a yacht trip in North Italy with Brody Jenner's ex-wife, Kaitlynn Carter, surfaced. Carter, who at that point, has been separated from her husband (or "husband", because apparently their marriage wasn't actually legally binding) for a whole 5 days, started posting selfies of Cyrus and herself during their cute getaway, which (as you can imagine) sparked some drama.
While Brody and even The Hills co-star Brandon Thomas Lee were pretty explicit in their comments about the new romance, Liam Hemsworth has been spending time back home in Australia while filing for divorce…
Despite all the drama, Cyrus and Carter have been going strong ever since the first pictures have surfaced. According to a source close to the couple, they have even moved in together. In the meantime, let's hope that there are plenty more adorable partner looks where these came from.
Image Credit: Metro.
Next Up, First Look At Ariana Grande, Miley Cyrus & Lana Del Ray 'Charlie's Angels' Music Video