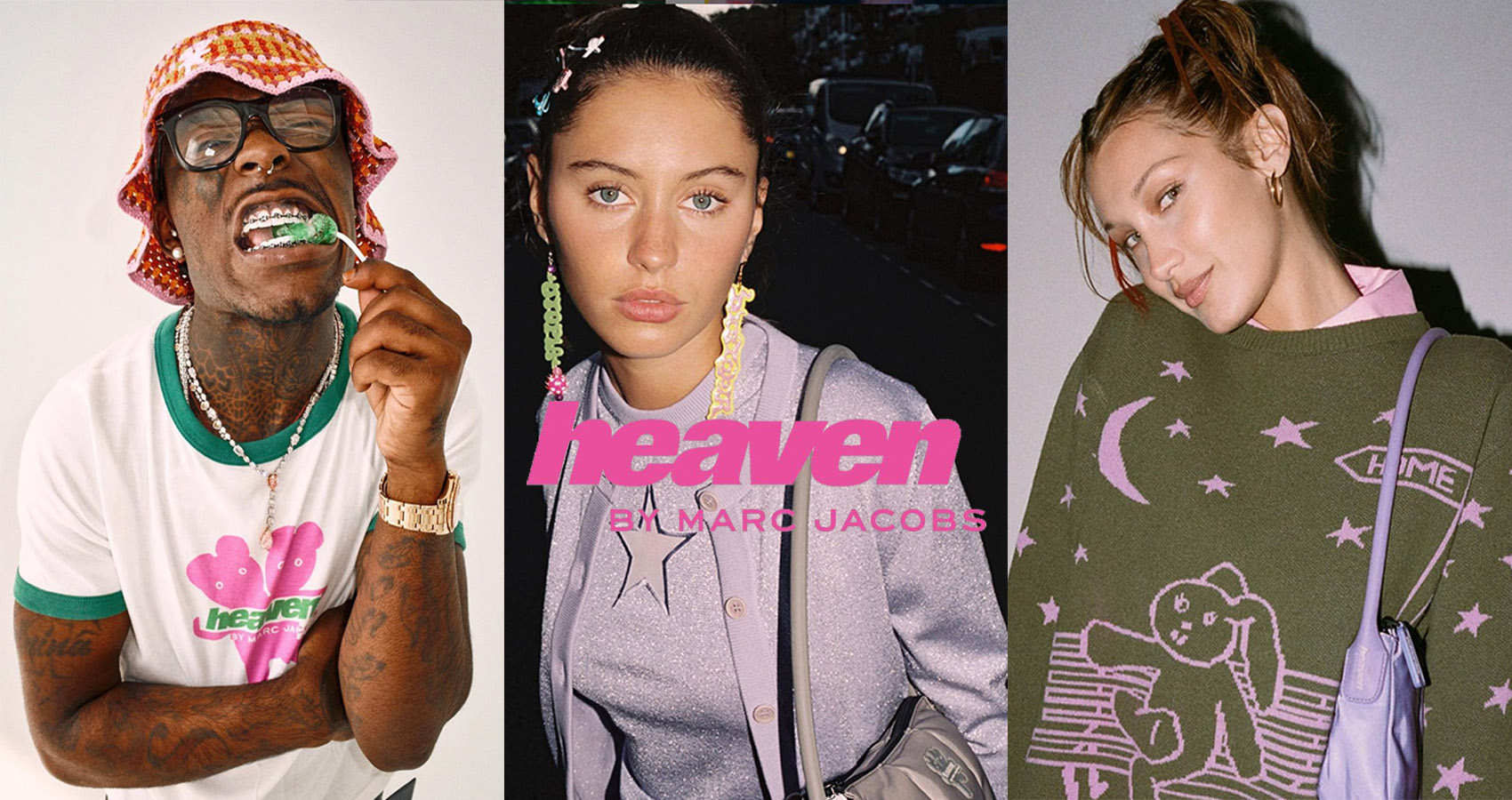 Marc Jacobs' Heaven Welcomes A New Generation of Fashion Fans
A polysexual grunge collection inviting in young trendsetters.
Marc Jacobs' collection Heaven is a polysexual line reminiscent of teenage angst, queer youth and psychedelia. Yet, it is the affordable prices and use of modern icons that have gained the attention of a whole new generation of fashion addicts.
Launched in September 2020, Heaven is the brainchild of Jacobs and notorious Instagram bootlegger Ava Nirui. The collection boasts an affordable (prices start at around $25) range of sweaters, baby tees and accessories. The logo, a teddy bear with a dual head, was inspired by a picture used in a 1994 copy of Dazed and can convey the grunge motivation behind the line.
A pink and orange striped sweater with a vicious flower printed on, is maybe the most poignant piece in Heaven's first campaign. The collection used artwork from LA-based artist Alake and filmmaker Gregg Araki to create a trippy selection of mesh tops, nylon bags and sweater vests. The look-book was shot by Shoichi Aoki and took the collection to the streets of Japan, incorporating the history of Japanese streetwear with this line of modern-day nostalgia.
At the beginning of March Heaven dropped their second collection. This time, the line focused on the use of tartan, abstract patterns and gave subtle hints to 70s punk. The campaign was reminiscent of the 1993 Perry Ellis show that got Jacobs fired, after releasing a line of grunge inspired pieces that to this day have remained a reoccurring trend. The second collection felt toned down, with a heavier emphasis on textured patterns rather than extravagant designs.
Heaven has proved that it can come up with a refreshing take on a regularly over-done grunge trend, but it has also demonstrated how to captivate a generation who otherwise may not have paid attention to high-end fashion.
Younger audiences have tended to be attracted to vintage styles. Right now, there is a Y2K frenzy, but something about the grunge era is always enticing. Self-expression is often sought after during formative years, and the design of Heaven imitates that feeling in their clothes. The style is associated with rebellion and an oozing sense of coolness. Instead of hopping onto the 2000s trend, Heaven stuck with the reliable grunge approach knowing it would be well received, as its format is similar to that of the collections that Marc Jacobs was releasing back in 2006.
Throughout both of its campaigns, Heaven has used a mix of modern-day and older culture icons to showcase their pieces'. Beabadoobee, Lil Uzi Vert and Rex Orange County represent the present, and their style is an essential part of their attraction. Kate Moss and Brian Molko are used in the campaigns to represent the past influences on the collection. The concoction of the two eras emphasizes the nostalgia and makes it more believable.
Despite being classed as a high-end fashion brand, Heaven is reasonably priced. Baby tees are marked at $65, making the range more accessible than other brands out there. Heaven welcomes an impressionable fashion newbie and opens the door to the impressive history of the brand.

Marc Jacobs has collaborated with designers and creatives who can relate to a younger generation to create Heaven. By adhering to returning trends they can evolve the style further and push the boundaries on what vintage means in the modern sphere of fashion and get more young people excited about high-end brands.
Next up, Hyping Up Women In Music: Songwriting Saves the World Podcast