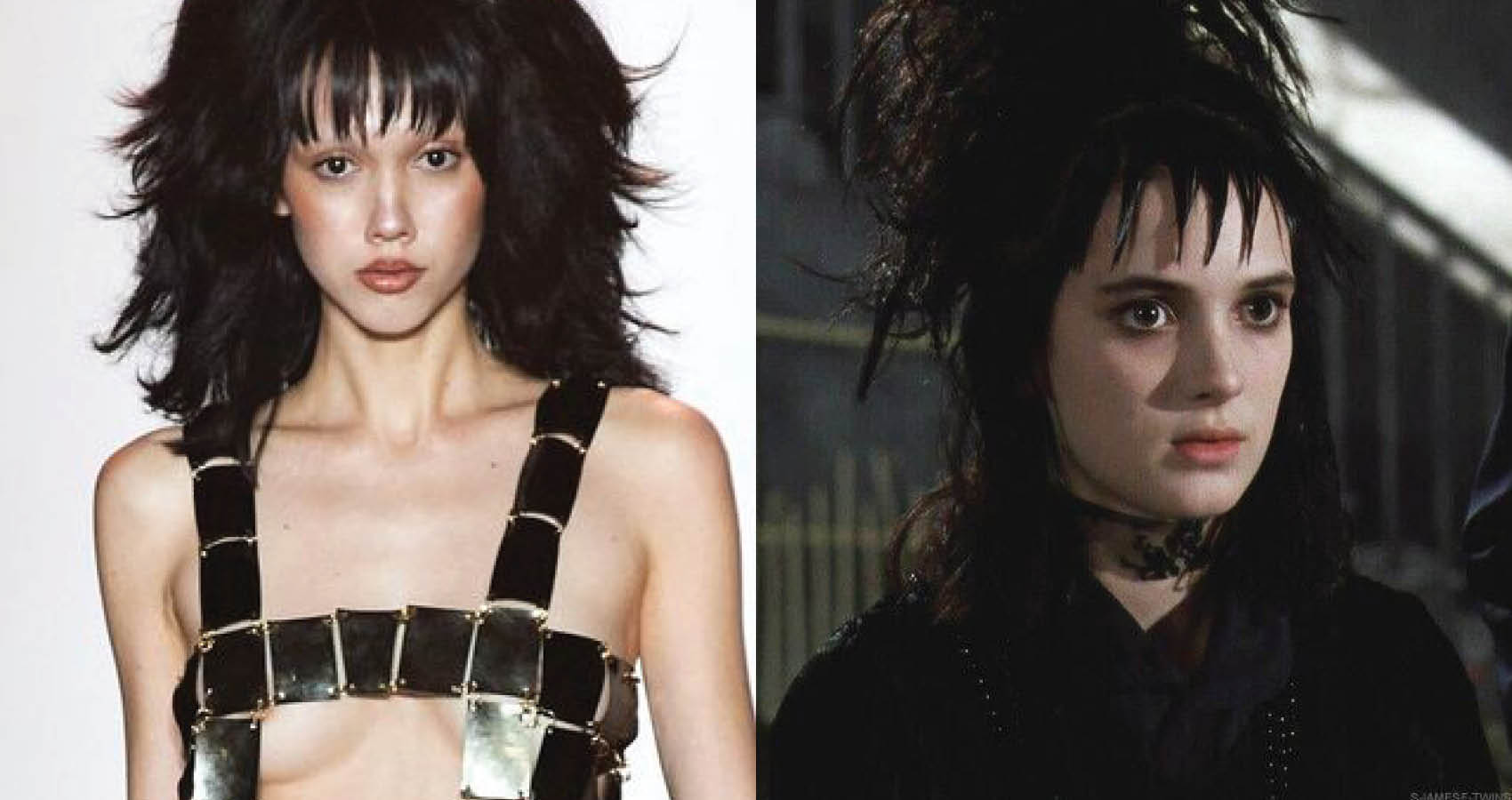 Introducing Beetlejuice Bangs, The Micro-Fringe Of The Moment
Winona forever.
A dialed-up version of the audacious micro-fringe is in the making. What was once a blunt and sleek trim is now an obviously hacked, zig-zag chop. Think Winona Ryder as Lydia Deetz in Beetlejuice, where the hairstyle gets its name from. The iconic film character's equally iconic baby bangs have street-style stars spiking out their one inch fringes. And while the risqué look could easily pass as a haircut gone-wrong, it's also gracing magazine covers and runaways everywhere.
Walking in Haider Ackermann's F/W 2020 show, Bella Hadid sported a wispy fringe complete with a beehive updo. Even without her alabaster complexion, the supermodel's hairstyle - and the asymmetry of it all - is undeniably reminiscent of Deetz. Hadid isn't the only one who's made the case for Beetlejuice bangs. When Euphoria's Alexa Demie appeared on The Cut earlier this year, she channeled her inner 90s goth with, you guessed it, a razor-sharp fringe.
Still not convinced by the Beetlejuice bangs phenomenon? Take it from none other than Beyoncè, Vogue's cover star this July. The singer's hairstylist, Jawara, hastily cut a hair piece before attaching it to her golden brown locks. In addition to reaffirming her chameleon-like prowess, Beyoncè proves that you don't need to have jet black hair to nail Beetlejuice bangs.
When hankering after a new hairstyle, most people default to freshly-cut bangs. Though not for the faint-hearted, Beetlejuice bangs are a sure way to up the ante on the inescapable micro-fringe trend.