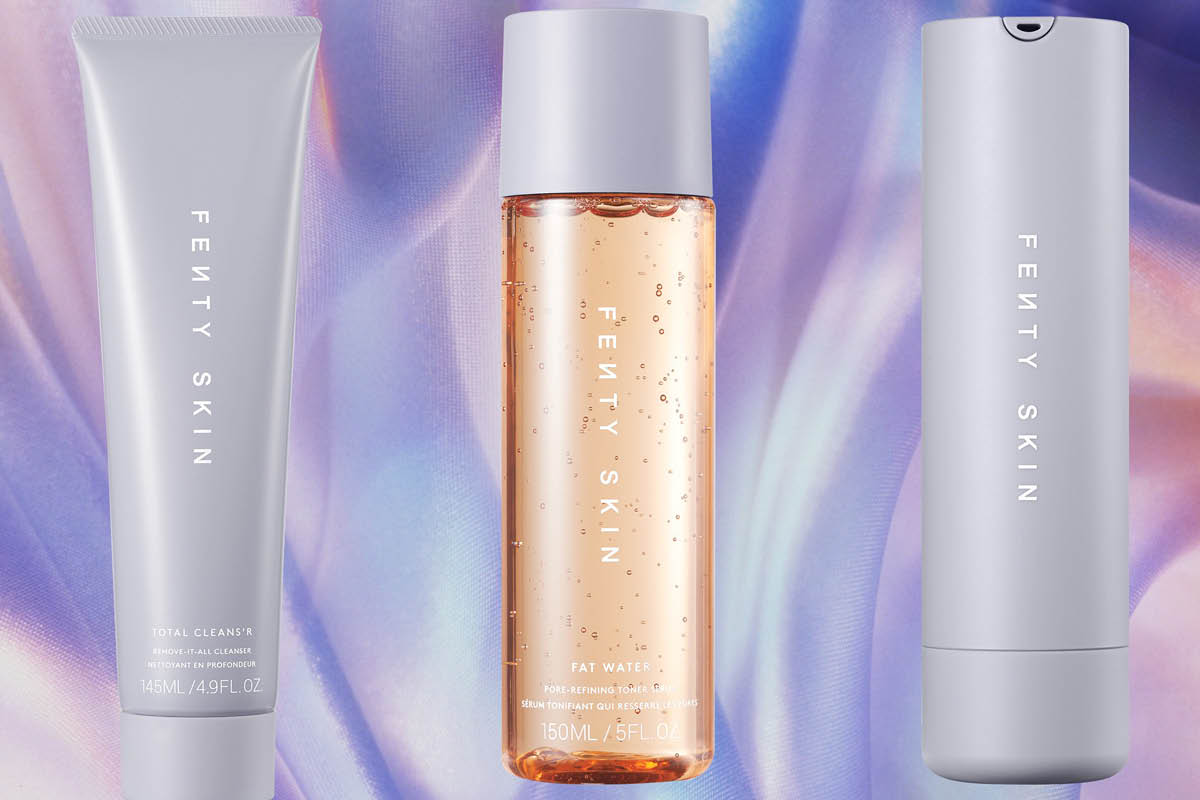 Achieve Rihanna's Glow With Her Fenty Skin Line – Peep All The Details!
Rih is going to save our skin in 2020 and I'm here for it!
First, it was Fenty Beauty, then Savage X Fenty – now Rihanna is launching her much anticipated Fenty Skincare line (we're so here this but we need Fenty music too, Riri. pls?).
Packaged in cute lilac, earth-conscious materials – the products are formulated with the best ingredients sourced from around the world including one's that are personal to Rihanna, like the Barbados cherry. The range is also packed with Niacinamide (an anti-inflammatory ingredient), Green Tea, to fight environmental aggressors – just to name a few. The line of simple, effective, and multitasking products was inspired by her personal skincare journey, and unwavering mission to provide easy solutions for all skin tones and types.
'I'm a woman of color and I have a lot of sensitivity in a lot of areas on my face so, I get really picky with products and a lot of the time I get scared and cautious. I wanted to a product that just worked, more than anything,' the founder explained in her teaser video.
Like many of us, Riri felt overwhelmed by the myriad of skincare products as a teen, so she created a 3-step skincare routine. Here's all the tea on what's included in this game-changing skincare line:
Total Cleanser Remove-It-All Cleanser - $25 (approx £19.43)
Fat Water Pore-Refining Toner Serum - $28 (approx £21.76)
3) Hydra Vizor Invisible Moisturizer Broad Spectrum SPF 30 Sunscreen - $35 (approx £27.20)
"I wanted it to feel approachable, easy, and to take the pressure off choosing a routine, so I created one for everyone," she said.
The cleanser is designed to remove traces of long-wear makeup, oil, dirt without drying out your skin. The primer is a shine fighting hybrid serum that improves skin texture and the appearance of dark spots, while the coral reef friendly SPF 30 sunscreen is ideal for every complexion, makeup wearer, as well as the camera flash. And even better, each product has a warm and tropical scent.
Jumpstart your journey to beautiful and healthy-looking skin by grabbing the must-have skincare products on Friday the 31st of July, exclusively at FentySKin.com.
Next up, Fenty's 6-20 Collection Is Inspired By The Creativity, Hope, And spirit Of Youth