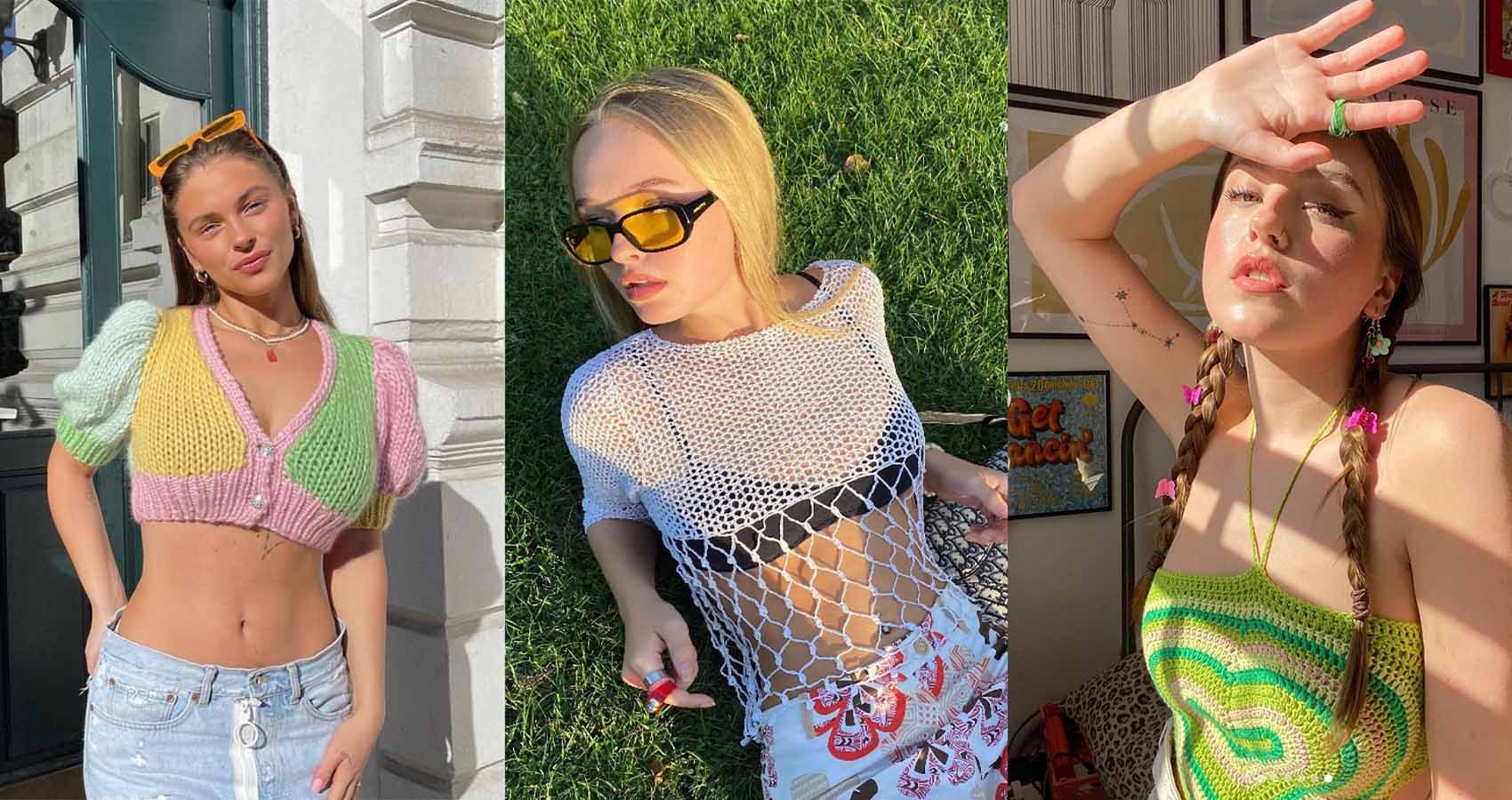 The Crochet Trend Is One To Try This Summer
This is the season of crochet.
With summer steadily approaching, this is the season of crochet and knitwear. From halterneck tops, headbands, mini totes, bucket hats, and bralettes, these intricately crafted pieces are popping up everywhere on Tiktok and Instagram at the moment. Perfect for your summer staycation, we have got you covered with our recommendations from some small and sustainable businesses.
As worn on Mia Regan, this trend is definitely mood-boosting with its candy-colored, pastel, electric and neon palette. Designed by @niamhemilyfoster on Instagram, Mia pairs her bright knitwear with a blue denim skirt.
Add a touch of sweetness into your outfit with this beautiful strawberry cardigan by @myraclehandmade. "Myracle is a premium knitwear brand for sustainable wardrobes that aims to support slow fashion, fair manufacturing, sustainable materials, and women's economic independence". Directly working with women in order to deliver high-quality and super comfy hand-knitted clothes they are made from environment-friendly fine yarns.
Embrace springtime with these pretty pastel chunky knitted jumpers from @the.unraveller. Based in Geelong Victoria Australia, Jess independently crafts each piece using 100% sustainable wool and takes her inspiration from colours, textures and music.
Fly away with the crochet butterfly halter neck top by @made_by.molly. These innovative designs are crafted by Molly and are sustainable for both the environment and your closet.
Fancy Crafting Your Own Knitwear?
Wool And The Gang have you covered. Just pick your kit whether that be a cardigan, jumper for example with the options to choose from beginner, easy, intermediate, advanced. Shop from earth-friendly yarns including wool, cotton, raffia, alpaca, mohair, jersey, Tencel, and hemp. "By encouraging and enabling our gang to make their own clothes, we cut out the entire production process, one of the biggest contributors to pollution in the fashion industry"
Next Up, Hyping Up Women In Music: Songwriting Saves the World Podcast