We Interview Ria Saint Laurent On Voguing, Diversity And Being An LGBTQIA+ Role Model
The star of Nike Germany's latest BETRUE campaign is no longer afraid to be herself.
Valeria aka Ria Saint Laurent is a member of the European chapter of the legendary Ballroom house, The House of Saint Laurent, an artist collective that celebrates Ballroom and Voguing culture in Germany. Ria is magic manifested in five and a half feet worth of pure power and energy. The professional dancer moves in a way that is so captivating, she will make you forget your own name.
Ria is also a vocal advocate for diversity, inclusion, and representation of QTIBIPOC* voices in sports and beyond. Earlier this fall, Ria told her #BeTrue story in Nike's "Team Reimagined" film, which leverages the power of collectives to reimagine the meaning of a "team" in 2020 and celebrates the fluid and intersectional future of sport; one where all athletes can thrive. House of Saint Laurent also went on to participate in Nike's BeTrue Lab – an on-going workshop series connecting grassroots LGBTQIA+ sports teams in the city.
The fiercest of all sub-cultures, Ballroom was born in the underground queer clubs of New York by black, brown, and Latino LGBTQIA+ communities. 'Houses' are formed and structured on kinship with house parents, children, and so on. Although today's Houses are not always made from bricks and mortar, they function as surrogate families and are founded on acceptance, often providing marginalized individuals with a support network.
To compete against each other, Houses throw events called balls and members participate in dance competitions with categories like "realness", "fashion", and "performance". Here, attitude is currency and is plentiful. As well as having more fabulous costume changes than a Beyonce concert, the performances often require immense athleticism, physical strength, and skill. Members sashay, vogue, catwalk, pose, and work it to a crowd of people who cheer on for dear life with cries of "yassss", "hunnaayy", and "cha-cha-cha".
In 1990, Voguing as a dance style gained mainstream prominence after Madonna co-opted it and released "Vogue". The following year the documentary "Paris Is Burning" was released, which told the story of the real Voguing and House culture in New York. Ballroom has finally received wider publicity in recent years since shows like "Pose", and the US competition show "Legendary" has created a more public profile. With Ballroom having gradually made it into the mainstream, we are finally acknowledging how this iconic culture impacts our societal discourse, and we are reminded that it belongs to the community which created and nurtured it first and foremost.
We met Ria at the residency of the House of St. Laurent, European Chapter in Berlin. She spoke generously to us about her experience navigating the world as a young trans person and how the Ballroom community – along with her team The House of St Laurent – has allowed her to grow by empowering her to truly be herself.


You recently participated in the Nike BeTrue Lab, a platform for sporting communities from LGBTQIA+ spectrum to connect, exchange, and catalyze an ongoing conversation. Why was it important for you and the House of Saint Laurent to take part in it?
Often the LGBTQIA+ communities in Berlin are not connected. Nike gave us the opportunity to connect with each other by providing us with a real queer community space. It's great that we can support each other and get the opportunity to learn from within our community. Nike didn't insert themselves or their voice into the space. For us, this shows respect, and it shows they want to hear our voices, listen, and learn too.
There are a lot of black queer people who don't know that they are being discriminated against. Systemic discrimination is really damaging when people are told they are less beautiful for being black. Participating in the BeTrue Lab and listening to other communities helped me understand we're not the only ones to have this problem. Being able to exchange and help each other was beautiful; it's helping us build up our togetherness and to leverage the power of teams.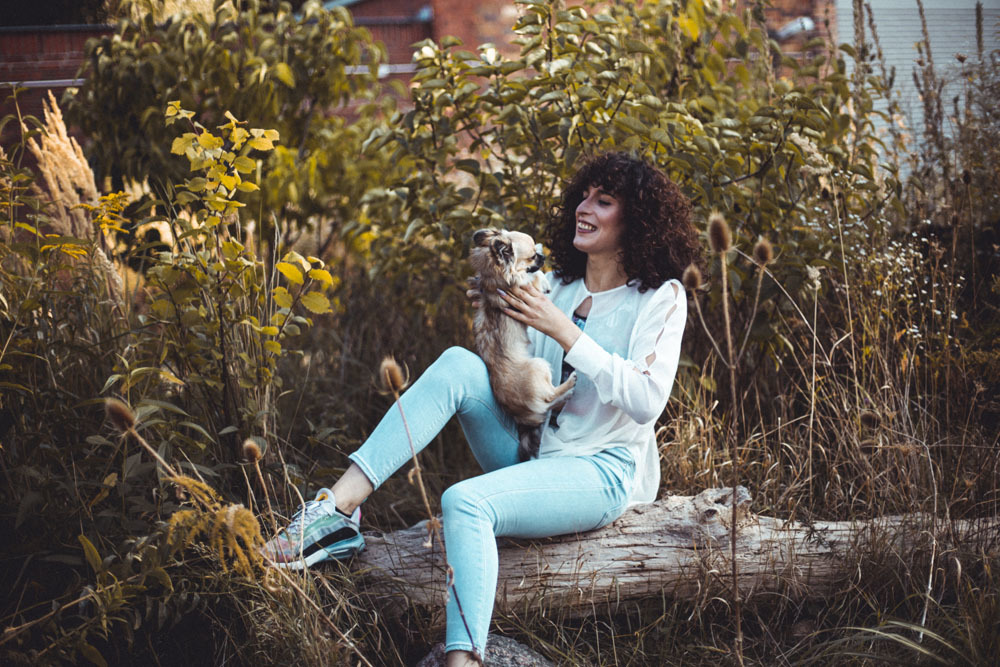 What did you learn from the other guests at the Nike BeTrue Lab, and what inspired you?
The overarching message from the discussions was about sport being a space to love yourself. Voguing is all about expressing yourself through dancing. If you love your body on the inside and the outside, it will push you to succeed in sports. We don't want to be held back by body insecurity. Learn about your body, and feel the sun on your skin! Love every part of yourself and express the love in whatever way you want. We all need the opportunity to be true to ourselves and sport can help.
For me, it's really important to have body positivity as well as female positivity in sport. All of us have opposing energies, male energy is dramatic and powerful, and feminine energy is softer. We can only be free if we push these energies together.
At the Nike BeTrue Lab, LGBTQIA+ and BIPOC* teams, activists, and their families developed an action plan that the sports industry can follow in order to create a more diverse and inclusive future. The BeTrue Lab is paving the way for a credible new approach to inclusivity by recognizing the structural discrimination that exists and prohibits change from happening. The Call To Action is to inspire Berlin's sports grassroots communities to understand that radical industry change is possible, and the co-authored statement provides athletes, coaches, businesses, and education and with proactive steps that they can each contribute to as individuals.

What kind of space has the House of Saint Laurent provided for you in terms of identity and belonging?
I've found a place where I'm understood without having to explain myself, somewhere that accepted me at a time when I was still finding my own identity. Before voguing, I had struggled to find a dance style where I felt fully accepted, even though I've been dancing since I was a child. When I tried Hip Hop, for example, I was told I was too feminine. So I tried Dancehall and then I was told that I was too masculine. Everywhere I went, I felt like I had to explain my identity.
When I first saw Voguing I was blown away by all of these beautiful women with big hair and hips who were moving sensually, and it was so beautiful to watch. I was resistant to expressing so much femininity in my dance at first – I had a very religious upbringing growing up and my life had been very very black and white. I hadn't been able to realize my full potential and personality, but now I show off my femininity! I'm able to show the world who I really am.
Our House Mother Georgina Leo Saint Laurent is known as the pioneer of Ballroom in Germany and she empowers our team. She is the founder of the organization Berlin Voguing Out and is the Mother of the first German House – the House of Melody (which later transformed and joined forces with the Iconic House of Saint Laurent, European Chapter). By building the Ballroom community she has provided a safe space in Germany that lets people be true to who they are.


Can you explain what it feels like when you're representing The House Of Saint Laurent at a ball?
For me, voguing is about expressing myself and my life! I can express what I have inside of me through dance as it is conveyed through my movement. When I'm at a Ball, my family is there to push me on and support this form of self-expression. Everyone chants for you and the feeling is completely amazing.
This supportive energy has also helped me grow as a person. All my life I have had other people's voices in my head telling me who to be, what I am not able to do, that I'm too small, too feminine, or too masculine. Now, I have found a collective and family that has supported me by always believing in me. The House of Saint Laurent has told me I can do whatever I want to and I can reach for endless possibilities.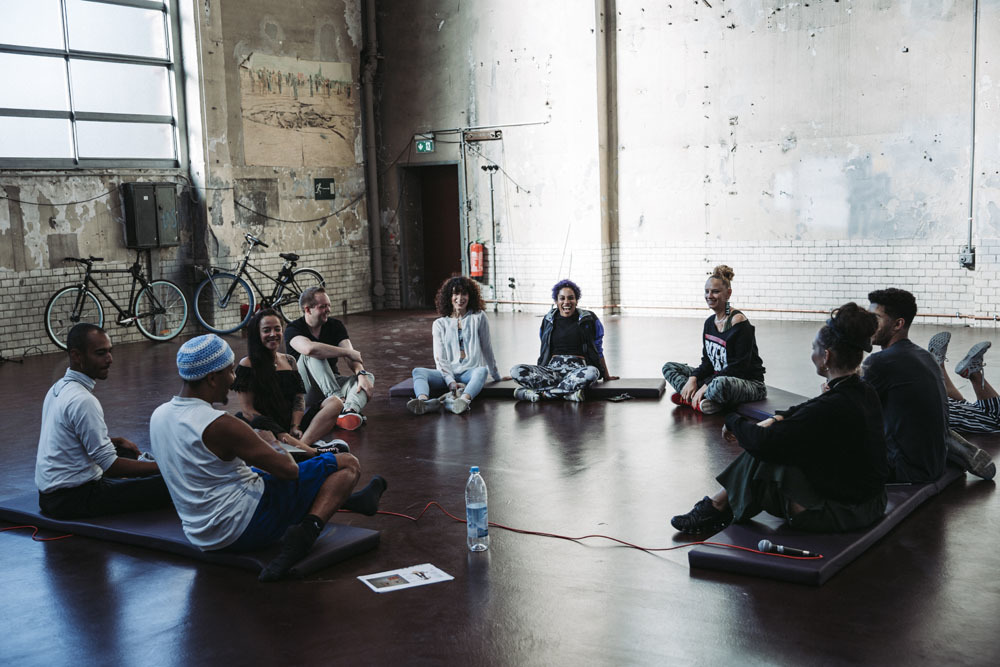 What advice would you give to your younger self before you discovered Ballroom? Or do you have any advice for a young trans person who doesn't yet have a support network?
I would tell my younger self to look for a place that allows for self-expression. Find people who will help me realize my superpower, and that is exactly what I did. To a younger trans person, I would say this: "Please never give up!" Now is the time for us to be ourselves, to be proud of being trans, to say we are here, we've been here forever, and we'll die here! People need to see that trans people are no different from other people; we are all the same.
Here in Germany, I don't know how I can reach out to younger trans women. Ballroom culture originally comes from black and trans women. They started this culture for other trans women! Then all the other queer bodies came in afterward. I would love to have lots of other trans women in the community because historically we belong here.
I want to tell young people that each one of us has our own superpower and if you have the right support you can become whatever you want to be. We should not listen to the negative voices.
I want other trans people around me, and I pray to the universe to help me find them. With the help of the House, I can help them grow up in our community. I would love for others to have the same experience that I had. That feeling of having my own space, where I can create and be myself. I want this for everyone and I'm here waiting for them!

Which elements from Ballroom culture do you feel could be borrowed by other sports?
I learned through Ballroom to accept and respect everyone. I've learned that everybody is beautiful and every body is beautiful! I learned that we can be whoever we want to be. If you're free to be yourself then you're free to dance. Other sports should practice this too.
At a ball, the crowd will support anyone who dances by chanting like crazy, regardless of their body type! I wish we would see this more outside of Ballroom. Instead, our society body-shames women for being luscious and it is wrong! This kind of body shaming has no place in sports. I was told I could never be a ballerina because I don't have ballet feet, but I never wanted to be a prima ballerina – I just wanted to dance!


Outside of Ballroom, what do you feel could be done regarding the lack of diversity and representation shown to us in the media?
We need a lot more role models. We are only shown one singular version of a queer body on TV. It's one that looks like a Barbie but queer bodies are hugely diverse. Banjee trans women have a different build - they are bigger than me for example - but they are women too and deserve to be represented!
The idealized Hollywood female body is that of a trans woman. Nicki Minaj is imitating a specific type of trans body that replicates Jessica Rabbit with big hips, big boobs, and a tiny waist. Everyone knows that people don't naturally look like this and we accept diversity in cis-gender bodies, but we need this for trans and non-binary bodies too.
We also never see real-life diversity and intersectionality on TV! Often the representation is derogatory and jokes are made about men wearing female clothes, but they are made at our expense. Like in Ace Ventura, for example – it is a funny film but it is also degrading. The trans character doesn't even do a tuck correctly, that's not "diversity" – it's bullshit.
I want to be an inspiration and I can see myself on the television speaking the truth like Laverne Cox. Wow, this woman is so great! I saw her being interviewed once and the presenter was pressuring her into talking about her surgeries. That is not what is important and she totally ignored it. She just continued talking about her success. I want to be that person, the one who stops allowing the bullshit!
To enable role models, we need to ensure representation, so that other people feel accepted and can say, "I want to be like that." We need visibility and intersectionality, of people in all different sizes, shapes, and colors.

How do you stand up for representation at House of St Laurent?
Our LGBTQIA+ community is very diverse, so starting here, we need to educate within our own community. We're talking about white privilege; we need to talk about the experience of being black and queer and ask what a white queer body can do for a black queer body. Once we have had these conversations amongst ourselves, we can share this knowledge with those outside of our team.
Marsha P. Johnston and Sylvia Rivera are big inspirations to me. Sylvia Rivera was a loud, and vocal LGBTQ activist who marched and protested on the street. She had a lot of energy and we need people like her to be active in combating discrimination. Marsha had a different kind of energy, she was always smiling, and killing people with kindness. She would rather educate people about the LGBTQ experience than criticize them for not understanding it.
Our communities can learn from both of these women; firstly by being active and speaking out, but also by educating people from outside of the community. If people are open to learning, we can help them understand our experience. We have a lot of power, we just need to use this power in the right way.


What are your dreams for the future of voguing and what is the vision for the future in sport and voguing?
I want Voguing to continue to provide role models for the trans community and to continue to represent diversity. I'm thirty-one now and growing up as a trans person, I remember never having someone to look up to in my life. All of the information I had about being trans was really negative and I wasn't given support. Every time I had a dream people were always telling me that I wouldn't be able to do it. I was even told I would never be able to be a professional dancer.
I first saw a trans woman who I wanted to emulate after being introduced to Ballroom culture. I saw her dancing in a ball and she had a complete life, with work, and supportive friends who were cheering her on. I thought "finally I can identify with a person!". Voguing provided me with a role model I could relate to and other sports should be pushing for greater representation too.
I now want to be the person that tells others they can do whatever they want to, if they just practice, put their energy into it, and persevere! In my House, I am the big sister and provide support for the family, whether someone has a problem or if they just need to talk about something. Voguing is the vehicle through which I can take on this role, not just within my House, but for all trans people in Germany.