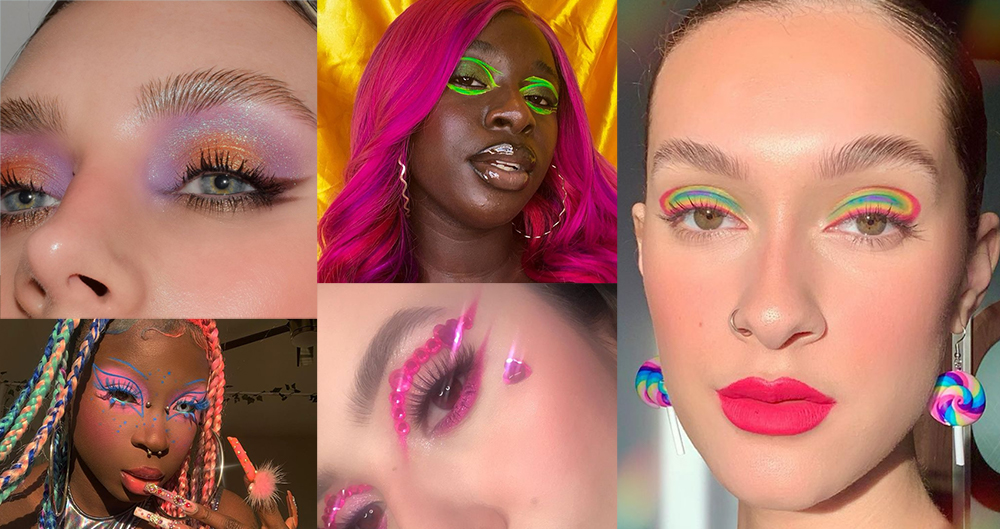 Ready To Rock Colorful Eyeliner? We've Got Your Back.
5 easy ways to pull off the colorful liner look.
The eyeliner trend of the moment? The brighter, the better. Here are 5 ways to make colorful eyeliner your spring/summer staple:
Liquid
Liquid liner is the best way to get a sharp, precise line with super vibrant color. NYX's Vivid Brights Liner has bold, opaque color, the ideal skinny applicator for perfect precision, and 8 hues that have all your rainbow bases covered.
Shop it here for $7.

Pencil
Pencil liner is a bit softer and milder, and you can blend for a less in-your-face color pop. Our pick? Fenty Beauty's Flypencil Longwear Pencil Eyeliner. This pencil goes on smooth, stays all day, and comes in a variety of vibrant shades and finishes.
Shop it here for $22.

Shadow
Is bold liner a bit too risky? Grab a colorful eyeshadow, and apply with a liner brush just as you would eyeliner. The look will be subtler while still giving you pretty pigment. Cream eyeshadows with a doe-foot applicator work great, too. We love Glossier's Lidstar for A+ color and shimmer.
Shop it here for $18.
Double Up
Brown or black eyeliner makes your eyes pop and makes the lashes look denser. Since it's a makeup routine staple, the idea of a lighter liner replacing beloved black might not be up your alley. And, we get it! That's why we recommend applying your black or brown liner as you normally do and adding a line of color just above it. You'll get that splash of color without making sacrifices. For a funkier route, apply your liner to your top lash line as usual, and then work your color into the lower lash line. The vibe is edgy and understated.
Balance is key
Balance is the name of the game when it comes to colorful makeup, so the day you're rocking a bold, lavender liner is probably not the same day you want to sport your favorite red lip. Creating balance with a nude lip and dewy skin will let your eyes be the stars of the show and will make your look more cool than chaotic.
Whichever way you pick, we'll see you somewhere over the rainbow.
Top image credits left to right: babydewyou, wendysworld_xox, trulee, salty.simmone, undomymakeup , Image preview: caitssdarling
Next Up, 5 Celebrities Who've Been Open About Dermal Fillers