Gucci Makeup Is Back With 58 New Lipsticks
Pick your shade.
Last September Gucci created an Instagram page which quickly amassed a large following. The page is filled with artsy content- instead of glossy editorial makeup shots, it instead explores the history of beauty. For its latest beauty collection, Gucci is focusing on old Hollywood films as its' inspiration.
Gucci originally launched makeup in 2014, under the creative direction of Frida Giannini and Pat McGrath, before being phased out in 2016.
Now I'm 2019 Gucci beauty collection has been rebirthed under creative director Alessandro Michele, and it's dropping 58 lipsticks. The lipstick collection will be split into three different formulas: 36 Rouge á Lèvres Satin (satin finish), 18 Rouge á Lèvres Voile (sheer finish), and four Baume á Lèvres (translucent balmy finish).
Michele's has a love of timeless art and this can be seen with this collection which was inspired by vintage makeup and antique collectibles. Some of the tubes feature a floral design which is similar to Gucci signature perfume Gucci Bloom.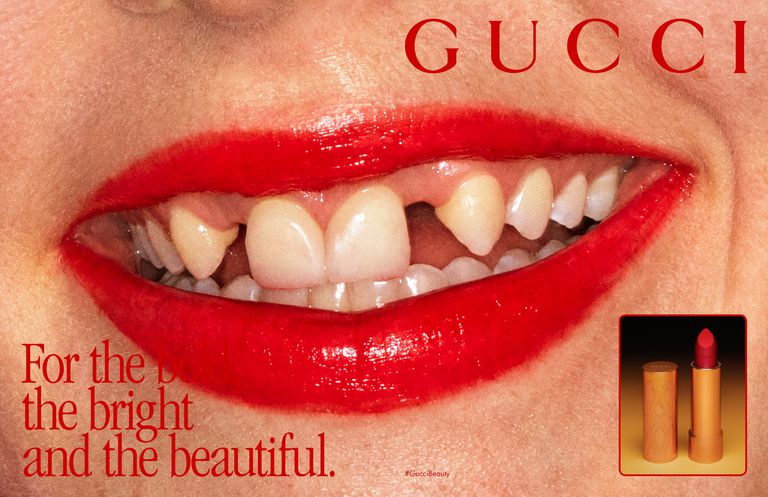 Each lipstick shades name is inspired by famous old Hollywood actresses, including Anne Baxter, Joan Crawford, Bette Davis, Jean Harlow and many more.
"I thought back to the lipsticks I saw in my life, when I was little, my mums lipstick, who was inspired by the 50s, and I wanted to give it the most powerful meaning, that of Hollywood divas and the mythology of cinema, which first put the lips in the spotlight," said Michele.
Gucci Beauty's campaign doesn't strive for perfection because that's not who the Gucci Beauty girl is. The face of the campaign is Danj Miller, the lead singer of punk band Surfbort, who are capped tooth grin can be seen on lots of the images. The rest of the campaign also features a diverse cast of models like Mae Lapres, Achok Majak, and Ellie Sophie Coggins
The lipsticks are violet-scented and can be used for loads of different purposes as shown by makeup artist Thomas de Kluyver during an intimate Gucci Beauty workshop. He used the shade Goldie Red which was inspired by Jean Harlow in Goldie on the models' lips and cheeks, as well as the shade Crystal Black as eyeshadow and eyeliner throughout campaign visuals.
Each lipstick costs $38 and is available online. The collection is also available at the Saks Fifth Avenue New York Flagship, and on the 29th May will be released nationwide on saks.com and in select stores.