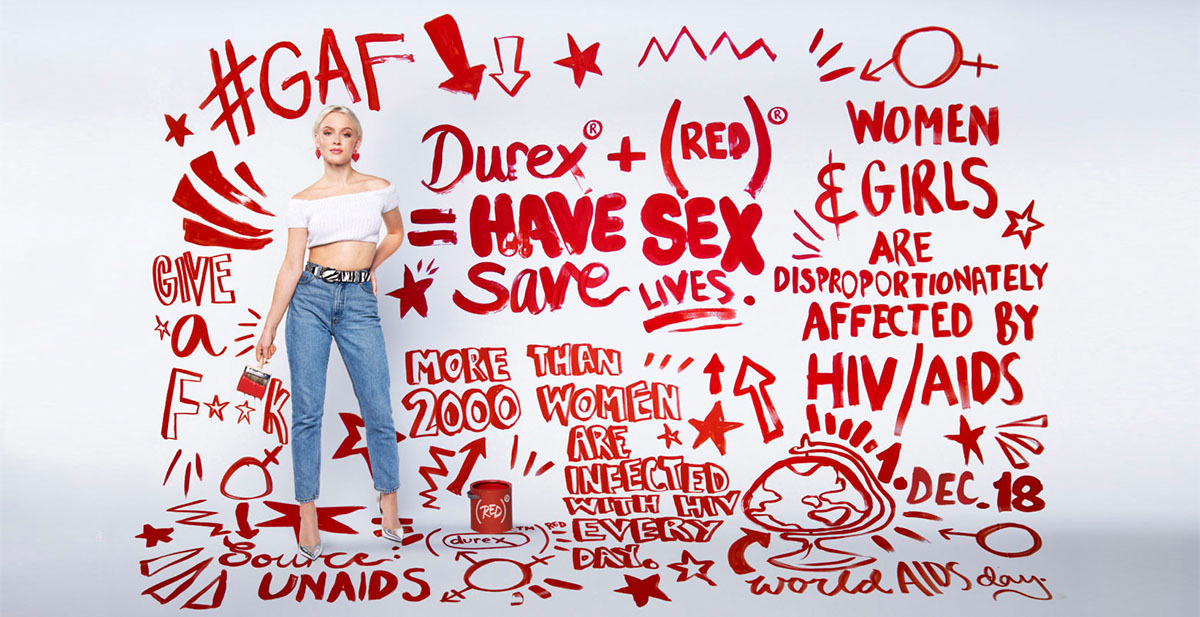 Durex Fights HIV In South Africa With RED And Zara Larsson
'Have Sex, Save Lives'
Close to World AIDS day (FYI it's the first of December) notorious Condom Company Durex teams up with non-profit organization RED— nonprofit organization that raises awareness and funds to fight HIV/AIDS — to create a new Durex Red campaign, where all money that is raised would go towards HIV projects concerning young girls in South Africa. The slogan is simple: It's GAF (Give a Fuck), provocative yet straightforward. You have sex, protect yourself and your partner, while at the same time helping someone else miles away from you, hence the name: Have Sex, Save Lives. It's about giving a fuck literally and figuratively, and pop star Zara Larsson is so very here for it, she fronts the campaign.
Larsson said, "For the first time ever, you can literally have sex and save lives. It is empowering that we can all help to protect ourselves by having safe sex, and at the same time join the fight to end Aids through helping girls in South Africa who really need our support."
Over seven million people are estimated to be infected with HIV in South Africa, which makes it a habitat to around two thirds of the reported 37 million patients living with the disease worldwide. Durex has taken notes and decided to give a percentage of the sales from its special edition Durex Red condom to The Keeping Girls in School Programme in South Africa, where the aim is to not only reduce HIV infections and pregnancies among young girls, but also improve their access to sexual health, reproductive services and general education. Durex also commits to donating a minimum of $5million over the course of three years via this partnership to achieving more work on African grounds for the cause.
The aim is to help empower girls, and fight the disease, promote safe sex, and inspire the younger generations to be aware and take action. We can let Zara Larsson tell us all about it in the 0:59-second promo video containing so much edge, and wait for it… RED. Other artists take part in the video, such as Thandie Newton and Christian Navarro's 13 Reasons Why actor all sharing the message, and encouraging people to participate in the fight against AIDS and #GAF.
The Durex Red edition is set to be in stores worldwide, so let's keep protecting young women and girls everywhere and just GAF.
Next up, Has The World Fallen Out Of Love With Victoria's Secret?