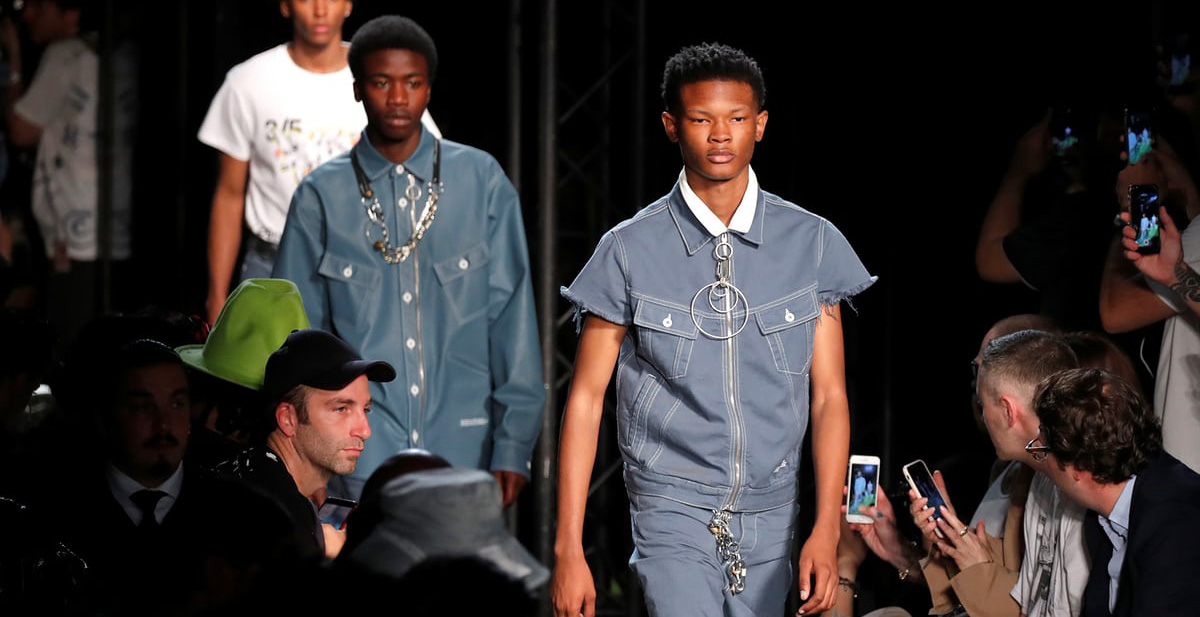 Ay Caramba! Dondi and Bart Walk Off-Whites PFW SS19
Classic Rebels for the New Age Rebel
This was about being a rebel. This was about those rebels who took risks and they paid off. This show was Virgil's inspiration, what built him to who he is today. Being a 'Menswear' launch (but ladies we can so wear every item in this collection) it was a showcase of male dominant rebels.
Six days before the show Virgil told us of Dondi White, he wanted us to read, research, google and feel that the theme will be rebellion. He told us Dorian Gray, Jim Stark and the elusive rebel and the original smouldering bad boy James Dean were who we should be expecting to see bleed through the fabrics. But he then also surprised us further with the rebel without a cause, Bart Simpson. If you didn't know the bad boys before you knew Bart Simpson, whom he named the face of the rebel without a cause. A sonata to the teenage rebellion. Fresh and disruptive, the vibe of the show and the brand.
Photo: Pixelformula/SIPA/Rex/Shutterstock
The show was denim heavy remastered, "All of us have a pair of jeans in our closet – what can we do to make them feel new and considered?" Abloh questioned. It was hand painted coats and as we have previously mentioned Abloh sees himself in Dondi, he sees Dondi as his teacher he played his words as an accompanying soundtrack to the show.
"I didn't go to art school – I learned from Dondi. I was retracing the sketchbook and these New York City trains that he were painting with Prismacolor markers."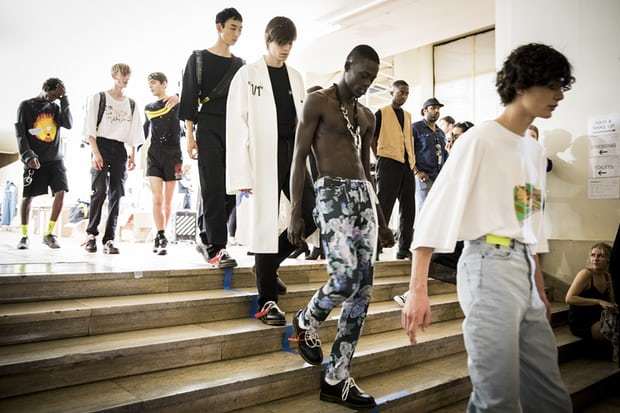 Photo: Tristan Fewings / Getty Images
Abloh created a New York Park theme. Citing his inspiration on his instagram. New York is quintessentially an atmosphere of Rebellion. The fake snow could be inferred as the white cocaine snow of rebellion and New York. Either way the show placed Abloh on an iconic level.
Photo: Kim Weston Arnold/Indigital.tv
Abloh is here and he wants to be heard. He's the new designer. A person with a passion. A disrupter, the rebel that didn't go to art school or studied fashion in Paris. He is many. A melting pot of passion for the street movement.
Boujee died. Street wear Forever.
Preview Photo: Pixelformula/SIPA/Rex/Shutterstock Top Photo: Charles Platiau/Reuters
Check out Virgil's LV Sneaker launch.