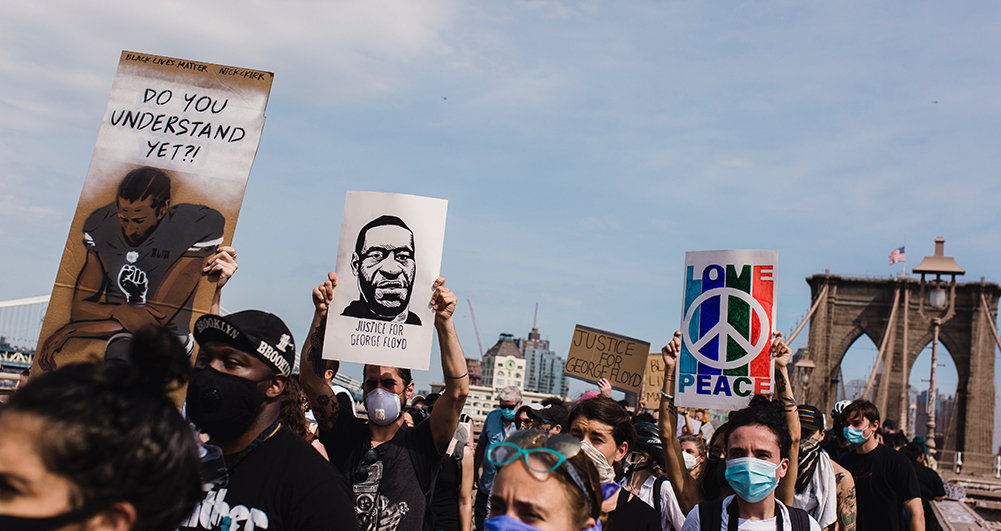 The Verdict Is In: Derek Chauvin Found Guilty Of Murdering George Floyd
What happened, and what happens now?
Finally a verdict: guilty on all counts. The world waited with bated breath early Tuesday evening as the jury's decision in the trial against Derek Chauvin for the murder of George Floyd was announced. Former Minneapolis police officer, Derek Chauvin, was found guilty for unintentional second-degree murder, third-degree murder, and second-degree manslaughter.
If you're feeling overwhelmingly emotional right now it's because you're a good human who believes in justice and the fair treatment of all. Deep breath

— Kevin ☕️🎶 (@KevinSixx13) April 20, 2021
A sentiment shared by many across the internet: we all watched a video of a man being murdered; why are we nervous about whether the murderer will be convicted? Well, data obtained by Philip M. Stinson, a criminologist at Bowling Green State University, shows that since the beginning of 2005, 140 law enforcement officers were arrested for murder or manslaughter for shooting someone while on active duty. According to the Washington Post, most do not end in a conviction. Furthermore, 57% of these resolved cases resulted in hung juries or acquittals. And more often than not, officers received a lesser charge when faced with the possibility of a murder charge.
the fact that we had to wait in anticipation to see if the court would convict a man for a murder we literally all saw happen is something

— matt (@mattxiv) April 20, 2021
As prosecutor, Jerry Blackwell, said during this trial, "You can believe your eyes, ladies and gentlemen. It was what you thought it was. It was what you saw. It was homicide." Thanks to the quick instincts of 17 year old, Darnella Frazier, who captured Floyd's death on video, the jury could believe their eyes, as it was laid out right there in front of them. Nevertheless, most incidents of police brutality aren't caught on camera, which leaves things up to the bias of a system that gives police the benefit of the doubt and Black people, the opposite.
April 20, 2021
At least in this prolific case, there is accountability. Still, as long as the criminal justice system doesn't work for all of us, it's not working for any of us.
Derek Chauvin was a sacrifice to maintain the illusion that it's an individual, not the system that's at fault.

Make no mistake, the system is at fault.

— Imani Barbarin, MAGC | Crutches&Spice ♿️ (@Imani_Barbarin) April 20, 2021

Rest in peace and power, George Floyd, Eric Garner, Michael Brown, Sandra Bland, Tamir Rice, Walter Scott, Alton Sterling, Philando Castile, Stephon Clark, Elijah McClain, Rayshard Brooks, Daniel Prude, Breonna Taylor, Daunte Wright, and the many, many others. We won't give up until we are all safe. Black lives matter.

Click here for BIPOC mental health resources.
Next Up, Men Get Away With Murder