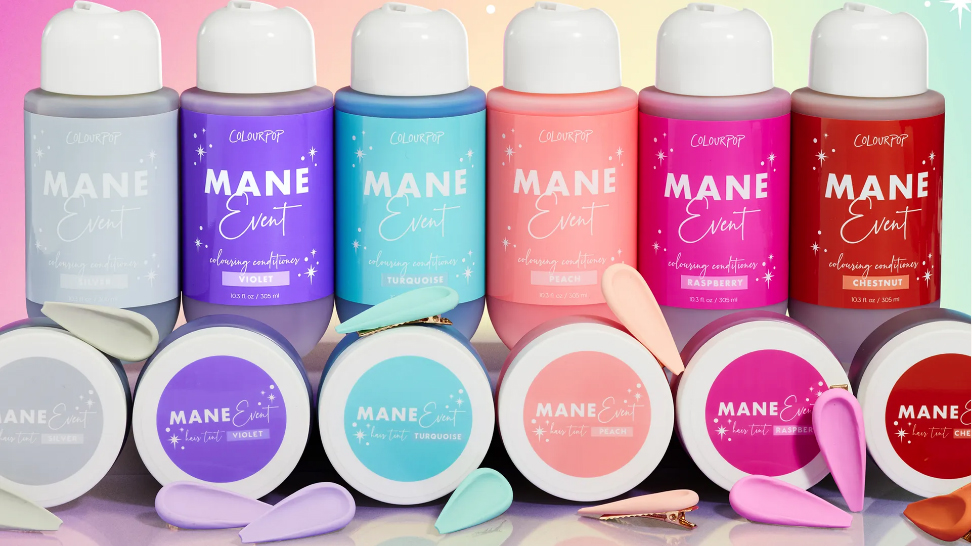 ColourPop Cosmetics Introduces Its First Ever Hair Dye
Try silver, violet, turquoise, peach, raspberry or chestnut hues today.
ColourPop Cosmetics brings vibrant hues with its award-winning products–the Fade Into Hue palette celebrates 30 shimmering metallics and rich mattes, and the Fresh Kiss Glossy Lip Stain boasts deep reds. Now, the California-based beauty brand is adding another prismatic item to its repertoire. Get ready for the Mane Event–ColourPop's first ever hair tint and coloring conditioner.
On ColourPop's official Instagram account (@colourpopcosmetics) the beauty brand shared some of the details behind its new hair dye collection. The Mane Event Hair Tint formula "gives your hair vibrant colour minus the long-term commitment or damage" and contains "supercharged ionic pigments for maximum colour deposit." The Mane Event Colouring Conditioner, on the other hand, "keeps your hair colour looking fresh between dye sessions" and features vegan keratin, Amla extract and mango butter to soften and moisturize your hair. But ColourPop didn't stop at hair dye. Included in the collection are six hair clips that match each hue in the collection–silver, violet, turquoise, peach, raspberry and chestnut.
You can find these vegan and semi-permanent products here on August 25 at 10 AM PT.
Up next, "Ballet Flats Are The Must Have Shoe For Fall 2022"