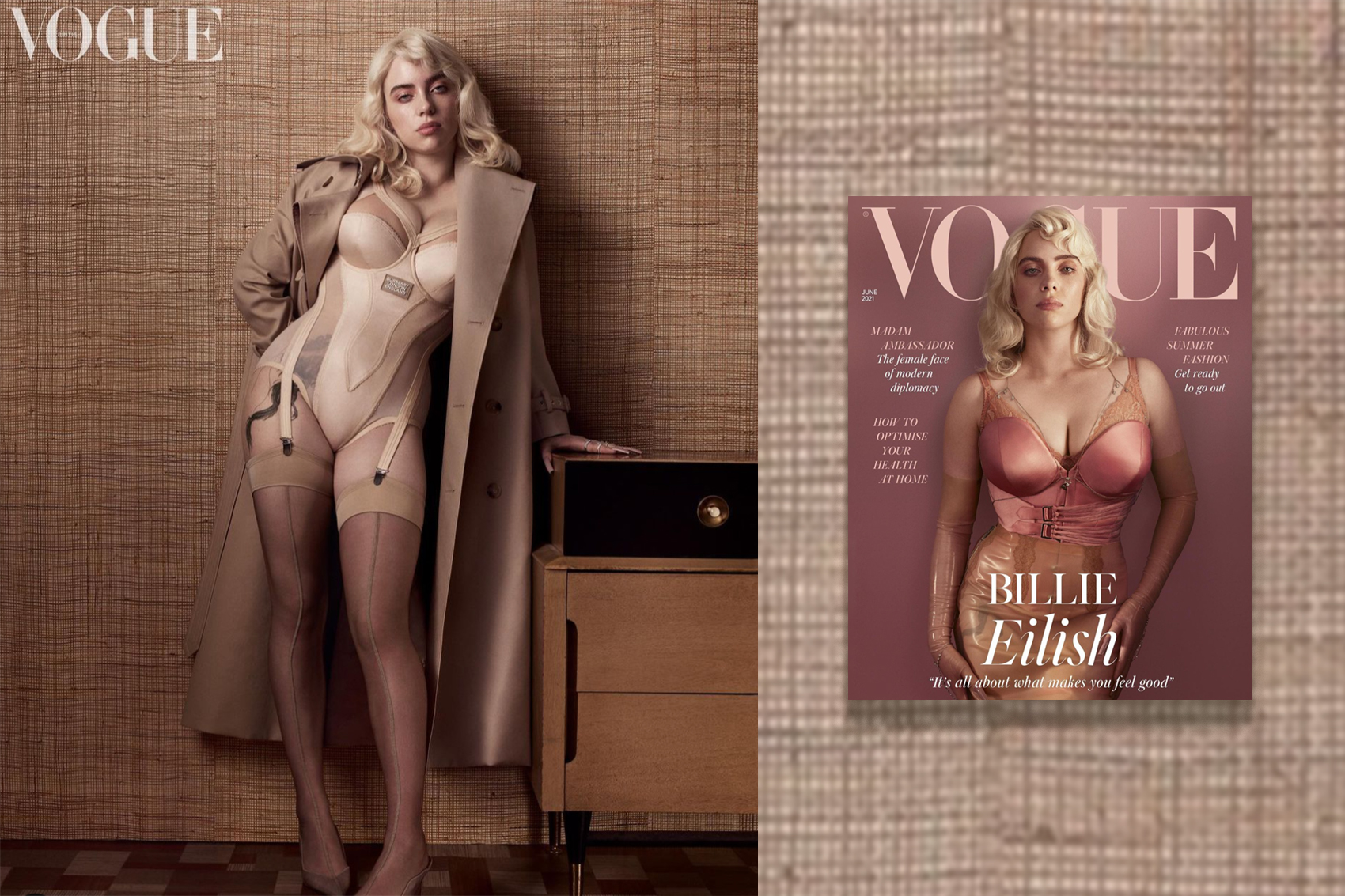 Billie Eilish Reveals A New Side Of Her On The Latest British Vogue Cover
The Photoshoot Shows Her In Custom Burberry, Mugler, and McQueen Looks.
Known for her baggy, matchy ensembles and modest fashion choices, Billie Eilish appears on the June 2021 cover of British Vogue in intricate lingerie pieces. The daring step, and overall new look (hairdo and all), comes months in advance of the release of her new album, Happier Than Ever.
"I feel more like a woman, somehow," Eilish said to Vogue about her recent changes in appearance.
The images were shot by Craig McDean, who's photographed the likes of Kate Moss, Scarlett Johansson, Madonna, Uma Thurman, and more.
The recent Vogue photoshoot shows Eilish wearing looks by a variety of designers — a custom black Mugler catsuit with matching corset (a popular look among the pop stars of today), a custom Alexander McQueen corset dress paired with latex stockings and gloves, and a beige look with a custom Burberry trench coat with a corset and Mugler stockings underneath.
The interview with Eilish centers on her upcoming album release and her thoughts on people's perceptions of what she chooses to wear. She foresees people questioning her choice to wear corsets for this photoshoot, saying "My thing is that I can do whatever I want."
"If I'm honest with you," she said, " I hate my stomach." She also expanded on her thoughts on herself and other people's rights to wear, and do, what they want with their bodies. "If you feel like you look good, you look good."
"Me and all the girls are hoes," said Eilish proudly, in response to the slut-shaming young women face for having autonomy over what they wear. "Showing your body and showing your skin — or not — should not take any respect away from you."
Read the full British Vogue article online here.