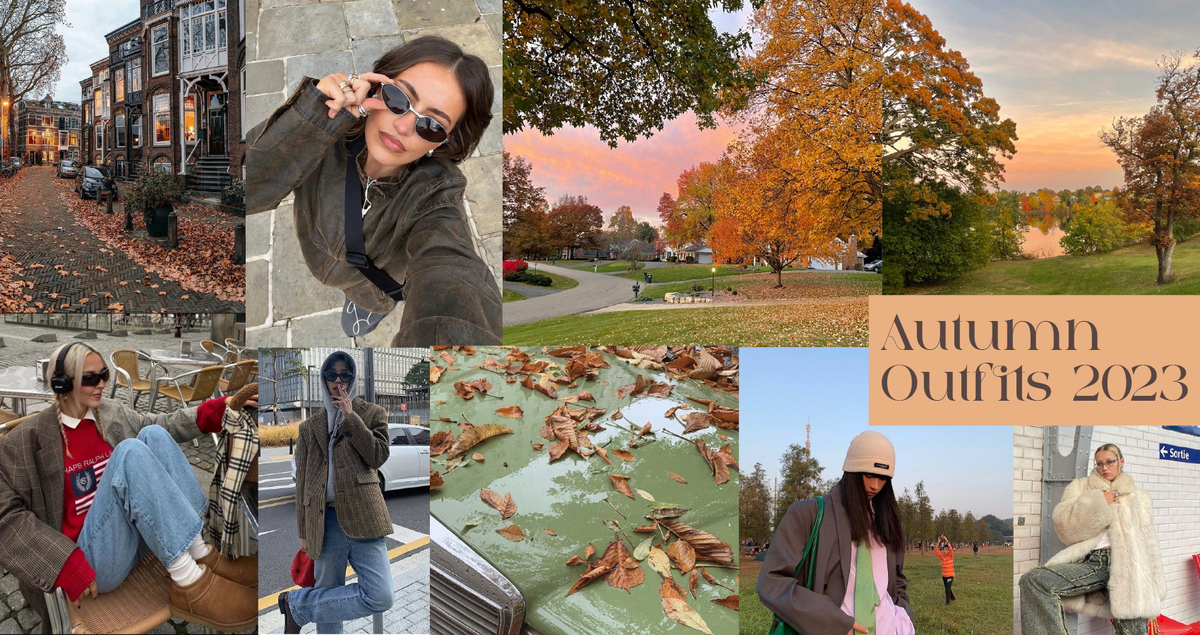 UK High Street Fashion for Autumn
Discover the hottest high-street fashion trends for a fashionable autumn.
When it comes to the world of fashion, each season brings with it a breath of fresh air. As we bid farewell to the warmth of summer, it's time to embrace the cool, crisp days of autumn. What better way to do that than by updating our wardrobes with the latest high-street fashion trends for Autumn 2023? In this article, we'll dive deep into the fashion scene, exploring the key trends that are set to dominate the UK streets this season.
Trench Coats: The Timeless Essential
Image via Pinterest
One trend that never goes out of style, especially during the transition from summer to autumn, is the trench coat and all the great designer sunglasses on sale. However, this season, we're witnessing a delightful twist on this classic piece. Gone are the days of plain beige trenches. Autumn 2023 is all about embracing bold colors and unique prints. Think vibrant reds, deep blues, and daring patterns that make a statement. Designers also opt for different fabrics, giving us a wide range of choices. From coated cotton to woven trenches, the options are endless. But what truly sets this year's trench coats apart is their length. Say hello to supersized trench coats that add a touch of drama to your outfit. Whether dressing up for a special occasion or adding a layer to your everyday look, a statement trench coat is a must-have for autumn.
Grey: The Versatile Powerhouse
Image via Pinterest
Grey has often been referred to as the "new black," and it's easy to see why. This versatile hue can elevate any outfit, offering endless possibilities for corporate and casual wear. From blueish slates to airy greys, a shade of grey suits every style. Corporate suits in shades of grey exude sophistication and professionalism, making them perfect for the workplace. On the other hand, casual jersey outfits in softer greys provide comfort and style for everyday wear. When it's time to dress up for a night out, slinky evening dresses in shades of grey are elegant and chic. The beauty of grey lies in its ability to pair seamlessly with other colors. Whether going for a monochromatic look or adding a pop of color, grey is your go-to neutral that never disappoints.
Feathers: Adding Drama to Your Wardrobe
Image via Pinterest
If you're looking for a bold, dramatic, and downright fabulous trend, then feathers are your answer. Feathers have taken the fashion scene by storm this autumn, offering a playful and extravagant way to make a statement. This trend isn't about looking like Big Bird; it's about exuding confidence and embracing a larger-than-life attitude. Think feather-adorned skirts, tops, and accessories that demand attention wherever you go. Feathers add a touch of whimsy and a sense of celebration to your ensemble, making them the ideal choice for special occasions and events. Whether you opt for a feathered skirt paired with a simple blouse or a feather-trimmed crop top for a night out, feathers allow you to express your unique style and show the world your inner diva.
Knit Dresses: Cozy Elegance for All Occasions
Image via Pinterest
As the temperatures drop, there's nothing quite like slipping into a comfortable and cozy knit dress. While summer may have been all about light and airy fabrics, autumn calls for something more substantial. Knit dresses are the answer to your transitional wardrobe needs. This season, designers offer various options, from mini to midi and maxi lengths. Mini and midi-length knit dresses are perfect for those early autumn days when the weather still has a hint of warmth. They provide the ideal balance between style and comfort, making them suitable for both work and leisure. However, when making a grand entrance, maxi-length knit dresses reign supreme. These floor-sweeping wonders offer effortless elegance and simplify your morning routine. A maxi knit dress can easily transition from a day at the office to a romantic dinner without an iron.
Molten Metallics: Shimmer and Shine
Image via Pinterest
Prepare to shine like a star this autumn with the resurgence of metallics. Silver trousers have already hinted at the return of this trend, and it's making a dazzling comeback. This trend is about embracing your inner glimmer, from gold ballet pumps to metallic shoulder bags, mixed metals in jewelry, and even head-to-toe metallic looks. While going completely metallic might not be for everyone, incorporating metallic accessories is an easy way to add a touch of shimmer to your outfit. Picture a simple white tee paired with blue jeans and the famous Terry De Havilland killer cowboy boots in metallic shades. It's a look sure to turn heads and elevate your style game. Metallics aren't just for special occasions anymore. Embrace them in your everyday wear and let your outfit do the talking.
Biker Leather: Embracing Edgy Elegance
Image via Pinterest
Biker leather is here to save the day for those who love a touch of rebellion in their style. This season, fashion is turning towards the tough side, with leather jackets, tights, bodysuits, and mini skirts making a striking comeback. The biker leather trend is about embracing a mix of biker and punk elements while maintaining an elevated and chic look. You can expect to see a generous amount of skin on display, but it's all done with style and precision. Designers are reimagining the classic leather jacket with unique details, and leather skirts are making a fierce statement. Don't write off the mini skirt just yet; it's making a triumphant return, proving that it's a timeless piece that deserves a place in your autumn wardrobe.
Your Autumn Fashion Adventure Awaits
As autumn approaches, the fashion world opens up to many exciting trends. From statement trench coats to versatile greys, playful feathers, cozy knit dresses, shimmering metallics, and edgy biker leather, there's a trend for every fashion enthusiast. The key to embracing these trends is to make them your own, mixing and matching pieces to create a style that reflects your personality and mood. So, as you prepare to update your wardrobe for Autumn 2023, remember that fashion is not just about clothing; it's about expressing yourself and embracing the changing seasons with style and confidence. Embrace these trends, make them your own, and step out onto the UK streets with a fashion-forward adventure.