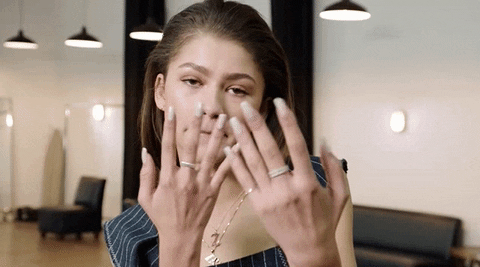 Zendaya Swears By This $15 Nail Polish
Zendaya has your spring manicure inspo sorted.
Zendaya is not only known for her epic outfits and her undeniable talent but also for her out-of-this-world beauty looks.
No wonder she is one of her generation's most popular and iconic starlets. So, if you're looking for beauty inspo, you know who to turn to.
Recently, we have been obsessing over her soft girl spring manicure, and we got all the details straight from her nail artists' Instagram account on how to achieve them.
When it comes to nail trends, they come and go, but one thing that is bound to stay consistently loved is a go-to nude nail. Zendaya was spotted wearing what her nail artist Marina Dobyk reveals to be the CND Shellac Gel Polish in the shade 'Backyard Nuptials.'
We're glad that Marina chose not to gate-keep this seriously gorgeous soft pink shade, which is the perfect color for spring and summer and compliments her skin tone beautifully.
The gel polish is also long-lasting and part of the brand's popular Gel Polish collection, which gives a high-shine finish lasting up to 14 days.
However, if you're staying away from gels or want a formula, you can apply yourself at home; this shade is also available in a long-wear polish version.
This universal soft pink shade is perfect for any occasion, from red-carpet events to casual outings.
This is not the first time Zendaya has inspired with her beauty look, recently rocking epic 90s makeup on the NAACP red carpet.