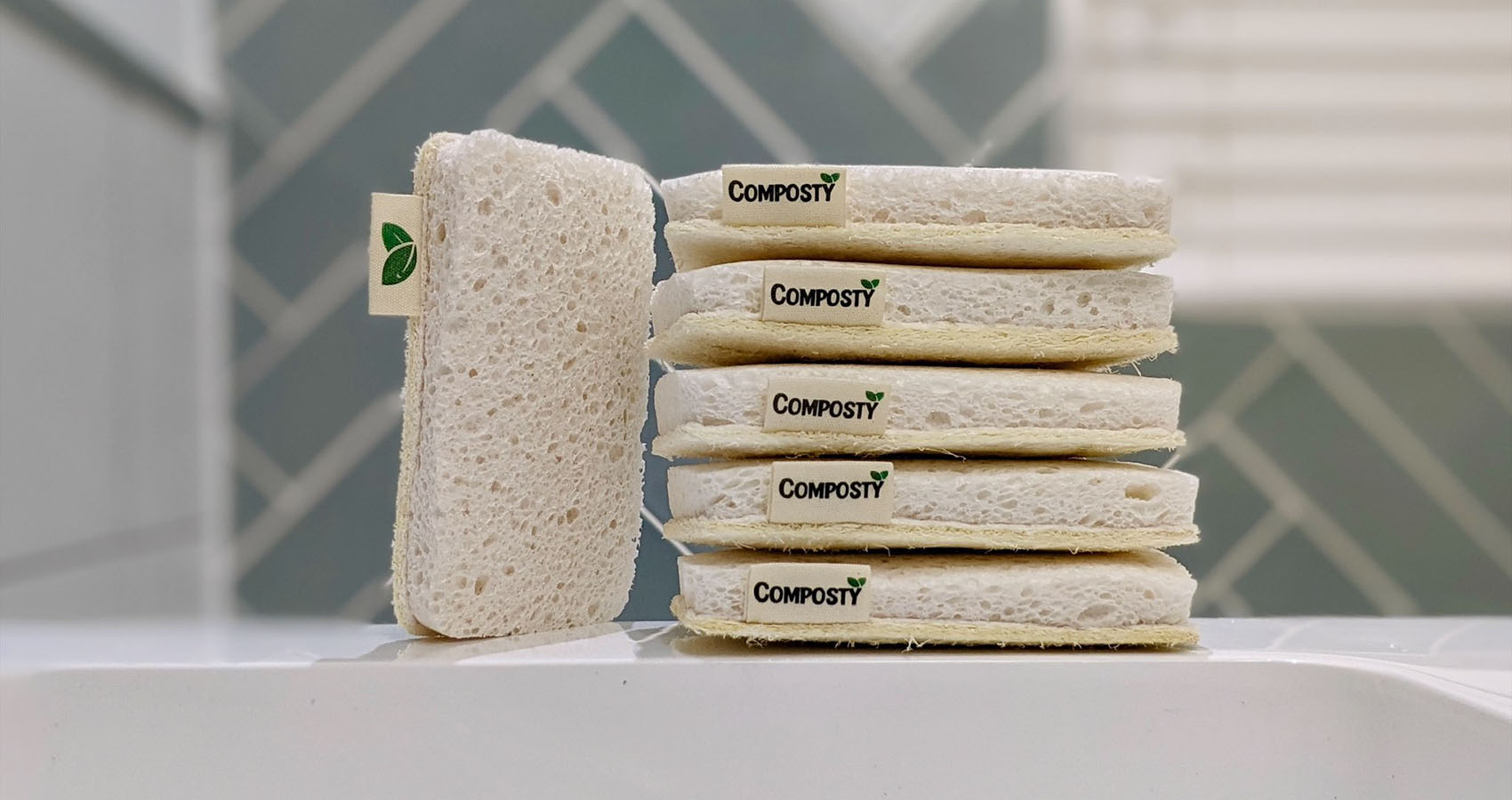 We Interview Composty: The Award-Winning Sustainable Cleaning Brand 
Raising their daughter in a greener world brought this brand to life.
Sustainable living is paramount. With the cost of living crisis, a greener lifestyle isn't always affordable and accessible. Composty provides high-quality, affordable, and fully compostable cleaning products to help you live your eco-friendly life!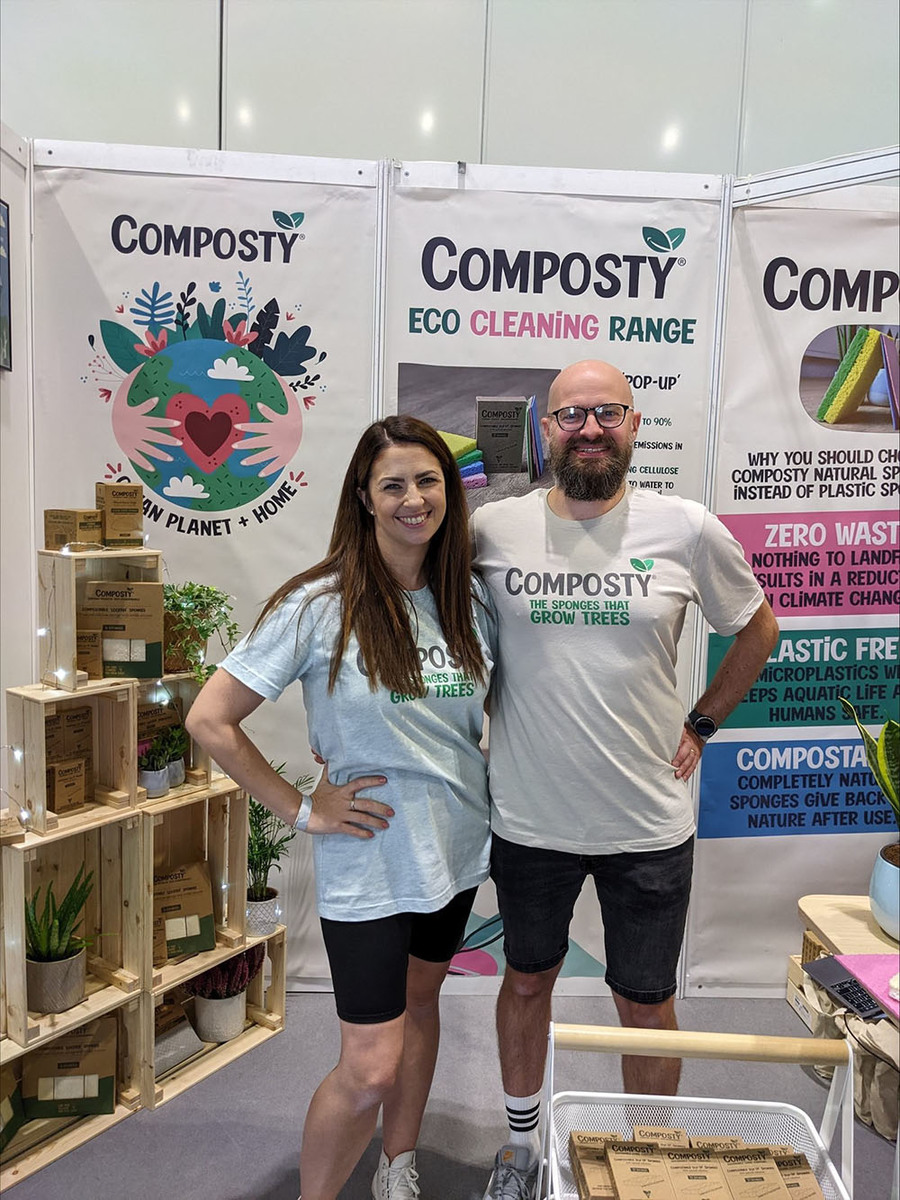 What sparked the birth of Composty?
Hi there! The birth of Composty was a combination of both my passion and that of my wife Helen. We both wanted to make a positive impact on the world, especially after the arrival of our daughter in 2016. Our family has since grown to include two more daughters and a set of twin baby boys. Sustainable living is a big part of our family values, and our goal with Composty is to help other families do the same.
It became clear - to us - that we needed to take action and make a difference, so we set out on a mission to create high-quality, fully compostable cleaning products that are both environmentally friendly and accessible to everyone. We were frustrated by the lack of truly environmentally friendly options in the market, which often made false claims, or were of poor quality. With Composty, we're proud to offer a solution that solves these problems. Our goal was to provide people with an affordable and sustainable alternative to traditional cleaning products, and we're proud to say that Composty is now making that a reality.
And as a bonus, we are also planting trees with every purchase to help the planet on a wider scale. We are passionate about our mission and committed to making a positive impact in the world through Composty.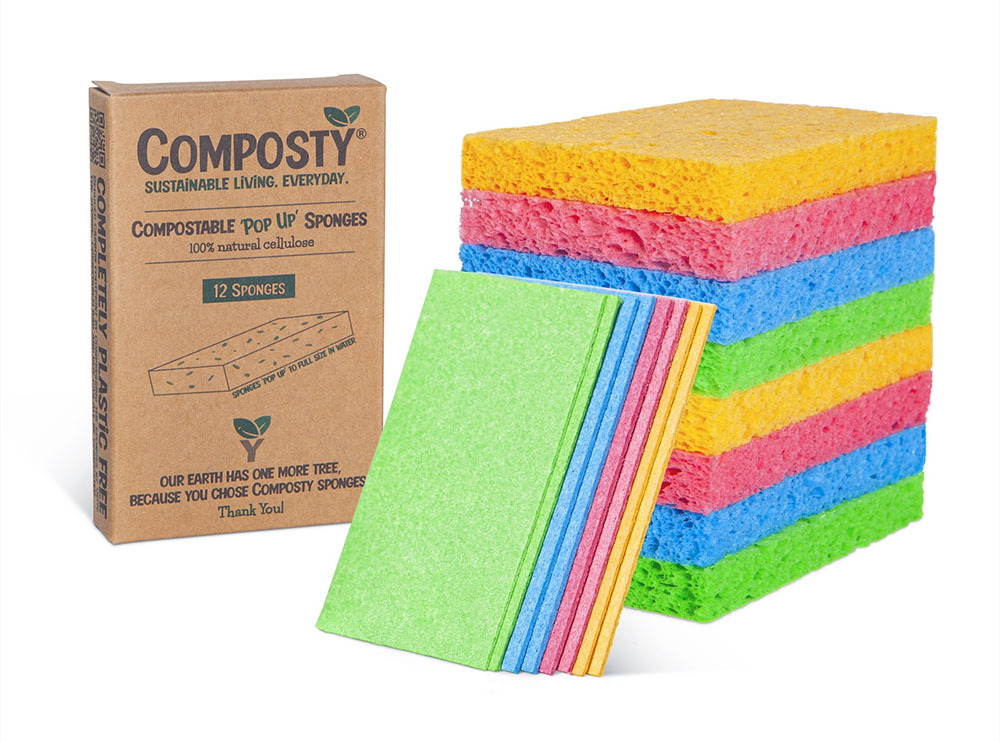 Why is it important for people to purchase sustainable cleaning products, like Composty? And how can they become more aware of what they're purchasing?
The cleaning industry is in dire need of a revolution. The overuse of plastic in products and packaging is a major concern. For example, a common supermarket sponge is made of plastic and can take up to 500 years to degrade in a landfill. The issue with this is that plastic at the landfill will degrade using an anaerobic process, releasing methane, a gas known to contribute to climate change.
Using plastic sponges releases microplastics into our waterways every time you use them, leading to harm to aquatic life and even contamination of human food. In addition, Microplastics have recently been found in 80% of people's blood. Shocking!!
Unfortunately, the market is also plagued by greenwashing, where brands claim to be more environmentally friendly than they are. Some simply put "eco" on the label without explanation, while others make false claims about being compostable. For example, "eco-friendly" sponge scourers may be made from compostable materials like coconut fibers or sisal. Still, the glue used to bind the fibers and the polyester often used in the packaging is not environmentally friendly. In contrast, our scourer sponge is fully natural, with the scourer made of loofah and stitched to the sponge using organic cotton, and the sponge made of cellulose. All of these materials are fully compostable.
This is where Composty comes in! Our cleaning products are 100% plastic-free, yet still, provide excellent cleaning results. In addition, our packaging is eco-friendly, making it a much more sustainable option for consumers. Everything we make is compostable - including the packaging.
By purchasing sustainable cleaning products like Composty, consumers can take a step towards reducing their environmental impact and protecting the planet. To become more aware of what they are purchasing, consumers can look for products made from natural, compostable materials and packaged in eco-friendly materials; they can also research the brand and its production practices. With every wash-up using plastic sponges, you contribute to the alarming effects of climate change and the potentially damaging microplastics that harm aquatic life, animals, and even humans. Make a change for the better with Composty sponges and cloths. Clean up with a clean conscience.
At Composty, we believe in making a real difference in the world, starting with the cleaning products you use every day. That's why our products are 100% plastic-free, compostable, and truly circular, meaning that you can use them and then return them to the earth without harming the environment.
One of the unique things about Composty is our commitment to reforestation. For every pack of products sold, we plant a tree in Madagascar, Mozambique, or Honduras. This helps to offset the carbon emissions from shipping and production of our sponges, and it also provides jobs for local communities, a home for wildlife, and helps to combat the effects of climate change. All of our trees are planted through our partnership with the Eden Reforestation Project.
Our products are also designed to perform exceptionally well. For example, our Pop-Up sponges have become popular since their launch in February 2021, and many have tried to copy us, but none have come close to the quality and performance of our products. This is reflected in the over 1000 5-star reviews on Amazon, where customers rave about how well our products work and how much they love that they can clean their homes with a clean conscience. Plus, the Pop-Up sponges are so satisfying to watch go from paper thin, to a full sponge when run under with water. If you haven't seen this happen yet, you must check it out on Instagram or tiktok!
Where can people purchase your products?
The amount of places you can find our products is growing! You can find our compostable sponges and cloths on popular e-commerce platforms like Amazon and eBay, as well as our very own website, www.composty.earth.
Additionally, we're proud to be stocked by independent zero-waste stores across the UK, Europe, and the USA. If you're looking for a more local option, you can simply check our website for a list of nearby stockists.
By providing various purchasing options, we hope to make it as simple and accessible as possible for you to choose Composty and join us in our mission to create a cleaner, more sustainable world.
Have you noticed a significant growth in sustainable cleaning products? And do you think the future is looking greener for the industry?
Definitely! We've seen a huge growth in the demand for sustainable cleaning products, and it's amazing to be a part of it. At Composty, our sales have almost doubled in the last year alone, which is a testament to the increasing awareness and concern people have for the environment and the impact their daily choices have on it.
We're thrilled that over 40,000 households have now tried Composty products and switched to a more sustainable and eco-friendly cleaning solution. People are recognizing not only the environmental benefits but also our products' high-quality performance and longevity.
Studies have shown that more and more consumers are making a conscious effort to purchase environmentally-friendly products, and we believe this trend will continue in the future.
The future is looking greener for the cleaning industry, and we're proud to be at the forefront of this change.
Reforestation is a focal point for Composty. Since 2021 you've planted over 27,000 trees! How can people contribute to your help of not just rebuilding habitats but helping communities?
Every time you buy a Composty product, we plant a tree. That's a promise to you! However, if you want to directly contribute to our reforestation efforts without purchasing a product - or you want to plant more trees - you can easily do so by visiting our website. There, you can purchase a single tree for just £1! This small investment will help rebuild habitats and support local communities in countries such as; Madagascar, Mozambique, and Honduras.
Why was it so important to include the tree planting process alongside selling of Composty products?
We believe in doing our part to help preserve the planet for future generations. That's why we made a conscious decision to include tree planting as a fundamental part of our business model. Every time a pack of our sponges is sold, we partner with Eden Reforestation Projects to plant a tree in Madagascar, Mozambique, or Honduras.
Not only does this help rebuild habitats for wildlife, but it also provides tangible benefits for local communities. Additionally, the trees we plant act as powerful carbon sinks, removing carbon from the atmosphere. When fully grown, each tree can remove over 12kg of carbon from the atmosphere each year. By incorporating tree planting into our business, we're able to make a real and meaningful impact on the environment, and we're proud to say that since 2021, we've planted over 32,000 trees.
With every Composty purchase, our customers are not just getting eco-friendly and sustainable cleaning products; they're also directly contributing to reforestation efforts and making a positive impact on the planet.
Lastly, I want to congratulate you on winning the Theo Paphitis SBS Award! What is next for Composty?
Thank you very much! We are absolutely thrilled to have been shown the recognition and win the Theo Paphitis SBS Award.
Our focus this year is to expand our presence in stores across the UK (If we are not stocked in your local store - be sure to mention us!), as well as target big consumers of cleaning tools, such as facility management companies, cleaning contractors, and the hospitality industry, to make sure they are using as sustainable cleaning products as possible.
We're also looking forward to returning to exhibit at the Clean and Tidy show at the Excel in London in October, which is a great opportunity for us to meet our customers in person and spread the word amongst consumers that may not be aware of the risks of plastic cleaning products!
As always, we are working on exciting new products and projects, which we are excited to reveal in due course!
Purchase Composty's products here.