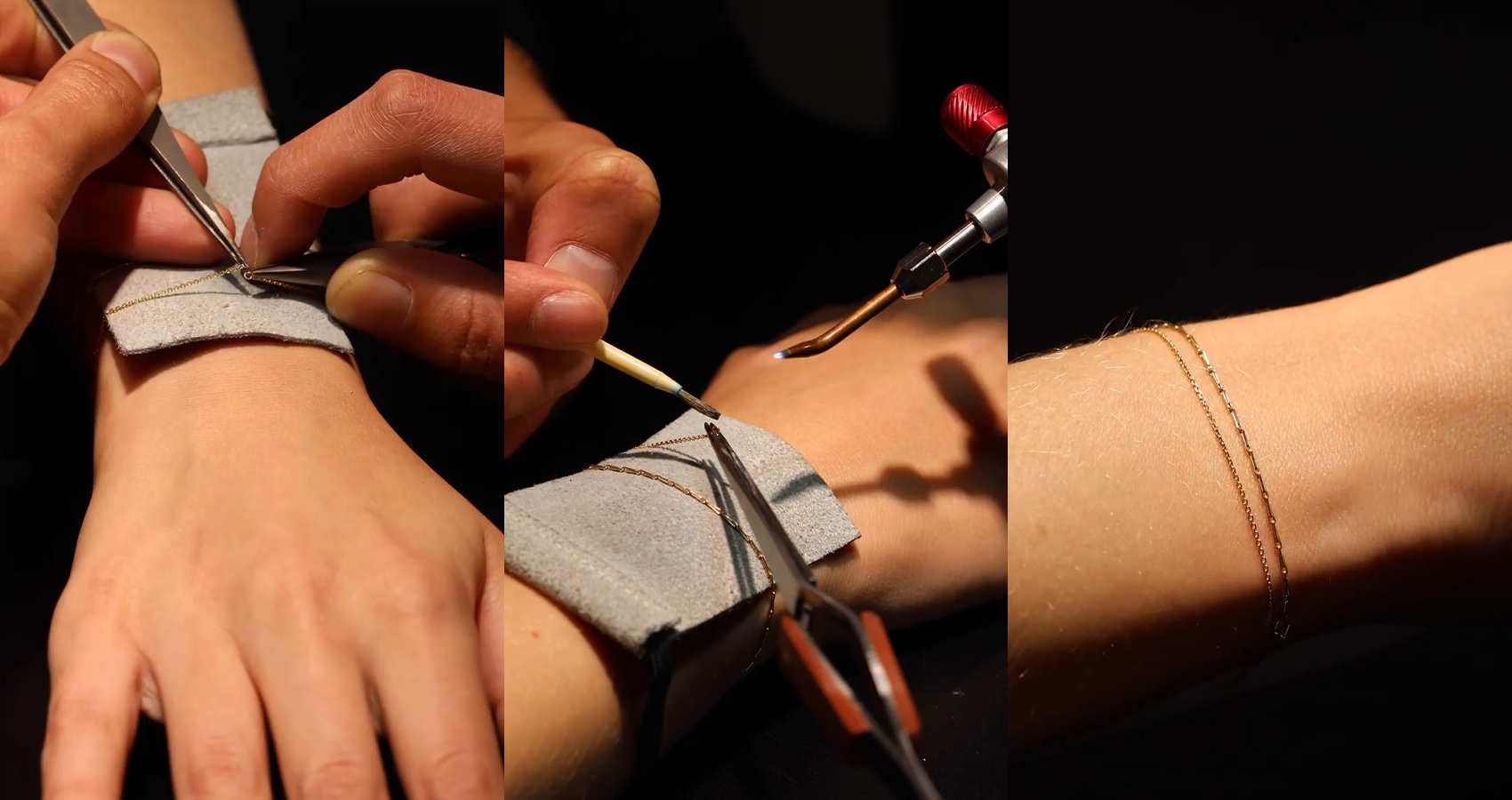 The Forever Permanent Bracelet Trend is Here, And We're For It
A great alternative to couples tattoos.
Permanent or Forever Bracelets (like these chic Forever bracelets from The Lovers) are dainty bracelets that are completely free of the burden of a clasp. They're soldered into place and designed to stay put until you decide to cut them off.
Why should you get one?
These sweet, dainty bracelets are the perfect low maintenance jewellery option for those who want to wake up accessorized and ready to go! The process of welding them into place is an experience in itself and has become a popular bonding activity amongst friends, families and couples. It's the perfect hens night activity, a great alternative to couples tattoos and a sweet way for mother-daughter duos to express their affection. Better yet, it's significantly less wasteful than traditional jewellery as the chain of forever bracelets is sized and cut to fit your exact measurements.
What happens during an appointment?
One of the reasons that forever bracelets are so appealing is because they require a personalised, in-store experience. If you want one welded into place, you'll need to book an appointment with a specialty jeweller with the correct tools and training to precisely fuse together your chain. During an appointment, customers are typically presented with several chains in varying finishes - usually there's a choice between sterling silver, yellow, white or rose gold. Once the correct chain is selected, your jeweller will fit your new forever bracelet to your wrist before fusing it together with a small welding tool that gives off a sharp pulse.
It's quick, painless and lots of fun. It's a chance for jewellery lovers to be involved in the jewellery making process and to completely customize their own design. Best of all? It's commitment, without the permanency or unchangeability of symbols of self-expressions like tattoos and piercings because your new welded bracelet can easily be cut off whenever you're ready. If at any time it comes loose, it can also easily be rewelded into place, although your jeweller will test how secure it is during your appointment.
Why has it become so popular?
The popularity of this trend has largely been driven by social media, popping up on the wrists of celebrities and influencers all over the world. It's origin can be traced back to New York and Brooklyn, where it was quickly adopted by the hip crowd before it began its inevitable spread into Europe and further ashore into Australia.
The lack of a clasp is one of the major reasons why forever bracelets have become so incredibly popular. Permanent jewellery is a natural fit with the modern minimalist aesthetic that is now so on-trend - it's unobtrusive, versatile and timeless in a way that traditional jewellery cannot match.
Where can you get it?
Forever bracelets are quickly gaining ground as a bonafide style must-have, but they're still not commonplace in most cities around the world. If you want to have permanent jewellery fitted, then it's best to look for local specialists or pop-ups in your area.
So, what do you think? Would you ever have a bracelet permanently welded to your wrist?
Up Next, Emi Jay Has Us In The Summer Feels With "Super Bloom"