The Best Fashion Moments In Beyonce's 'Black Is King'
Featuring independent Black designers from around the world. And the most breath-taking Haute Couture.
Last week - the moment that we had all been waiting for arrived – and we were finally graced with Beyonce's latest project "Black Is King". A celebration of Africa, its history, and culture, the short film was an ode to the beauty of African talent and Black ancestry – yet it was also nothing short of a 'fashion masterpiece'.
Showcasing some of the best creatives in the world, Bey and her stylist, Zerina Akers, had an epic vision from the get-go. Featuring emerging and established talent in the industry and a pool of gifted Black-designers, here is a look at some of the most exquisite looks from "Black Is King" that are sure to leave you feeling speechless.
#1 Loza Maléombho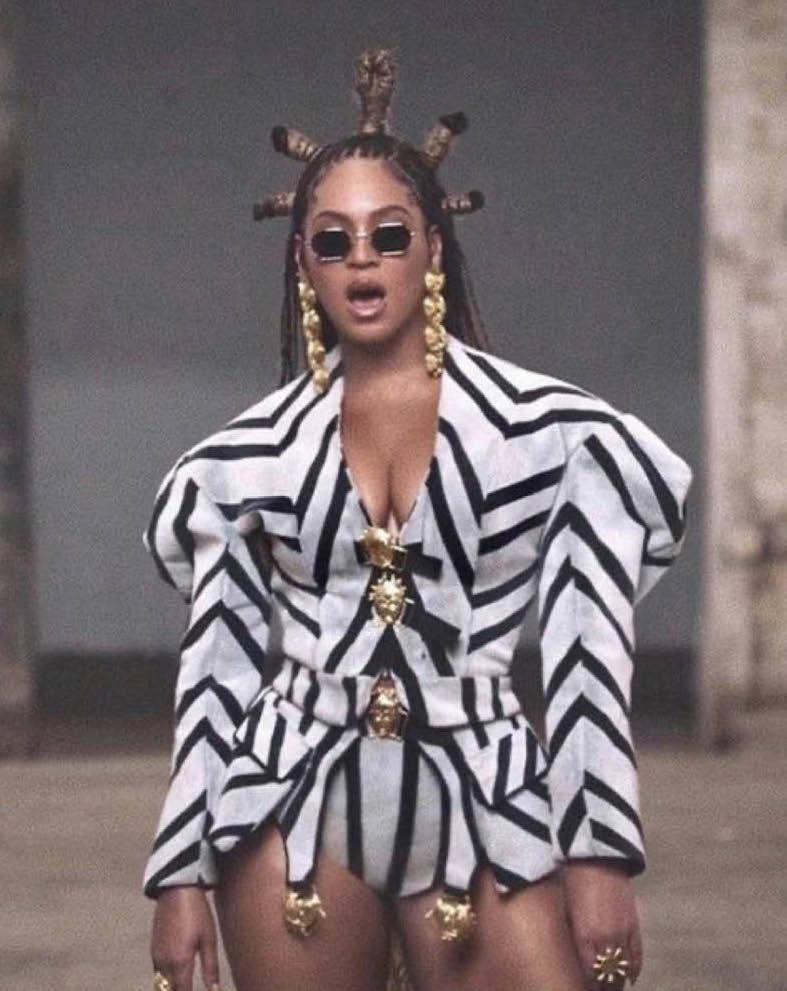 © Disney, Black Is King
Bey wears a custom black-and-white, graphic ensemble with gold hardware by West-African designer, Loza Maléombho, during her performance of "Already".
#2 D.Bleu.Dazzled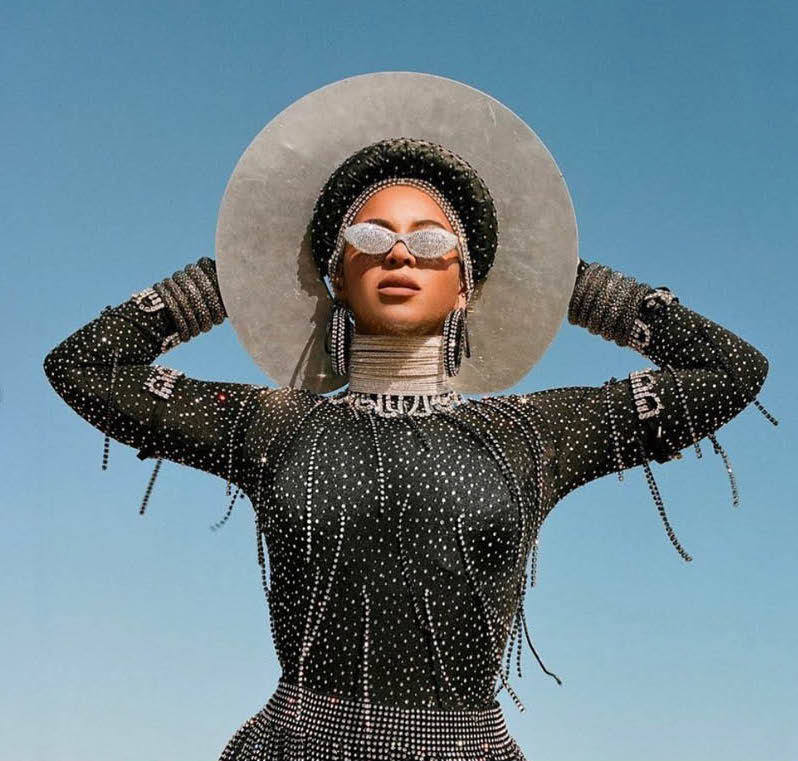 © Disney, Black Is King
The visual album was full of bejeweled looks, beginning with this impressive diamond fringe catsuit and skirt by D.Bleu.Dazzled. A combination of jewelry and accessories from Area and Laurel Dewitt completed the look, along with a striking pair of A-Morir crystal sunglasses.
#3 Laurel DeWitt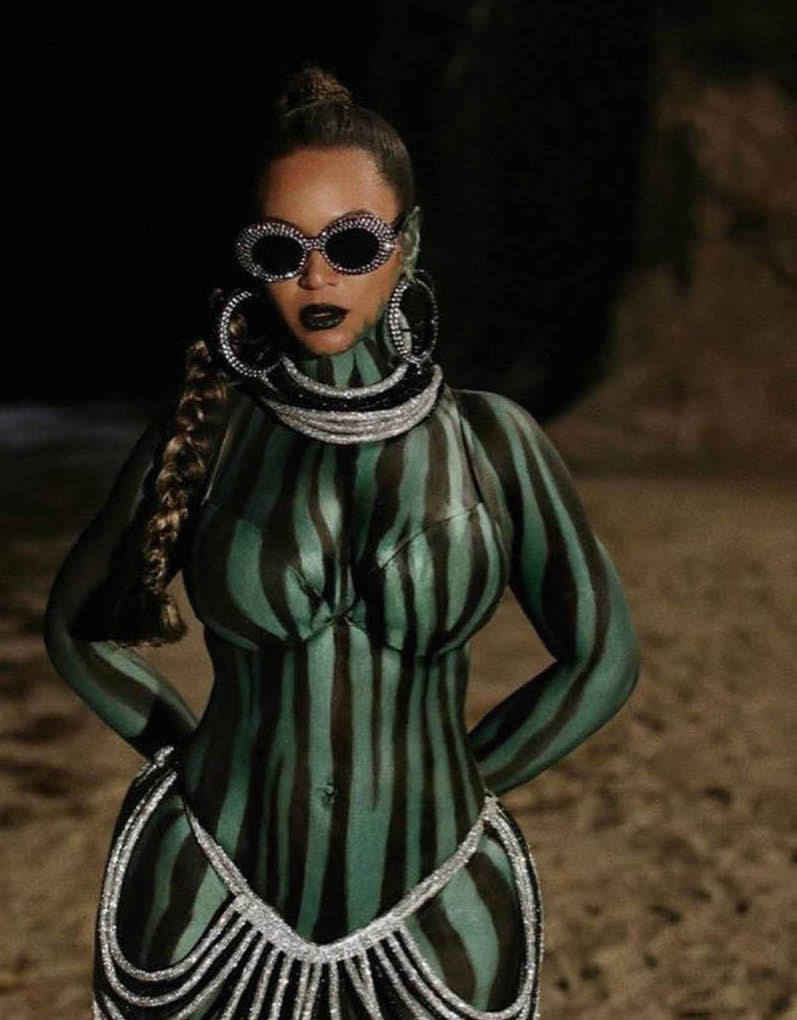 © Disney, Black Is King
Laurel Dewitt was to thank again for another hypnotic look in "Find Your Way Back". This iconic vision was brought to life by crystal body jewelry layered on top of metallic body paint by Francesca Tolot.
#4 Alessandra Rich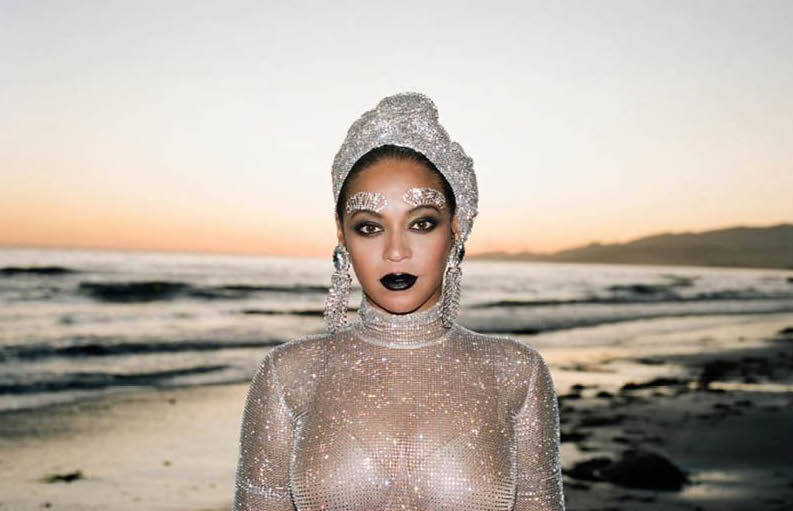 © Disney, Black Is King
Bey even brought the bling to her face with some diamante brows by Area, which worked perfectly with this shimmering number from Alessandra Rich and custom crystal turban by Laurel Dewitt. B sure knows how to take the spotlight, that's for sure!
#5 Burberry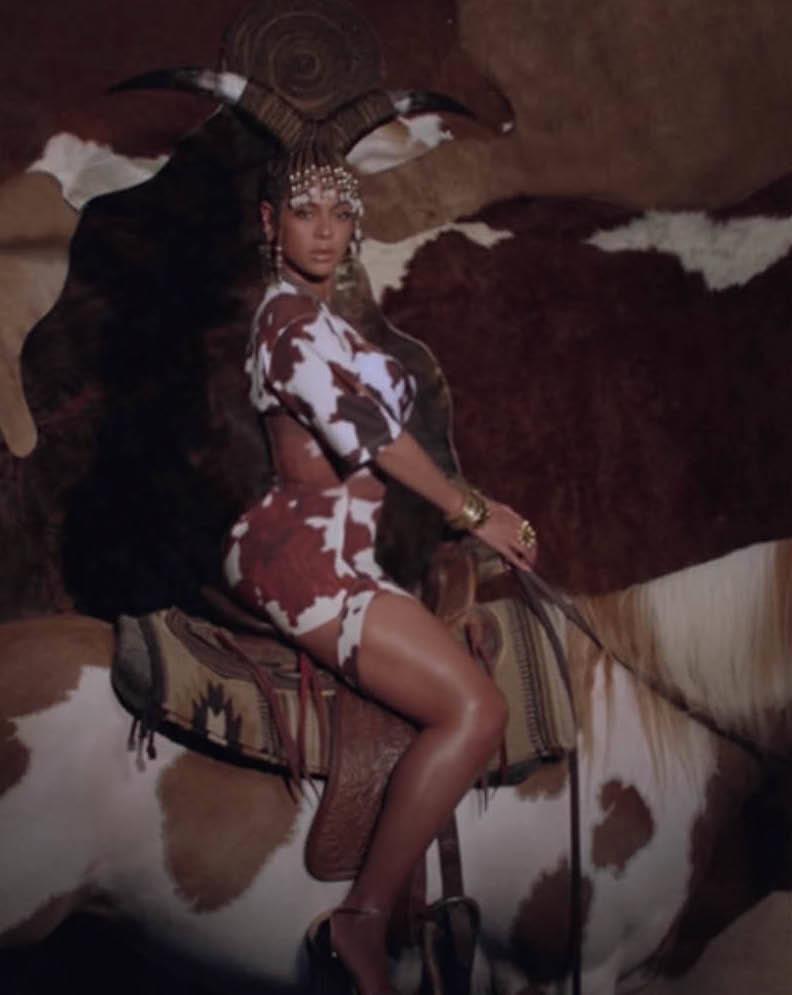 © Disney, Black Is King
Riccardo Tisci was another one of the lucky designers who got to leave their mark on Beyoncé in the short film – and not only once but two times! We can't get enough of this cow-print corset top and matching mini skirt.
#6 Molly Goddard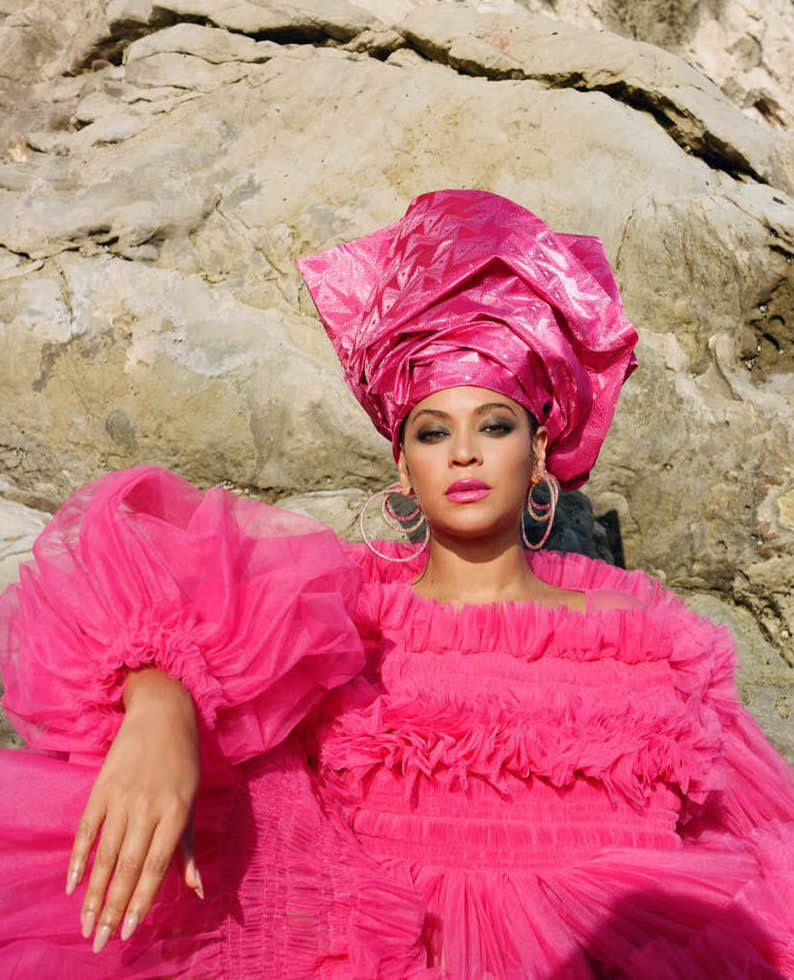 © Beyonce.com
Molly Goddard's pink tulle showstopper went viral again – but this time with B – and we expected nothing less due to its marvelous and extravagant silhouette.
#7 Mia Vesper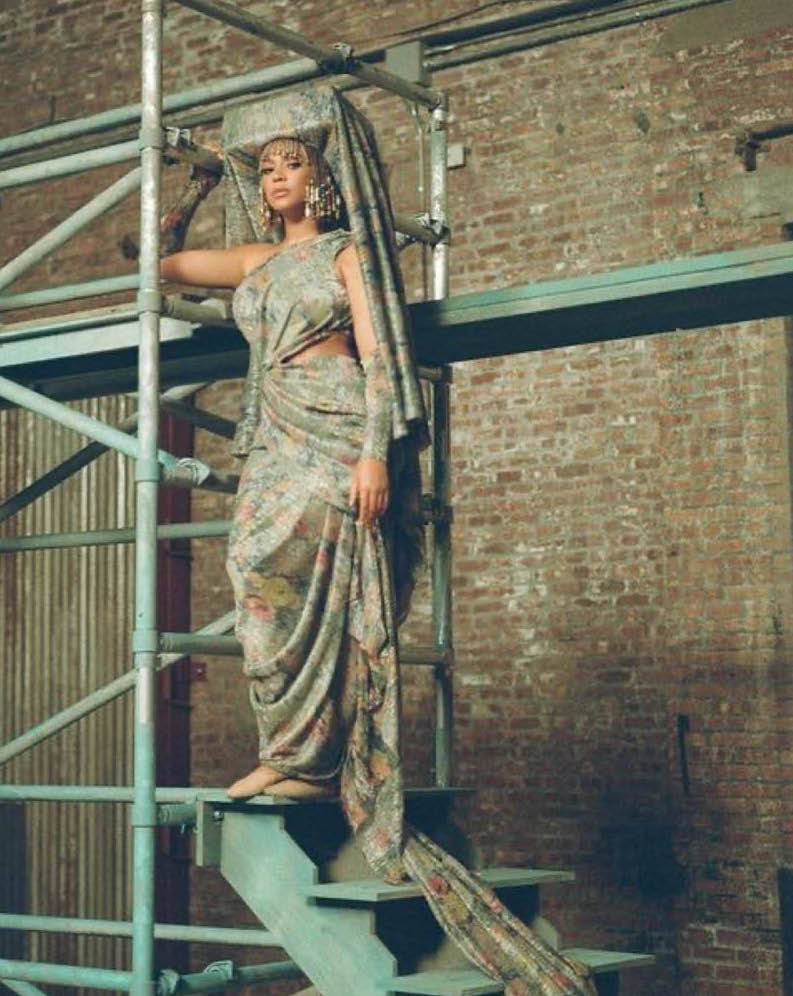 © Disney, Black Is King
We love to see celebrities endorse up-and-coming creatives in the industry, and in Black is King, New York designer Mia Vesper got her shot on a track featuring Pharrell that celebrates "the art and beauty of collecting water". After B's stylist, Zerina Akers, told Vesper she wanted something iconic, she crafted a masterpiece and 60 additional looks for dancers and actors in the film. Starting by experimenting with different headpiece shapes and sizes, a trademark of Beyoncé's personal style, the final result consisted of "a shimmering Impressionist gown with bias draping and ruching and a dramatic headpiece".
#8 Michaela Stark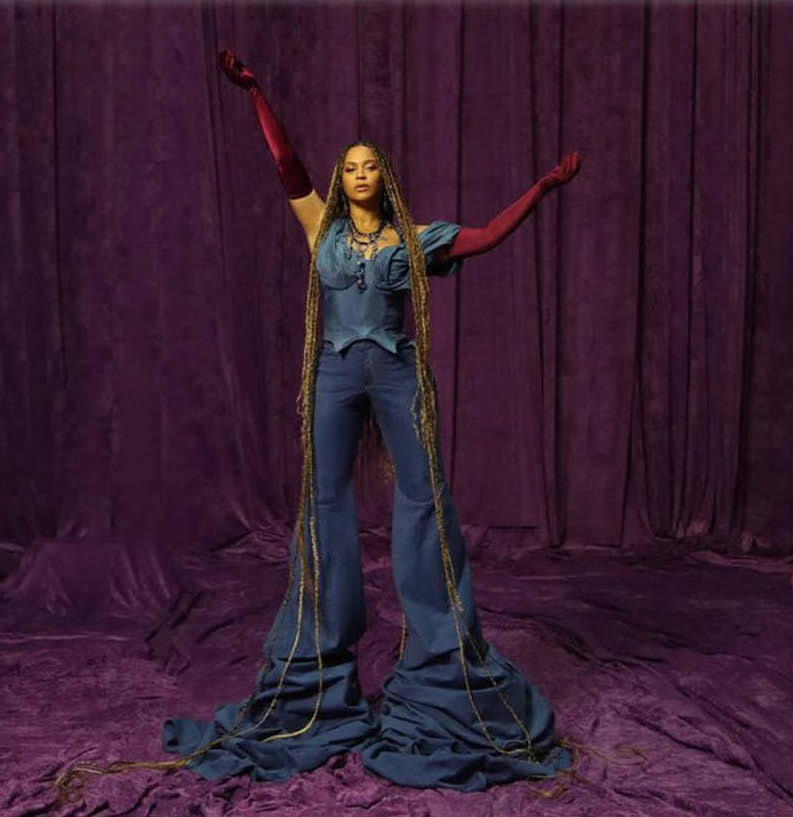 © Instagram: @MichaelaStark
Dancing in 4-meter long jeans? That's no problem for Bey. Michaela Stark brought B and Akers' vision of 'exaggerated silhouettes' to life with these statement pants and silk corset top that complimented "Water" perfectly.
#9 Erdem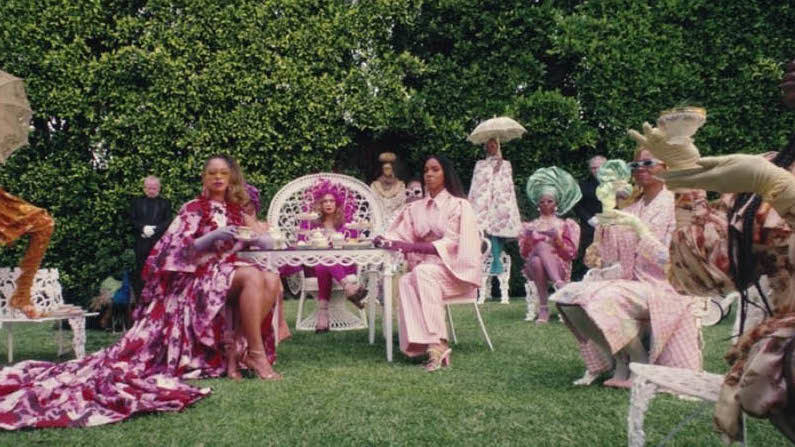 © Instagram: @Erdem
A tea party we'd love to be invited to. B's floral-print tiered gown came straight from Erdem's AW19 collection, whilst bestie Kelly Rowland sported a pink gingham top and matching trousers.
#10 Jérôme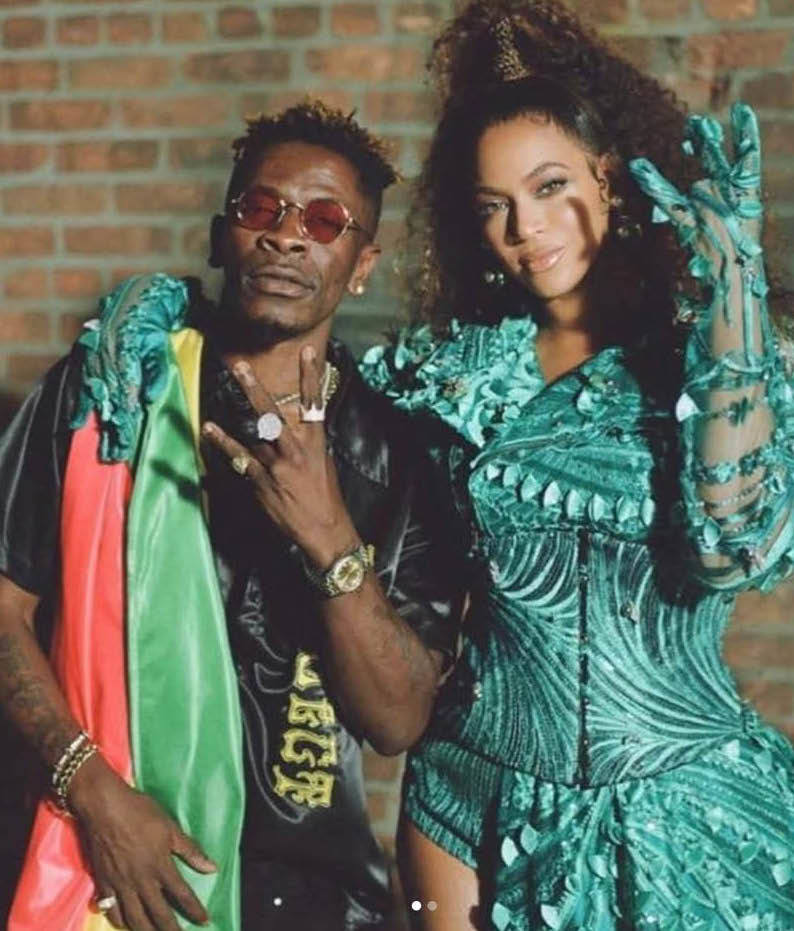 © Disney, Black Is King
"MODERN MAGIC" - Jerome Lamaar is the designer behind this aquamarine hand-beaded Nigerian lace and silk trench/jumper hybrid, which details were made up of from jade, turquoise, quartz, mother of pearl, silver hematite and Swarovski.
#11 Valentino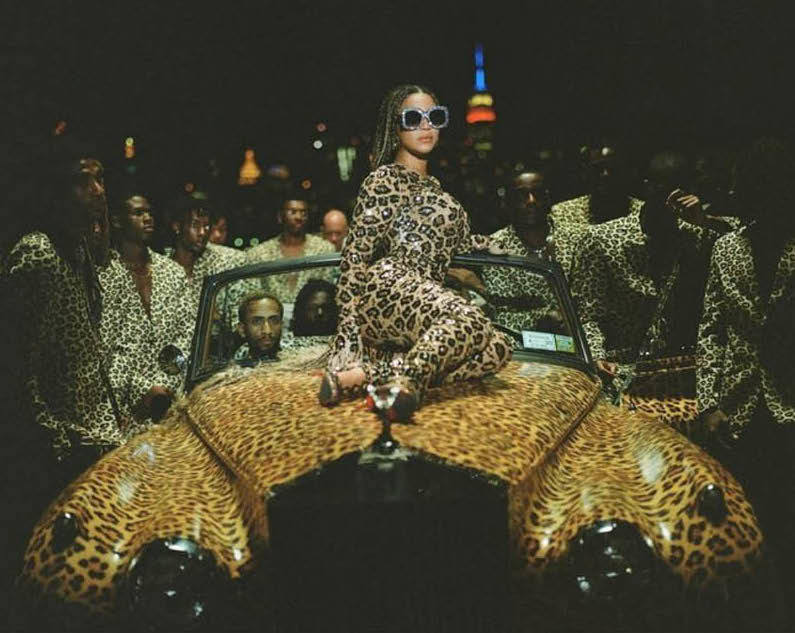 © Instagram: @maisonvalentino
We think it's safe to say we don't think we'll be topping this leopard print look any time soon. The moment Pierpaolo Piccioli graced us with this exquisite work of art - and who better for Maison Valentino couture than Queen B, anyway?
#12 Mary Katrantzou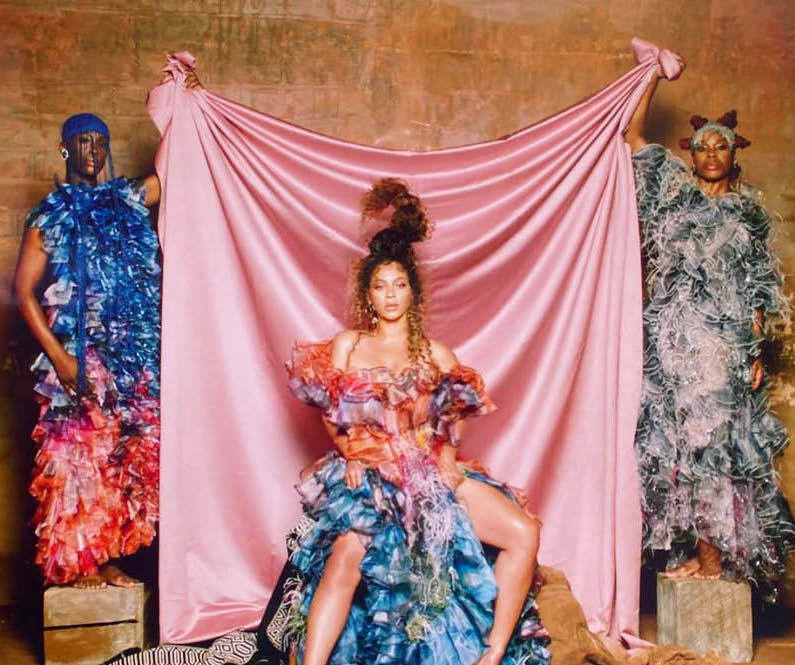 © Instagram: @marykatrantzou
We love how the soft ruffles of this AW19 Mary Katrantzou dress resembles the motion of fresh, flowing river water. The romantic colors in this scene are like something out of a dream, matched with B's angelic glow.
#13 Area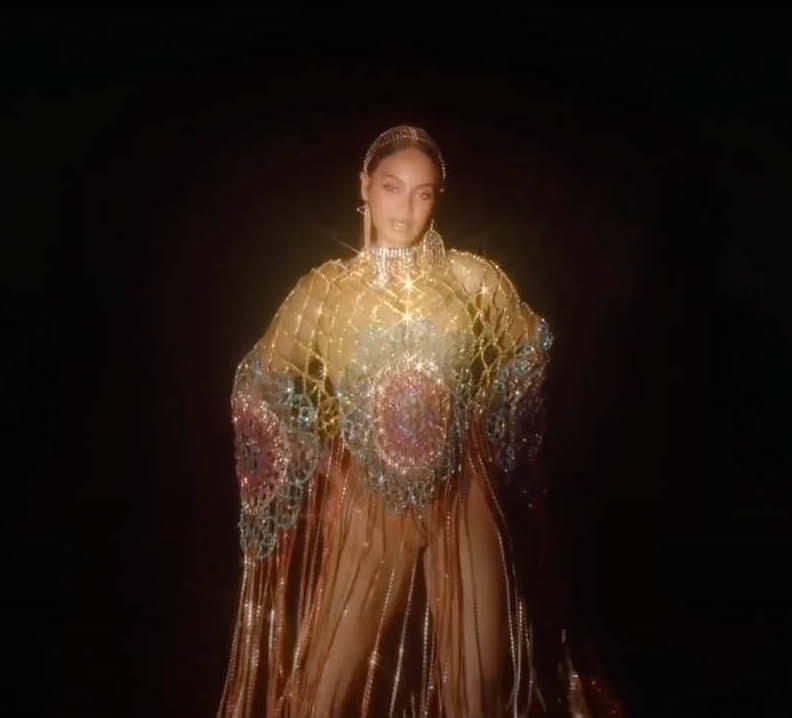 © YouTube
Area's Crystal Crochet Poncho speaks for itself here - perhaps the most ethereal look of Bey's in Black is King.
#14 Alon Livné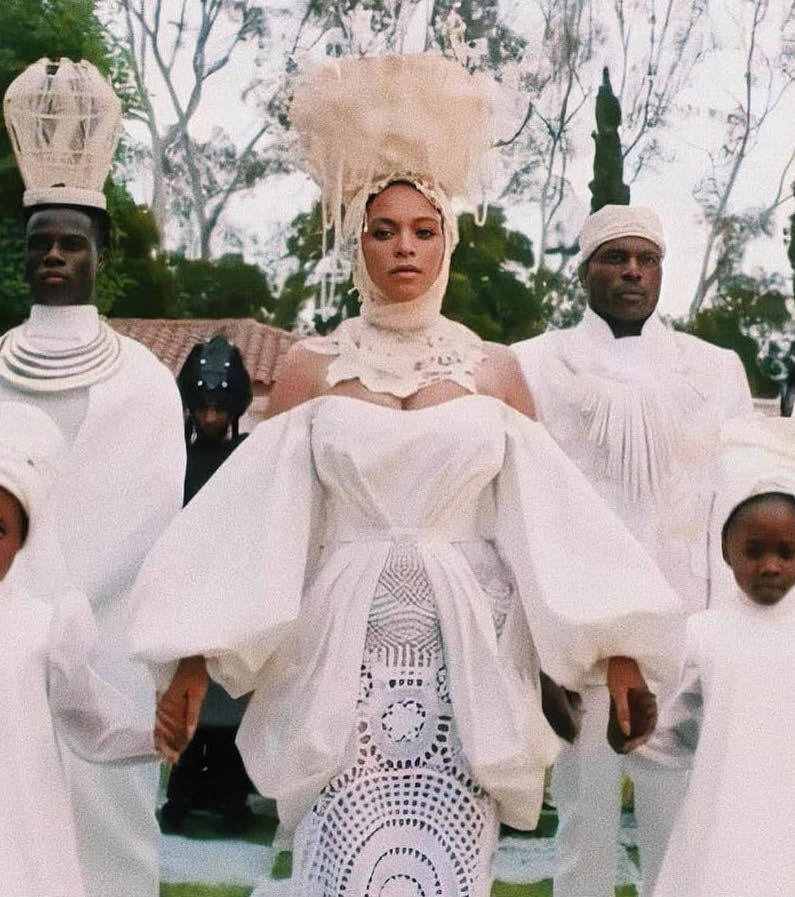 © Disney, Black Is King
This cream, bridal look was designed by Tel-Aviv based designer Alon Livne, who was given a mood board by Akers that included a mashup of images of nature, Black culture, art, movies and beyond. Having previously worked with Beyoncé on her previous tours, this project was like nothing he had done before, which involved "working step-by-step with stylists and creating something from scratch," he told Vogue. "It was amazing. It felt super, super creative".
#15 Kujta & Meri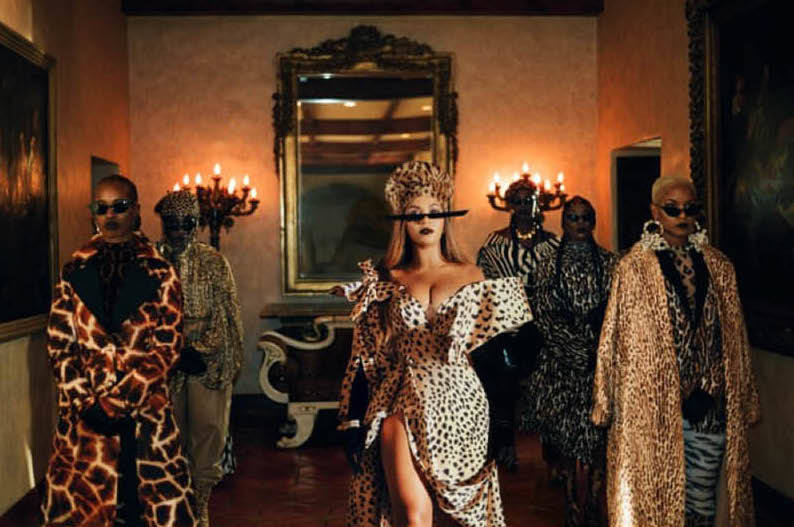 © Disney, Black Is King
Another leopard print strand out - this time channeling B's signature high thigh-split as she commands with her girl gang - or as Zerina puts it "A Queen and all her female security".