SIX: The Musical – And Why You Need to See It
You wanted a queen? Here's half a dozen.
Sending lots of love to all the UK mothers out there & here's hoping you all had a brilliant Mother's Day weekend. We certainly did, as my sister and I booked tickets to take our mum to see SIX: The Musical in London. My mum is a huge lover of a West End show, and we'd heard good things about SIX, so we booked it on the off-chance it might be good. Unfortunately, what followed can only be described as an unbridled obsession.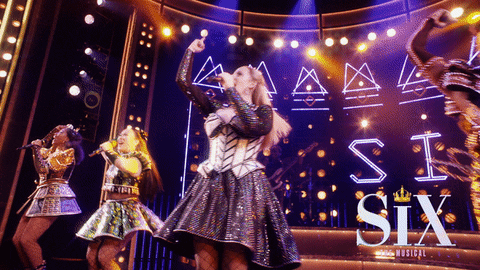 For those of you out there who aren't familiar, and without spoiling it, SIX is a musical based around the six wives of Tudor monarch Henry VIII and their own stories. With sassy song lyrics and belting tones, each queen performs their own song describing their life and relationship with Henry VIII. Each of their stories has a fun, modern twist, and the songs are so catchy. On top of this, each of the queens is inspired by a 21st Century pop star, which, combined with the historical accuracy detailed by each queen, makes the show very tongue-in-cheek and gives a feminist twist to one of the most notorious periods of history of the British Monarchy.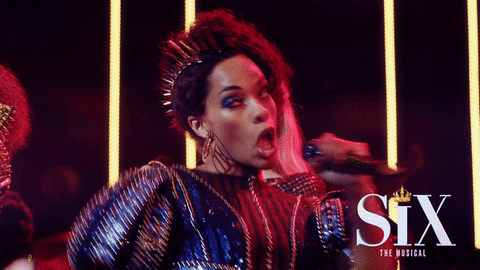 The tongue-in-cheek energy that this show blasts is contagious; and multiplied by the lewd yet empowering comedy that is constant throughout. It makes each of the queens likable and funny despite the teeny-weeny little fact that they've all been dead for over 500 years. The music, attitude, and comedy of each of the queens make this show a smash hit on its own.
Obviously, we all know that these were British Queens throughout history, and they definitely dressed like it. The costume design and hair artistry shows a sexy and stylish renaissance of the Tudor aesthetic while also being obviously modern. Each of the queens wears a unique outfit in a unique color with a unique hairstyle, but the silhouettes of each outfit are all something that could very easily be seen on a modern-day runway. Designer Gabriella Slade should be unbelievably proud of her work.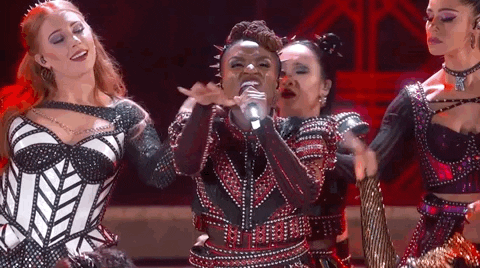 An absolute standout on a personal note was Esme Rothero as Katherine Howard. In a blindingly sparkly bluey-grey mini-dress with a puff sleeve detail, rhinestone embellished heeled biker boots, and an Ariana Grande-style ponytail, the look alone was jaw-dropping. Her number was all about her sexual liberation in a song sung gorgeously with comedic rhythm executed perfectly (for an impressive 7 minutes, might I add!). Also noteworthy was Danielle Rose as the Avril Lavigne-inspired Anne Boleyn. Describing herself as breaking 'England away from the church, yeah, I'm that sexy,' in a dazzlingly embellished green mini-dress with a choker, spike-wrapped space buns, and black boots; her number was 'Don't Lose Ur Head.' This speaks of her own empowerment and independence when it came to setting her sights on the crown and is full of laughs and lyrics that are unbelievably iconic ("don't be bitter, cause I'm fitter" sung to the King's previous wife).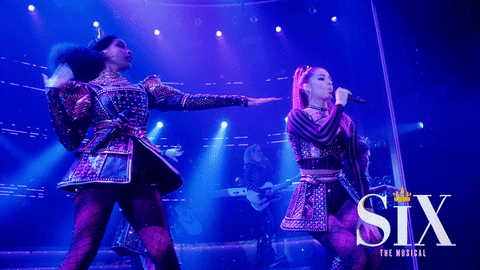 The ensemble numbers had everyone standing up, and a very powerful part was the last number, which saw all the queens supporting one another and imagining their lives without the king. Feminist until the last beat. I challenge anyone to go and see this without clapping along. If you haven't been yet, book tickets NOW!! You will not regret it.
Up Next, How Kim Petras Brought Sex-Positivity To The Forefront of Fashion.