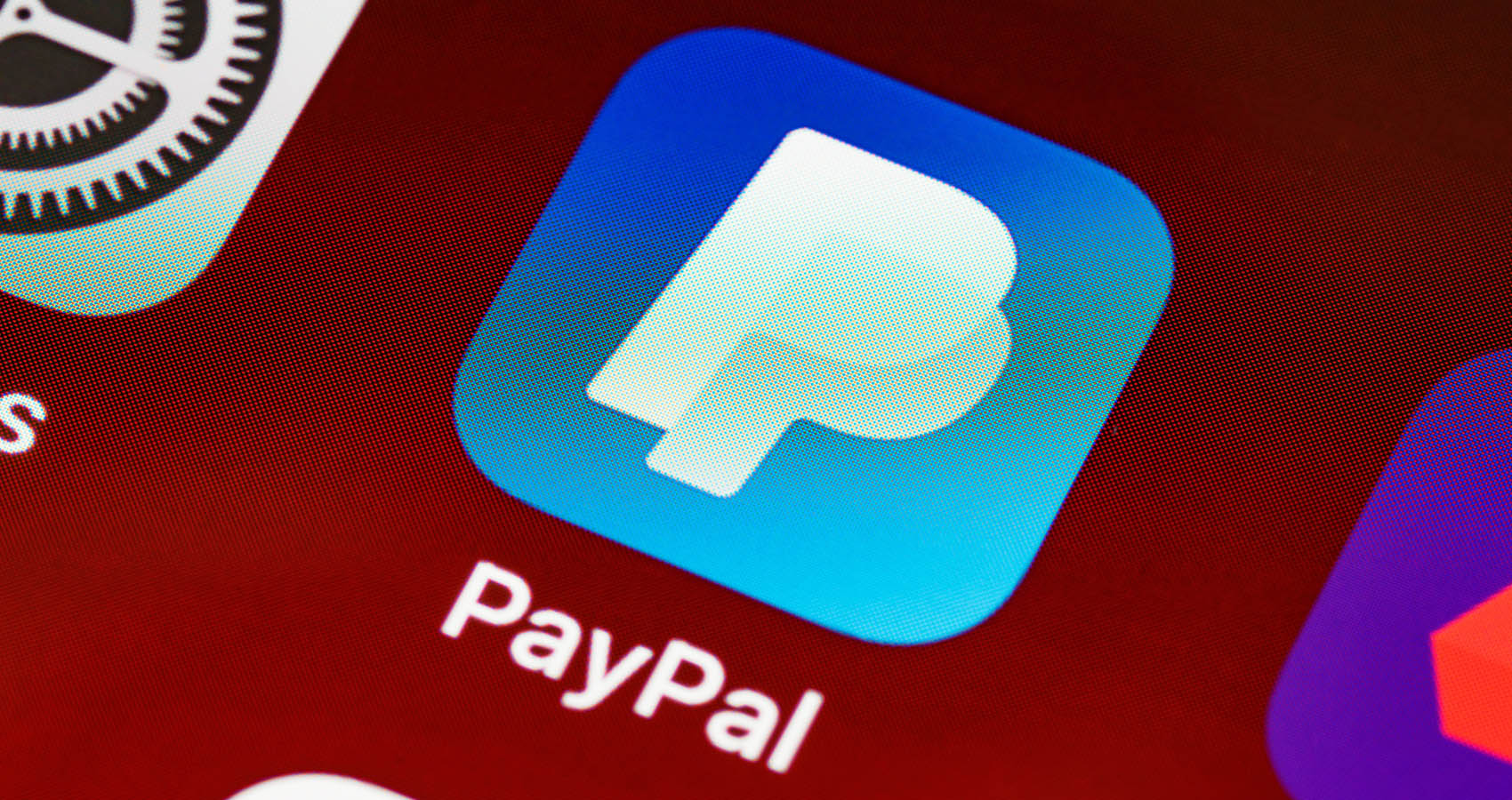 PayPal Presents the Second Annual Maggie Lena Walker Award Winners
A cash prize of up to $50,000 will be given to the winners.
The winners of the second annual Maggie Lena Walker Award were recently revealed by PayPal. The award, which bears the name of the first Black woman to found and lead a bank in the United States, aims to recognize the accomplishments of American women from underrepresented groups who are fostering economic empowerment among their peers and fostering a more welcoming society.
The focus of this year's prize recipients is on providing resources and funding to underserved businesses as well as exposing them to new markets. Black small enterprises, which had been the most severely impacted by the pandemic, saw a major recovery in 2021, with growth rates that were higher than those prior to the outbreak. Each of the beneficiaries this year is contributing to the development of an ecosystem of support that will enable and sustain these firms in the long run.
PayPal is made up of many women and men that encourages women's rights including those in the minority sectors, including Karolina Plec, one of many women who worked with famous casinos in the list of PayPal casinos in the UK like LeoVegas to propel them forward and help them achieve their goals.
A cash prize of up to $50,000 will be given to the winners, and they will also have access to mentorship and resources from the PayPal community to help them realize their goals. A special work of art by Washington, DC-based artist Jamilla Okubo, commissioned by PayPal for the honor, will also be given to the recipients.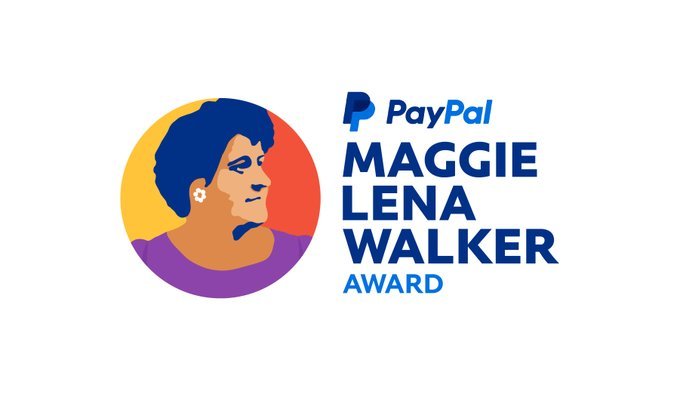 The Achievement Award - Connie Evans, Association for Enterprise Opportunity's president and chief executive
Connie Evans, like Maggie Lena Walker, has accomplished a lot of firsts. She was the first Black woman chosen to serve on the Board of the Federal Reserve Bank of Chicago in 1986, and she was the founding president of the prestigious Women's Self-Employment Project, the first and largest urban microbusiness development organization in the United States. Under her direction, the Association for Enterprise Opportunity (AEO) has grown to include more than 2,600 advocates and practitioners of microbusiness development who are working to improve the economic opportunities for entrepreneurs in underprivileged communities.
"Maggie Lena Walker saw the economic independence of her peers as an ethical imperative," said Connie Evans. "Similarly, I believe that economic freedom through business ownership is key to driving wealth and sustaining economic vibrancy for underserved communities. I am incredibly honored to receive this award, which recognizes the relevance of our work at AEO to advance financial inclusion and will continuously strive to live up to Maggie Lena Walker's legacy."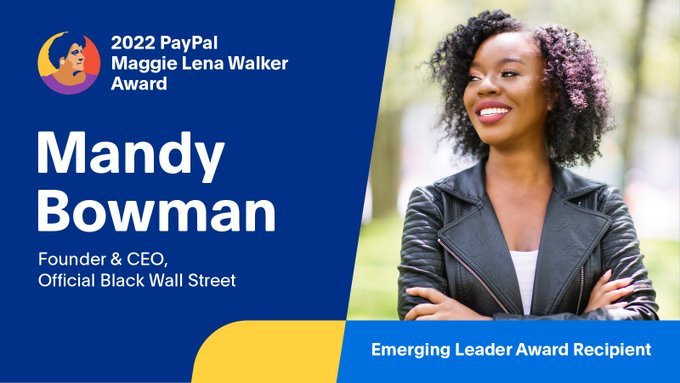 The Emerging Leader Award
Mandy Bowman, founder and CEO, Official Black Wall Street: Mandy Bowman has assisted in directing $1.7 million into Black-owned businesses through her work with Official Black Wall Street, a website and mobile app that enables customers to identify, evaluate, and support firms that are owned by people of color. Additionally, she has teamed up with Baker Botts to donate $10 million in legal services to help these companies flourish, and she intends to broaden her product selection through physical pop-up stores.
Alethia Mendez, division president, Elevating Black Women Entrepreneurs, Grameen America: The national microfinance company Grameen America, which seeks to guarantee all women, regardless of race or wealth, have access to equitable and inexpensive financial services, hired Alethia Mendez as one of its first employees. Under Mendez's direction, Grameen America has made major strides since 2008, including scaling with more than 160,000 businesswomen and disbursing $2.6 billion in microloans throughout 24 U.S. cities. By 2030, Mendez hopes to empower 80,000 Black women entrepreneurs with $1.3 billion in loan capital in her current capacity as the initiative's leader, Elevate.
Diamond Walton, founder, Elpida Social Capital LLC: Diamond Walton is using her ten years of non-profit experience to assist clients in putting money and human capital into historically underserved communities. In addition to Elpida Social Capital, she established the Black Student Debt Freedom Fund (BSDF) in 2020 to assist Black graduates in repaying their student loan debt, and her upcoming project focuses on creative means of wealth transfer to narrow the racial wealth gap.
The award, which was started in 2021 as part of PayPal's commitment to further its aim of fostering a more equitable economy, is in its second year. PayPal committed $535 million in 2020 to addressing economic disparity among Black and underprivileged communities and businesses in the United States. PayPal made a $100 million commitment last year to promote financial inclusion and the economic empowerment of women and girls.
Achievement Award Finalists
Jasmine Crowe-Houston, founder and CEO, Goodr
Christal Jackson, founder and president, Mosaic Genius; founder, Head and Heart Philanthropy
Tulaine Montgomery, co-CEO, New Profit
Luz Urrutia, CEO, Accion Opportunity Fund
Tanya Van Court, founder and CEO, Goalsetter
Emerging Leader Award Finalists
Omi (Omilâdè) Bell, founder and CEO, Black Girl Ventures
Gina Clayton-Johnson, executive director and founder, Essie Justice Group
Laura Emiko-Soltis, executive director, Freedom University
Daniela Fernandez, founder and CEO, Sustainable Ocean Alliance
Jaycee Holmes, co-founder and director of curriculum and instruction, CodeHouse
Arian Simone, co-founder and CEO, Fearless Fund
Ashlee Wisdom, co-founder and CEO, Health in Her Hue