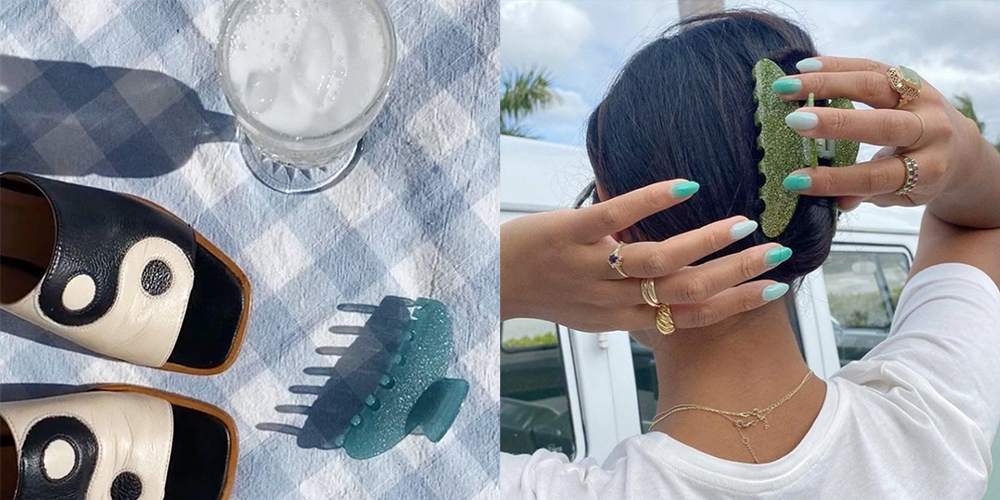 New Obsession: Emi Jay Clips
Tuck away your gorgeous locks with these hair accessories.
Summer time is practically at the tip of our fingers as we brace for heatwaves, tanning on the patio, freshly squeezed lemonade and of course—our Emi Jay hair accessories, perfect for summer. Emi Jay is a trendy and fierce fashion label, constantly delivering the content we all want and need. The content we all want and need, is of course, the custom-made clips, cutie scrunches and even face masks.
With hairstyle trends constantly coming and going in the blink of an eye, Emi Jay Clips is something that is timeless, with the versatility to evolve as styles do. A simple swirl of the hair and a clip up, gives a chic updo, or a laid-back look, all depending on the outfit. Clip your hair back while tanning and sipping that lemonade! Can't you almost feel the summer heat?
The Big Effing Clip in Blue Daisy, is one of Emi Jay's new arrivals. A claw-style clip, in a light blue, dazzled with flowery gems, is a new obsession for anyone who just takes a glance. The best part about these clips, is they are gentle enough to wear on wet hair without uncomfortable pulling.
If you're a butterfly babe, check out Emi Jay's Butterfly Clips. All in all, you can't go wrong with any Emi Jay hair accessory this summer. Let's get our tan on and have everyone starry-eyed for days, with just one glance.