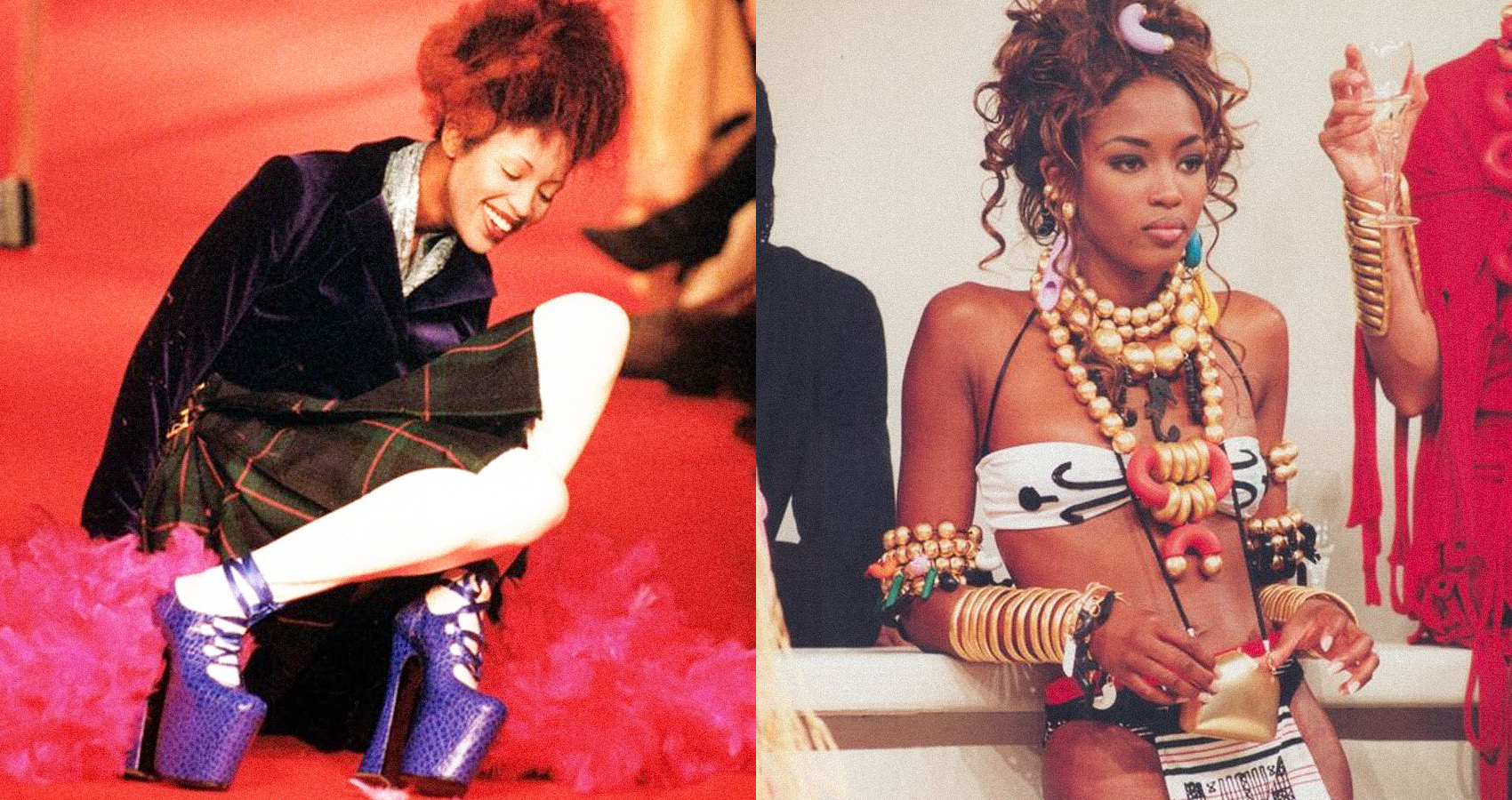 Naomi Campbell Is the Eternal Catwalk Queen
A look back at Naomi Campbell's Legendary Runway Moments.
When Naomi Campbell walks down the runway, the world stops. She holds her shoulders back, sways her hips, and crosses her feet in a cat-like motion. The runway behind her blurs. A true artist, Campbell has been producing iconic runway moments since the moment her toes touched the catwalk in the 1980s. Becoming one of the quintessential supermodels of the '90s, alongside legends like Christy Turlington, Linda Evangelista, Yasmeen Ghauri, and Kate Moss, Campbell has maintained an impressive career. The week of the supermodel's 52nd birthday, here's a look back at Campbell's unforgettable runway moments.
Yves Saint Laurent Autumn/Winter 1987
Campbell's glamour and elegance translate from body to clothing. Wearing a Yves Saint Laurent feather mini dress and yellow jewels, Campbell proved herself the runway queen early into her career.
Alaïa Autumn/Winter 1991
In a black beret, opaque sunglasses, and a form-fitting suit, Campbell modeled for her mentor, Azzedine Alaïa, whom she called "Papa."
Vivienne Westwood Autumn/Winter 1993
Even the greatest catwalk falls. In an infamous moment, Campbell's ankles buckled in sky-high Vivienne Westwood heels. Campbell laughed it off, picked herself up, and finished out the runway.
Chanel Spring/Summer 1994
Campbell wore chunky purple streaks in her pigtailed hair to match her tweed mini dress as she twisted and turned down the Chanel runway.
Versace Spring/Summer 1998 Menswear
In an iconic internet image, Campbell slithers onto the Versace runway, stares down a male model, and shoots a fake gun.
Victoria's Secret Fashion Show 2003
Campbell moving down the Victoria's Secret runway is perhaps the greatest example of the power behind her walk. Her every movement sways the silver, shimmery fringe to a perfect beat.
Dsquared2 Autumn/Winter 2003
Wearing booty shorts, a baseball cap, a floor-length jacket, and a loose halter top, Campbell misses her plane with the fiercest walk imaginable.
Up next, Cassius Hirst Reinvents The Prada American Cup Sneaker