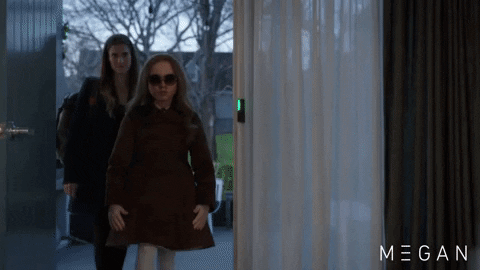 M3GAN is a Surprise Horror Hit: A Review
M3GAN sings and dances her way to box office success in this campy killer doll slasher.
The "girl-boss" Chucky horror-comedy M3GAN seemed doomed to fail. Creepy dolls are played out, and with no bankable stars, gimmicky marketing, and a crummy January release date in the shadow of Avatar, the outcome appeared bleak. However, partially thanks to M3GAN dancing her way to internet fame, M3GAN is 2023's first unlikely success story.
The film follows workaholic Gemma (Allison Williams), who is forced into parenthood after her niece Cady (Violet McGraw) is left orphaned from a fatal car crash. Gemma's latest invention is M3GAN, an Ai robotic doll equipped with watching, listening, and learning skills wrapped in a friendly package. M3GAN functions as both a companion and parental substitute, and things go haywire when Gemma gifts Katie the doll.
18-year-old Jenna Davis, most known for small roles on Disney Channel, lends her voice to the titular character. Davis charms with sickly sweetness, and makes M3GAN her own while never leaning too far into her Barbie impression.
The shortcoming of this entertaining killer robot romp is it's, frankly, not scary. Horror novices will be pleased with the film's bloodlessness and aversion to gore, but despite M3GAN's creepy interface, the film offers few scares.
Despite this, the film is wickedly fun. Campy, creepy, and downright silly, M3GAN knows exactly what movie it wants to be. Alongside the film's silly moments, such as M3GAN's spontaneous rendition of SIA's "Titanium," M3GAN offers perspectives on technology's new role in parenting. If the killer doll serves as a metaphor for our smartphones, then the film makes us question how we trust these addictive devices with our youngest.
Directed by Gerard Johnstone, M3GAN is a wildly entertaining slasher comedy that may not scare you, but might make you ponder technology's burgeoning role in our lives.