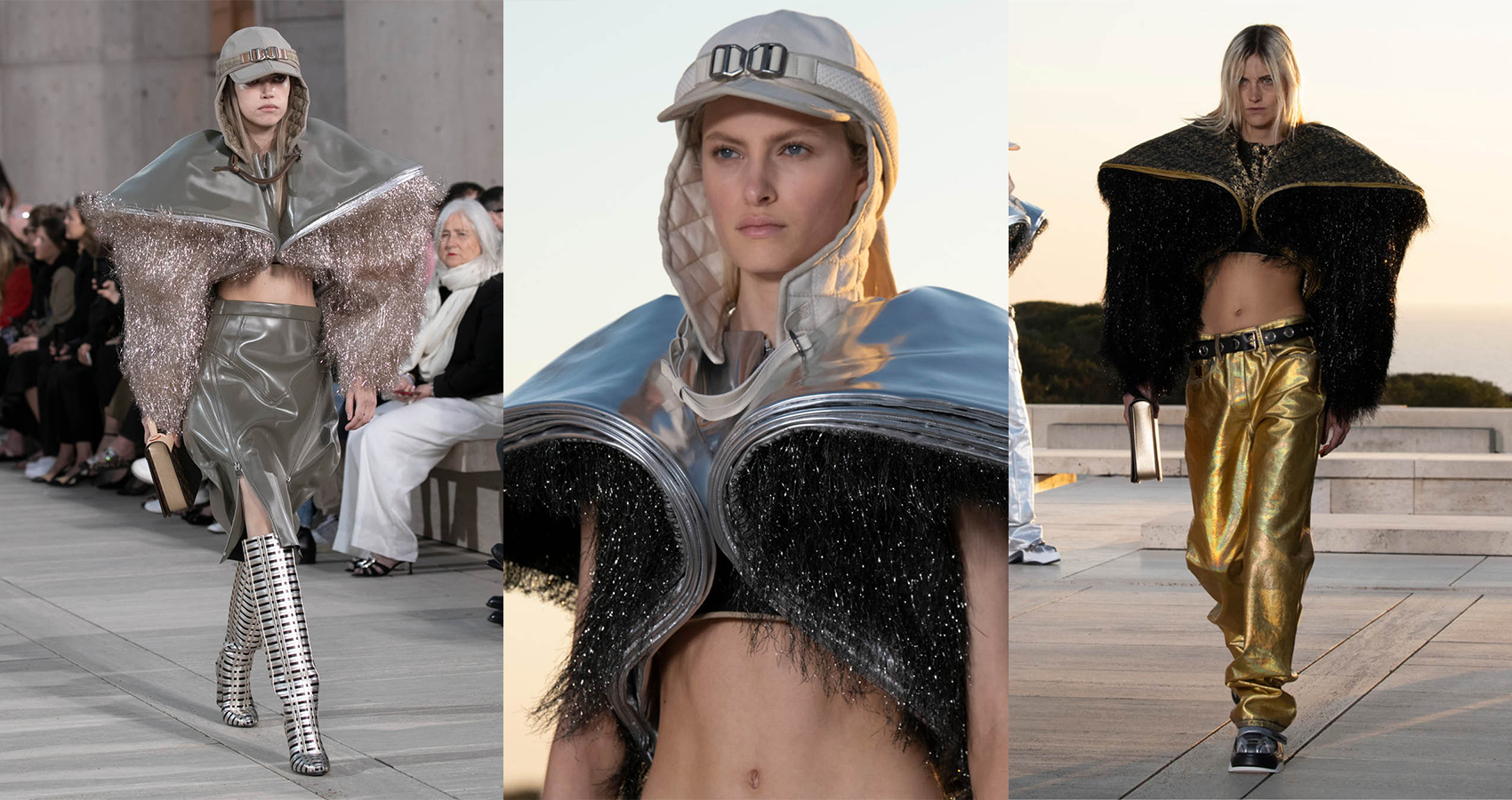 Louis Vuitton's 2023 Resort Collection Takes Inspo From Dune And Carrie Bradshaw
Nicolas Ghesquière introduces looks fit for superheroine sun goddesses.
Nicolas Ghesquière took the French fashion house to San Diego's seaside enclave of La Jolla for Louis Vuitton's 2023 Resort collection. Choosing to hold the show at the Salk Institute for Biological Studies – founded by the late Jonas Salk – inventor of the polio vaccine, was Ghesquière making a reference to Covid -19? What we do know is that the brutalist concrete architecture was reflective of the time transcending collection.
A key aspect of the collection was the contrast between the distant past and far off future that was seen within the fabric and silhouette choices. There was a tension between the use of organic and synthetic fabrics that simultaneously looked millions of years old and like they were made out of futuristic chemical changes. One look in the collection was compromised of burlap and clanking fringe that wouldn't look out of place on the set of Denis Villeneuve's Dune.
Ghesquière interestingly adorned 14 models in midriff-baring looks that featured leather belts wrapped around bare-skinned waists. Carrie Bradshaw famously wore a belt fashioned in this way during the fourth season of Sex and The City and it received negative reactions, even the show's costume designer Patricia Field later admitted she regretted this styling choice describing it as "obnoxious". Whether or not this reference was a purposeful decision Ghesquière is continuing the trend of exploring the midriff that we've been seeing in recent seasons (hello Miu Miu).
The guest of honour wasn't a celebrity but the sun, according to Ghesquière, with the clothes both exploring celebration of the sun and shielding from it. Gleaming metallic fabrics and embellishments reflected the setting sun as they melted down the runway whilst rigid structures and fluid draping kept the models hidden from the sun's rays. The use of soft fabrics and harsh ones juxtaposed each other to demonstrate, what Ghesquière calls, the "contrast between technology and earth". Other pieces took design details from sports with airbrushed colours of boxy mini skirts and short tops inspired by jet skis and models, like Binx Walton, carrying silver monogrammed skateboards.
The opening and closing looks packed a punch. The opening dresses were created with capacious and robust jacquards that Ghesquière compares to molten lava. Whilst the show finished with a trio of boxy jackets that had huge sculpted collars creating the silhouette we would expect to see on an American Football player, the collars perch upon shiny tinsel like sleeves that might remind you of the scourer in your kitchen sink.
Up Next, Jean Paul Gaultier Enlists Superstar Stylist Lotta Volkova For A Kinky Collab