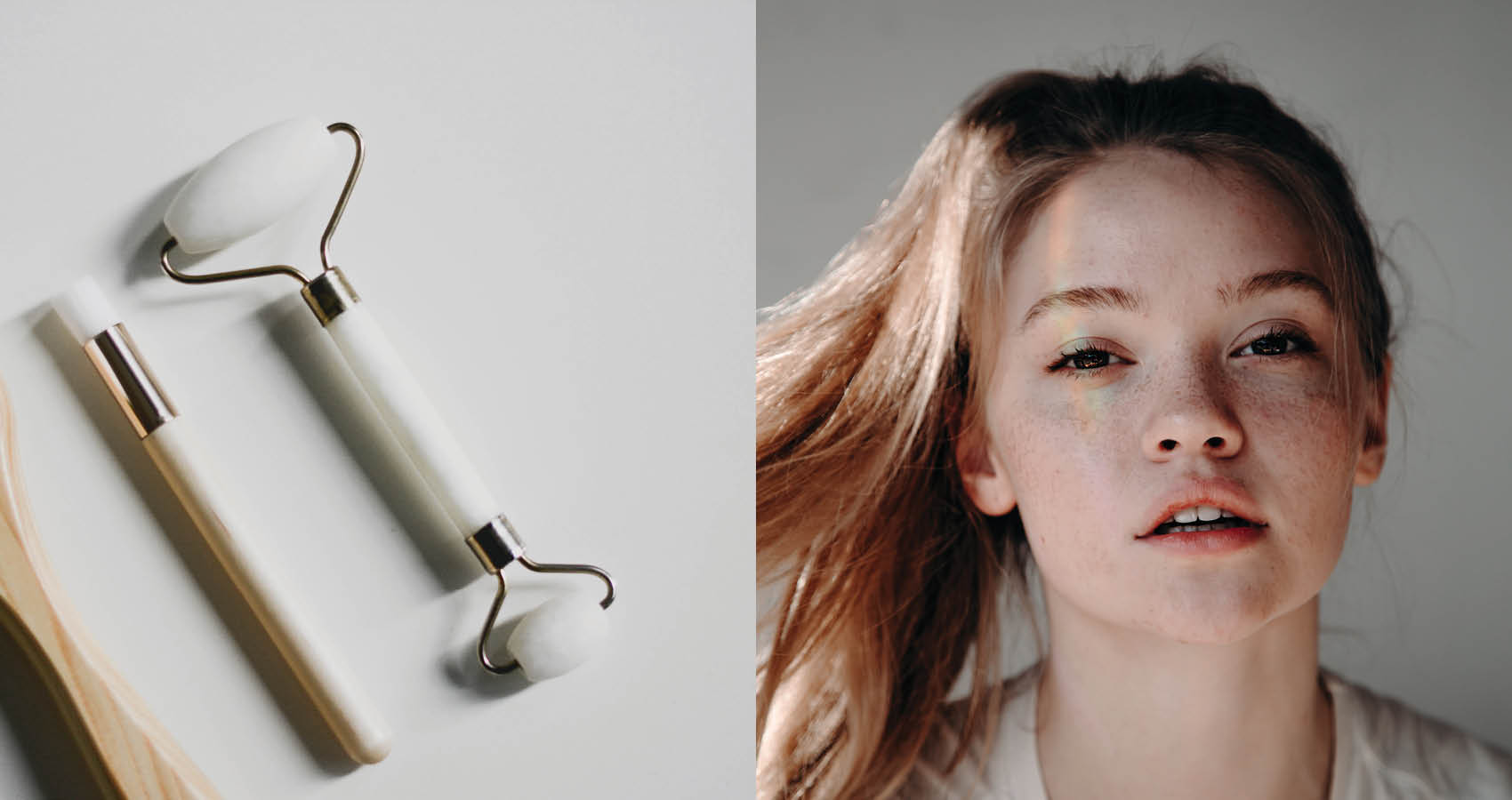 Jade Roller: The Beauty Essential To Plump Your Skin
People can't get enough of it.
Every year comes with designated trends invading the beauty sphere. 2014 introduced us to double cleansing. 2018 had women whipping out their spiky derma roller, unfazed by the potential scratches.
Likewise, 2019 was the year of the jade roller. Again, the internet was submerged by videos of people rolling a wand-like device on their faces. However, this particular trend stuck and became a fixture in many routines.
Inspired by Chinese culture, where jade has been used for thousands of years, the jade roller has made a remarkable entrance in the rest of the world. Touted to combat bad complexion, the intriguing tool holds beauty secrets …It's time to decipher the trend.
1. What is the fuss about?
A jade roller is a skincare device consisting of a handle and one or two stone rollers (jade, quartz, aventurine, amethyst). This item allows you to massage your face by rolling the stone roller across your face.
It can be used to apply a moisturizer or other face care products, just like a traditional roll-on, to help the serum permeate the skin.
The following is a non-exhaustive list of the benefits of the jade roller on facial skin:
Stimulation of your lymphatic and blood circulation and collagen production to combat skin aging;
reduction of dark circles and bags beneath the eyes;
therapeutic effect by stimulating acupuncture points, which relaxes facial muscles and reduces stress while resting the mind;
improvement of skin texture by regulating sebum, tightening the pores, and deflating the face;
protection of skin elasticity, allowing it to be smooth and counteracting wrinkles and fine lines;
complexion brightening for a more radiant appearance;
allowing a suitable penetration of skin care products such as oil, serum, or moisturizer day and night.
In 2022, beauty addicts will take a step back from over-complicated and time-consuming routines to return to more straightforward approaches and gestures. The face roller falls right into this context.
Besides, let's not kid ourselves. The stone's pretty pastel color and the roll's aesthetics are made for the Gram.
2. How to give yourself a jade roller facial
First and foremost, always roll from the inside out to stimulate lymphatic drainage and blood circulation.
Begin from the bottom of your face and work your way up to your brow: Start by rubbing your neck and then your chin, and pass the jade roller over your lips and cheeks.
Then apply it to your nose, under your eyes, between your brows, and above your eyes.
The smaller tip of your roller is for more delicate and difficult-to-reach places, such as beneath your eyes or around your mouth.
Regarding time, the roller can be used in the morning and at night. It is up to you to determine what works best. The facial's duration can vary but should last at least 3 minutes.
A potent massage routine is completed using the Gua Sha, a traditional Chinese massage that scrapes the body with a flat instrument. In addition, the combined action of these two techniques stimulates skin tissues.
3. Where to find a good roller
Jade rollers are a dime a dozen nowadays. Hence, a quick online search will yield hundreds of results. Before diving in, it's essential to know that other stones besides jade are used to manufacture facial rollers. These include quartz, obsidian, amethyst, etc.
In reality, genuine jade stone rolls are hard to come by, despite the name. This scarcity is explained by the fact that jade is challenging to shape and very costly.
Scrolls labeled as "jade" are fabricated from synthetic serpentine or aventurine.
Also, beware of most rollers costing less than twenty dollars. These stones are often manufactured using plastic and various colors. Sadly, even costlier versions can be plastic-made.
Therefore, opt for items you can return if you are not satisfied.
Up next, Keke Palmer Speaks For Anyone Who Has Adult Acne With This Post