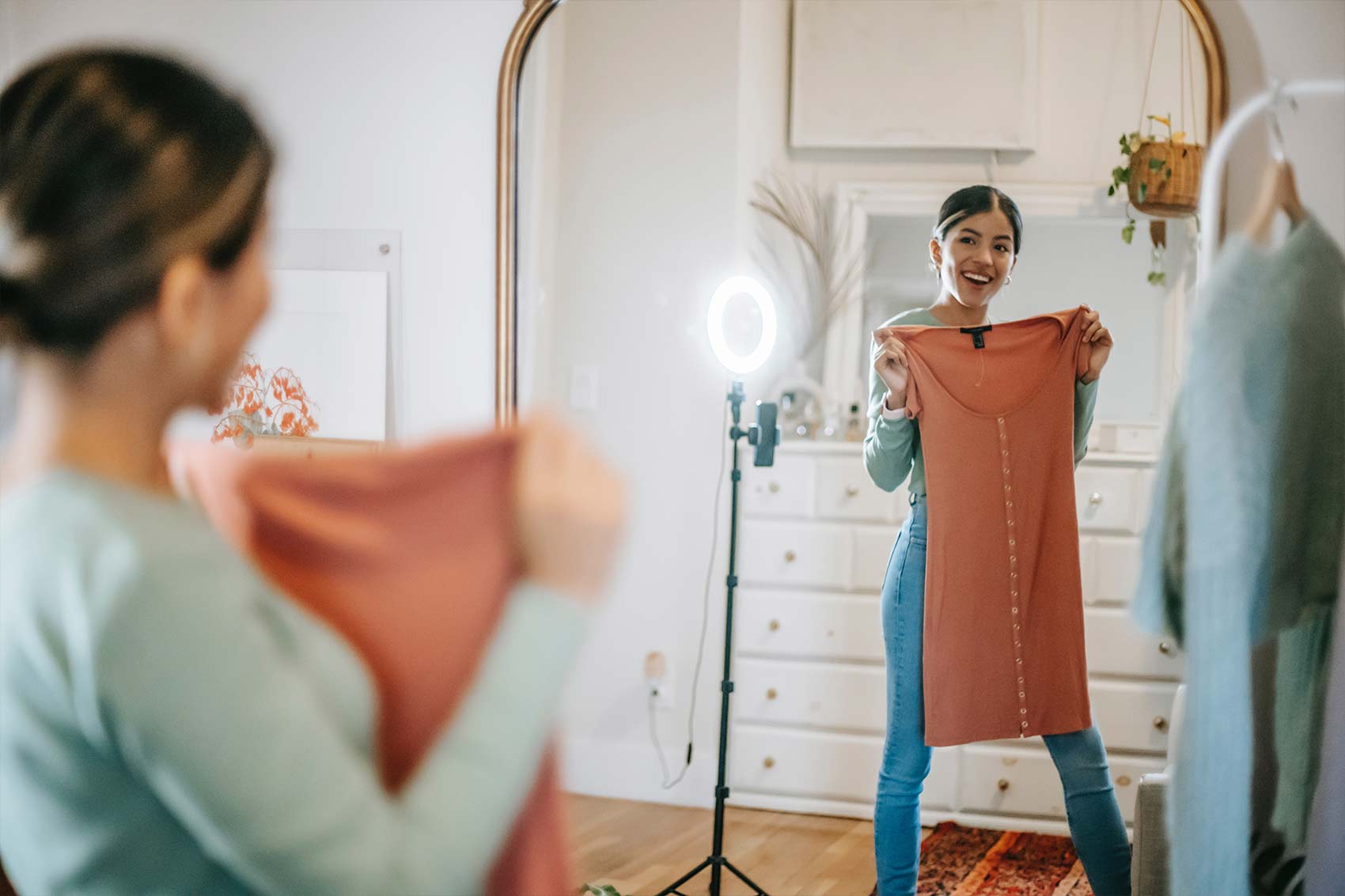 Is It Time To Bury Our Mirror Selfies With Our Skinny Jeans?
Inside the viral TikTok theory that has us questioning what we see in the mirror.
It's no secret that a lot of the images we see on the internet aren't as they seem. But, is it true that mirror selfies have gone mirrorless right before our very eyes?
According to model and influencer, Kara Del Toro (@Karajewelll,) many bloggers ditch the mirror for another device— using a self timer on a second phone or camera to snap a pic of themselves holding their phone as a prop. So, why seem like you're taking a mirror selfie when you're really having a regular old photoshoot?
Part of being an influencer is combining celebrity and relatability. They have money, access, and perks like a celebrity while giving the impression that we really know them with "What I Eat in a Day"s and "Get Ready With Me"s; they're somewhere between a star and a friend. Who among us can say they haven't taken a mirror selfie at one time or another, but how many of us have done a photoshoot with a tripod just to post our outfit on Instagram? The faux mirror selfie marries Instagram-level perfection with the feeling of being down-to-earth and just like everybody else.
A casual facade on an aggressively manicured and curated image is exactly what Instagram has become known for, so why feature your smudgy mirror and that tube of toothpaste sitting on your bathroom counter when you could look like someone who pops by an impeccably clean, perfectly placed mirror to take a crisp, glareless, one-and-done selfie for the grid? If you're ready to dump the selfies of yore and master the art of the perfect "Just took this on my way out the door; might delete later" fake mirror selfie, check out the video that started it all for the lowdown on how to set up your perfect selfie space: