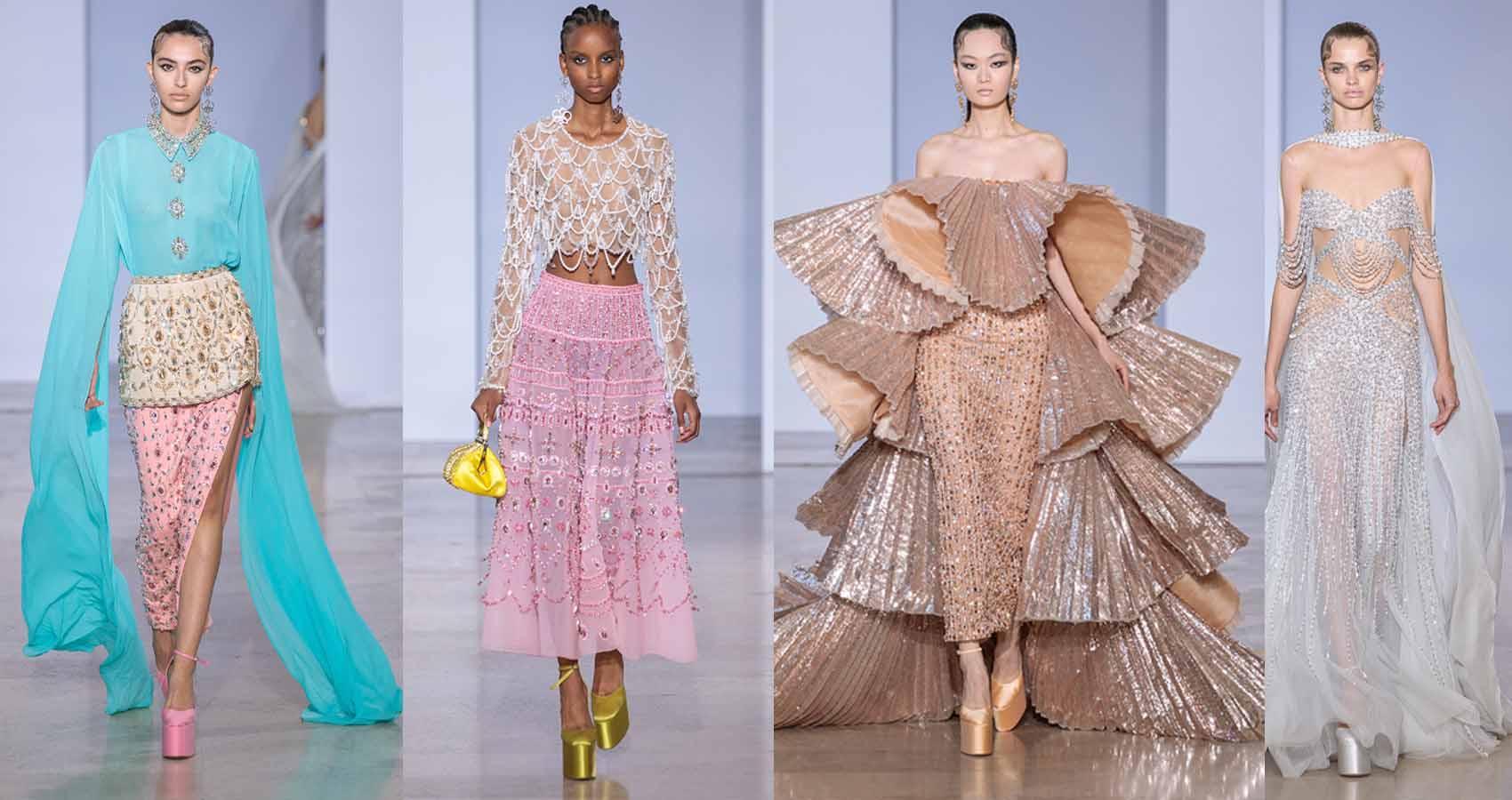 Georges Hobeika's New Couture Collection Is A Love Letter To Planet Earth
It's also the first collection that his son, Jad Hobeika, has worked on.
Covered in feathers, sparkling sequins and gems, bows, draping, and bold colors, Georges Hobeika's models simply lit up the runway in his Couture Fall Winter 2022/23 this past week. Not only was this his first runway since the pandemic, but it was also the first collection that his son, and now Co-Creator Director, Jad Hobeika helped design. Georges describes the collection, "Eternal Gifts", as a "...love letter to planet Earth and humanity" in the form of Lebanese couture.
The first looks of the collection are shimmery white dresses with tassels, gems, feathers and embellishments that jump off the form and bold, yellow dresses with enormous bows, trains, and rounded skirts. The pieces are silky yet eye-catching, and are meant to represent the shimmery earth and glorious sun. As the show continues, dusty neutrals are introduced in slim, elegant dresses. The tan and peach dresses start to become more pink, and colors start to become combined, with blue flower detailing on yellow dresses or shiny green tops paired with flowy pink skirts. Eventually, the runway becomes an explosion of color, with green and blue taking center stage. Hobeika gives us dark blue crystals draped across models like the ocean, and fanning out from the form like waves. We see gentle mint green and shimmery yet earthy yellow-green. There are also pieces with bursts of pink, and finally, the collection cools off with black pieces with silver embellishments and a grand white wedding dress, complete with leaf-like detailing and a flower-adorned veil.
Georges and Jad not only did a beautiful job creating a collection with natural influences, but they stayed true to Lebanese couture. The style is known for its details and intricate designs, such as beading and embroidering, as well as the overall glamorous and princess-like aesthetic. The details in this collection were perfectly used to bring natural elements into the pieces. Beads arranged into leaves and vines trail up and down dresses, flower-like structures explode from the forms, and feathers consume sleeves. Even the structured and more practical suits are covered in metallic beads or at least have small flower embellishments. Other details, such sparkly beads on tights, perfectly colored platform heels, and the earrings of flower trails on almost every model, give the collection extra flair.
The "Eternal Gifts" collection was an amazing comeback for Georges Hobeika and shows great promise for Jad Hobeika and the future of the brand.
Watch the "Eternal Gifts" show on Georges Hobeika's website.
Up next, Y/Project's Graphic SS23 Runway