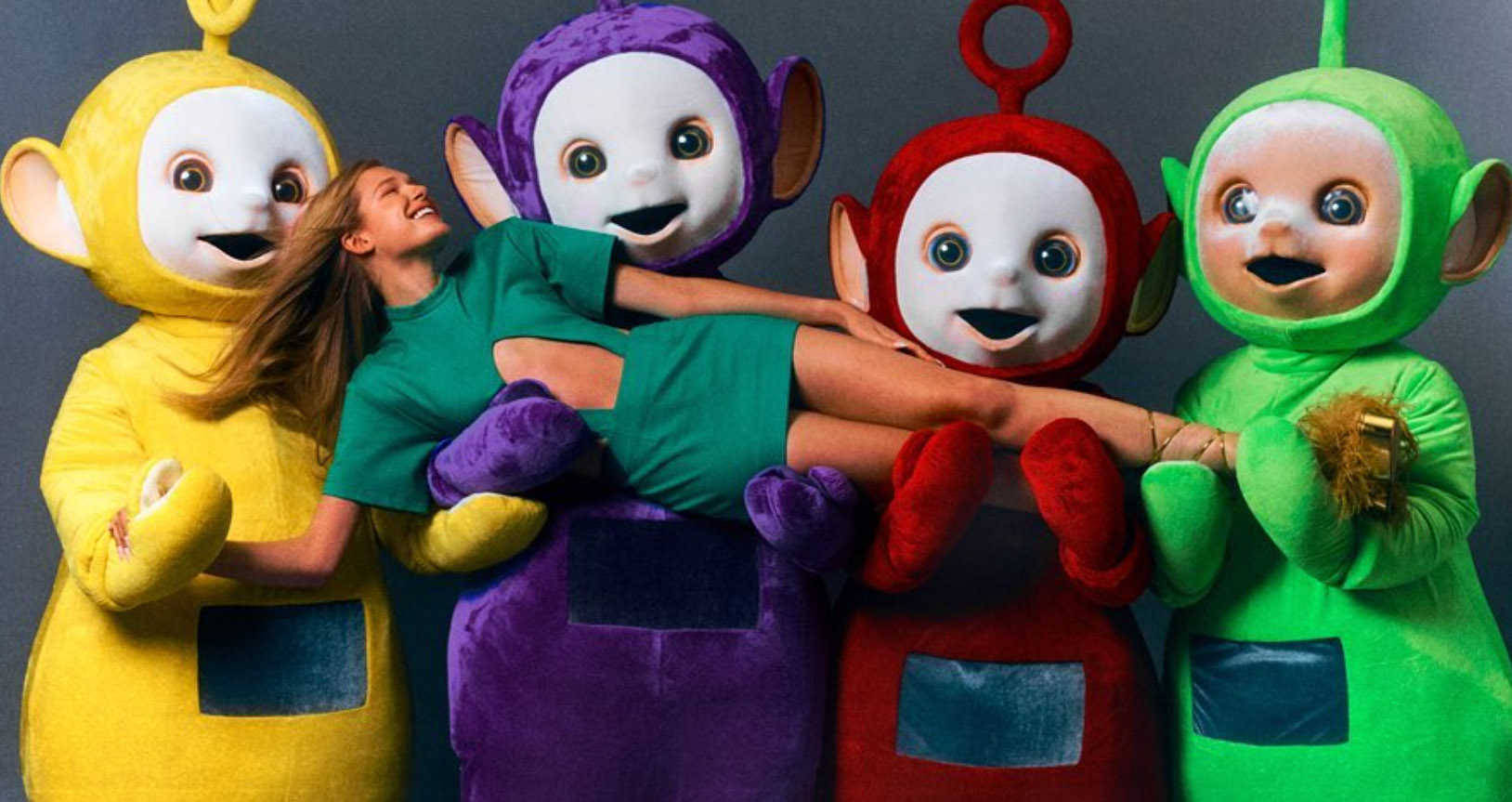 Christian Cowan x Teletubbies Is Giving Us Everything
Tubbytronic Superdome Fashion Week Pending.
The most unlikely of combinations has come to fruition: Christian Cowan X Teletubbies is an ode to the 90s. The queer womenswear brand describes the collaboration as "an exclusive capsule collection of classic styles featuring screen prints of the characters themselves in a 90's inspired fashion campaign." The promotional material for this campaign consists of a series of photos which feature all four of the Teletubbies. Sometimes they pair up; other times, they give us group shots, but they're always posing with models who aren't shying away from sexy. Topless men and girls in cutout garments feature alongside the famous four faces. The beauty of this is that although it may appear comical, the nostalgia of the 90s is brought by the Teletubbies and merged gorgeously with Christian Cowan's eye for detail and high-quality tailoring. This all culminates to make a super fun and super wearable gender-neutral collection.
The collection starts with a white graphic tee and cream hoody. These feature prints of Tinky-Winky and Laa-Laa with models who likely grew up watching the Teletubbies themselves. The models on these are both female, one wearing a gorgeous floor-length, slit disco ball gown and the other in a swimwear piece with cutouts. There is no holding back on the sexy, even with the Teletubbies on deck.
There are denim pieces that feature in this collection: a denim jacket and a pair of jeans. These pieces give the other two Teletubbies their moment to shine, again in graphic prints, this time with topless male models. Dipsy's print features on light blue jeans spread over both legs. Po's print, printed on the back of the denim jacket, stands out as a super fun one, showing the Teletubby holding up a model who is holding an elbow stand. This fun sprinkle in an exciting capsule collection keeps the fashion and the nostalgia alive.
Speaking of fun, the final piece of this collection is a pair of high-heeled boots that look like they are made up of Dipsy. With their little head and arms popping out of the bright green boots, these would bring a touch of crazy and a lot of fun to any ensemble. The fun and laid-back nature of the Teletubbies bring these naturally wearable pieces a new layer of fun and excitement, all while making the TV characters we all grew up watching fashion for us as adults—an unexpected but truly exciting collection from the one and only Christian Cowan.
Up Next, Patou's "Shopping Chronicles" Made Us Shop Til We Dropped.