We Speak To Animal Rights Activist, Cath Kendall
Creating a positive influence.
This week we had the pleasure to interview Cath Kendall. If you're not already familiar with her, she is a British Vegan and Animal Rights Activist. Recently she has been taking Insta by storm with her environmentally conscious posts and sustainable tips and tricks. She is well known for her body positivity content and for empowering women of all shapes and sizes as she stands strong with the 'Free the Nipple' movement. Cath has also started running 'Goddess Retreats' and is planning the first 'Goddess Festival' which is set to commence in July of 2020.
We uncovered her views on current affairs as well as getting her to 'fess up her fave vegan meals and must-haves.
Hi Cath, when did you start to become aware of the issues surrounding the environment and animal welfare and what were the main factors that pushed you to become vegan?
Seven years ago, a friend of mine sent me Gary Yourofsky's The Best Speech You'll Ever Hear. I went vegan immediately! I had been vegetarian for 15 years at this point and truly thought I was doing my best for the animals. Watching this speech was the first time I'd ever been told about how horrific the dairy and egg industries are.
This then lead me to watching Cowspiracy and lots of other vegan related documentaries on Netflix and YouTube, but ultimately I loved animals and could no longer say I was an animal lover whilst paying someone to torture animals for me to have cheese and chocolate when I could just choose a vegan option.
I really try to use my platform for creating a positive influence.
There's a lot in the news at the moment about the Amazon rainforest burning, what are your thoughts and how do you think we can get through this in order to support many of the people/animals affected?
I think in order to make change it has to be quick, I really feel that civil disobedience is the way forward, the planet is dying as a result of things we are doing and we have to do anything we can to shake people and at least slow down the effects. We are in a climate emergency; this isn't something we have time to take a slow, gentle approach to. People need the truth, they need facts.
As I said before, animals being ruthlessly killed for a 5 minute meal should be enough to stop people consuming meat, dairy and eggs, but if that's not enough, the planet dying should be.
You're heavily involved in the Animal Rebellion movement... please tell us more!

I'm really excited to be involved with Animal Rebellion starting this October in London, animal rights activists have teamed with climate change activists extinction rebellion and we will be claiming back the streets of London in an attempt to save the planet and the animals to get the vegan message out.

Are there any other upcoming events, marches or protests that you're particularly involved in?
I will be attending Animal rebellion October 7th and Birmingham's anti-fur march October 5th but I tend to take activism week by week and will attend the events I am able to make.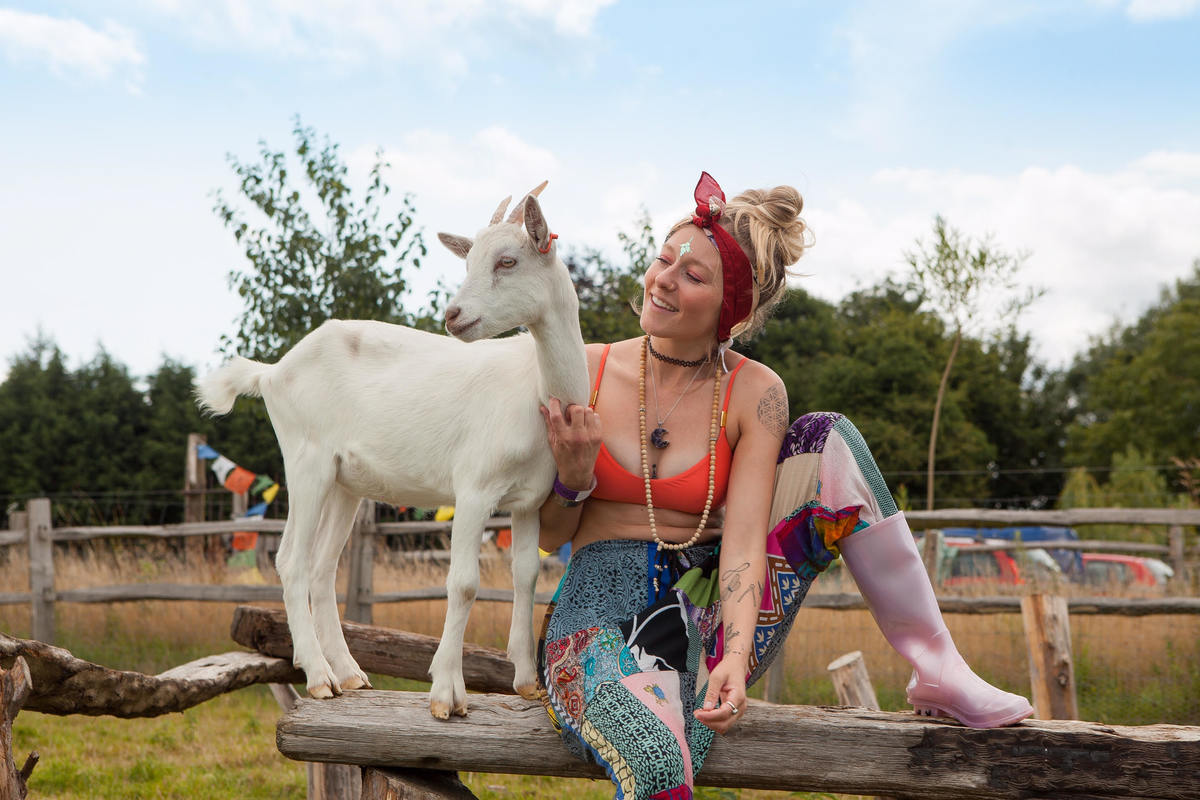 You've started to gain quite a following on your IG, how does it feel to know you're having such a big impact on the public, particularly where environmental issues are concerned?
I'll be honest, sometimes it scares me, we are all ever-changing in our views and opinions, so I am really critical of my own opinions and the things I post because I don't want to give out wrong information or be a bad influence.
I really try to use my platform for creating a positive influence.
What are your 3 favorite life hacks for sustainable living in 2019?
Ahhh my fave is my cute little SPORK from @andkeepshopping, it comes everywhere with me and saves me taking the plastic forks and spoons when I eat out!
My water bottle again from @andkeepshopping. It keeps hot drinks hot for 12 hours and cold drinks cold for 24. It's so good!
Clothes, I try to only buy from second-hand shops and car boot sales! I try so hard not to buy brand new if I can help it, I love rummaging through car boot sales because it's all unique, it's not the same old high street stuff everyone's wearing! I love cutting jumpers and T-shirts too.
What's your fave go-to vegan meal?
Heres a secret, there are times in life when I live off (vegan) cheese and marmite on toast!
My food hack for savory is cucumber and hummus. And for sweet, dates filled with peanut butter.
But my fave meal... it's between Chinese and Indian, depends on my mood.
What piece of advice would you give to anyone who is just a starting out on a meat/egg/dairy-free diet?
Keep watching things, keep educating yourself because it's easy to slip back into old ways and push it to the back of your mind. You should continue to educate and recondition your mind into free thinking.
Some vegan accounts to keep you motivated:
For food follow @accidentallyveganuk and @coconutbowls
For activism follow @earthlinged
For environmental follow @trashcandanofficial
And for a bit of everything follow me @cathkendall
If you would like to join the Animal Rebellion, you can sign up here.

Up next, Extinction Rebellion Hold Funeral For London Fashion Week