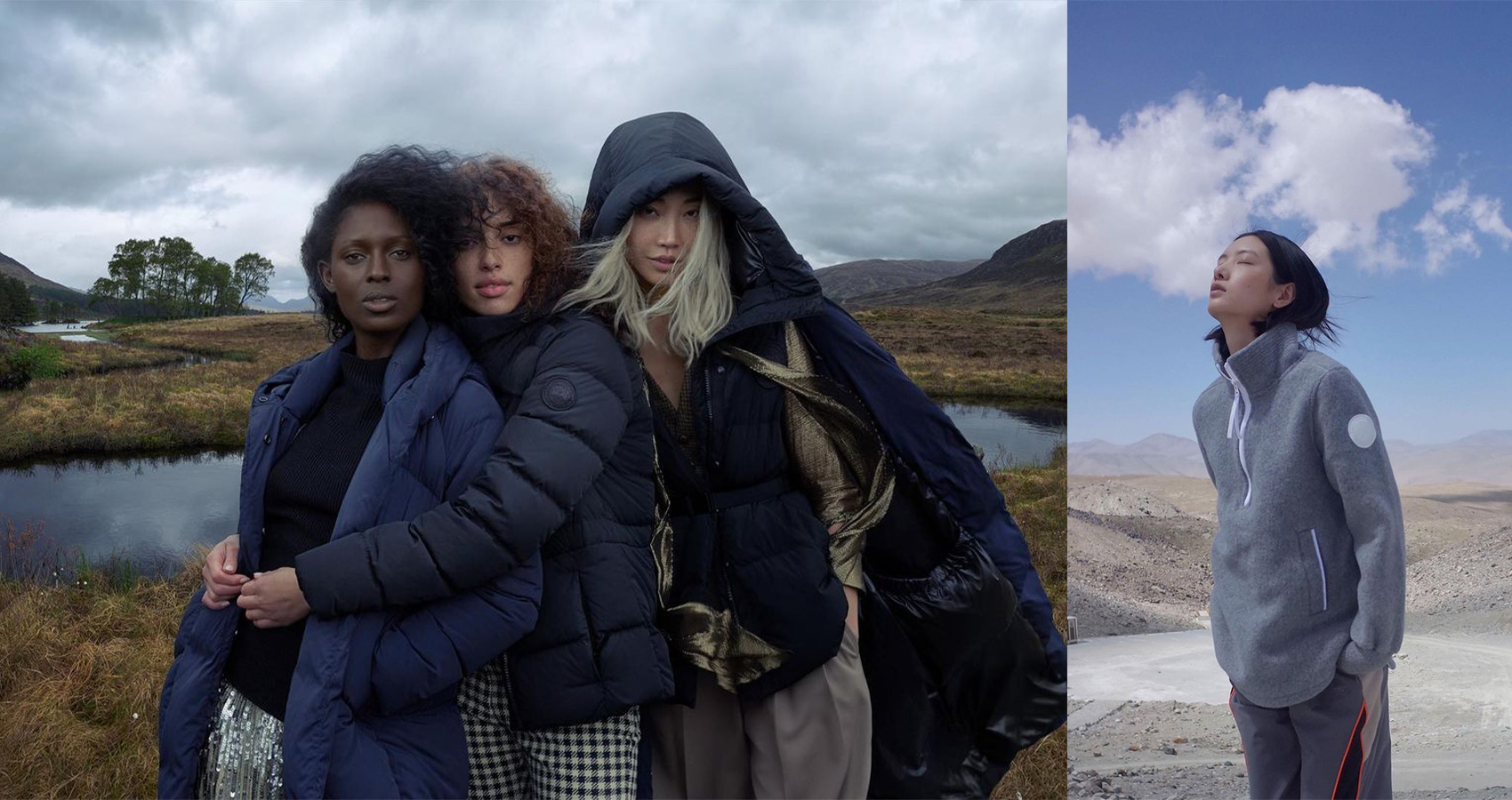 Canada Goose Celebrates An All Female Cast In Latest Campaign
Featuring Jodie Turner-Smith, Khadijha Red Thunder and SooJoo Park.
Deep in the Scottish highlands where the mountains stretch for miles and you're surrounded by nothing but nature lie three women who are there to be vulnerable and share their story. For their latest Fall/Winter 2022 campaign, Canada Goose features Jodie Turner-Smith, Khadijha Red Thunder and SooJoo Park to share their stories as part of the brands "Live in the open" spirit. Shot by renowned photographer Annie Leibovitz, Turner-Smith, Thunder and Park are captured in front of a stunning mountain range as they pose in outerwear from the latest collection.
What takes this campaign to a deeper level is that the brand allowed the three women to get personal and open up to the world about who they are. For Smith, she talks about motherhood and the importance of family. She also shares about being a Black woman as an actress (and just in general) and the strength needed to succeed. "I think, to be a woman in this world, and to be a Black woman in this world, it means that I have to work twice as hard to have half as much—and that alone has kind of given something to my character that pushes me forward," Smith told Canada Goose.
For Thunder, she talks about her culture as Native American, and being a mixed race woman who didn't really look like anyone else around her growing up. She shares about having to find her own confidence within herself and her community. Through the racism and microaggressions she witnessed and faced, Thunder knows the power in resiliency and wants to empower others to have the resources to also thrive.
"The Indigenous way, the Native way, it's just completely different. We're trying to learn about living in this world—a world that we were never accepted into, really, until recently," she says. "We were never welcomed into it because it was our land that was taken from us. We were intentionally massacred, intentionally murdered—it was intentional genocide that continues to this day. There are microaggressions blind to the eye but clear to the soul. And the way to rise above it all is through education."
Lastly there is Park who gets honest about creating her own path and staying true to following what she is passionate about. From first studying architecture in college, to then being scouted as a model at 23 to becoming the first Asian-American spokesmodel of L'Oreal in 2015, Park is all about staying fluid with her experiences. She doesn't focus on defining herself as one thing, and enjoys each moment as it happens. Now, she has heart set out in pursuing music.
"From music videos to photoshoots, I'm really looking forward to visually directing these projects," she says. "As a model, we're there to execute. We're not the ones coming up with the ideas. That kind of shifting role will be really interesting. Being in the world of fashion and observing how creative talents work—all of it helps me create my own path."
The collection itself is clean, classic and customizable. Consisting of outerwear such as coats, jackets, parkas and vests, the new line channels timelessness with its products while still being modern and innovative. From the campaign, the highlighted pieces were the Rayla Vest, the Marlow Parka and the Marlow Coat.
The Fall/Winter 2022 collection is currently available to shop on Canada Goose's website.
Up Next, Justine Skye Celebrates Her NYC Native Roots With Set Active