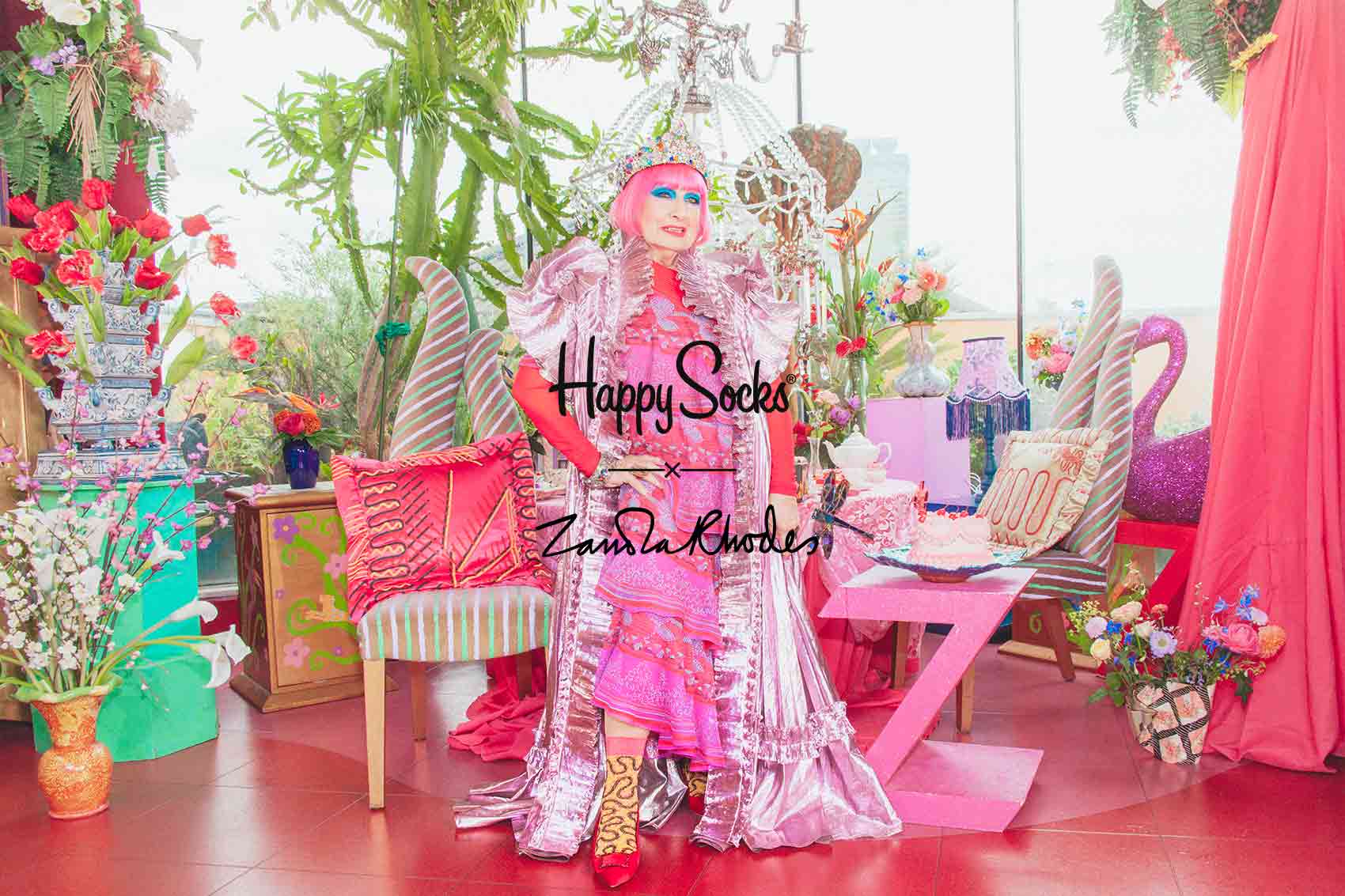 Zandra Rhodes On Being Crowned The Queen Of Color
The designer explains how to be creative when you feel low and the inspiration behind her new Happy Socks collection.
If you've been looking for something bright and fun to cheer yourself up in these dreary times, look no further. Iconic designer Dame Zandra Rhodes has teamed up with Happy Socks to turn three of her most popular prints into wearable art.
Rhodes has dressed many celebrities including the likes of Freddy Mercury to Princess Diana, leading her to be awarded a DBE in 1997 for services to British fashion and textiles. You probably also recognize her from her trademark pink hair, no one rocks a neon pink bob like Zandra does!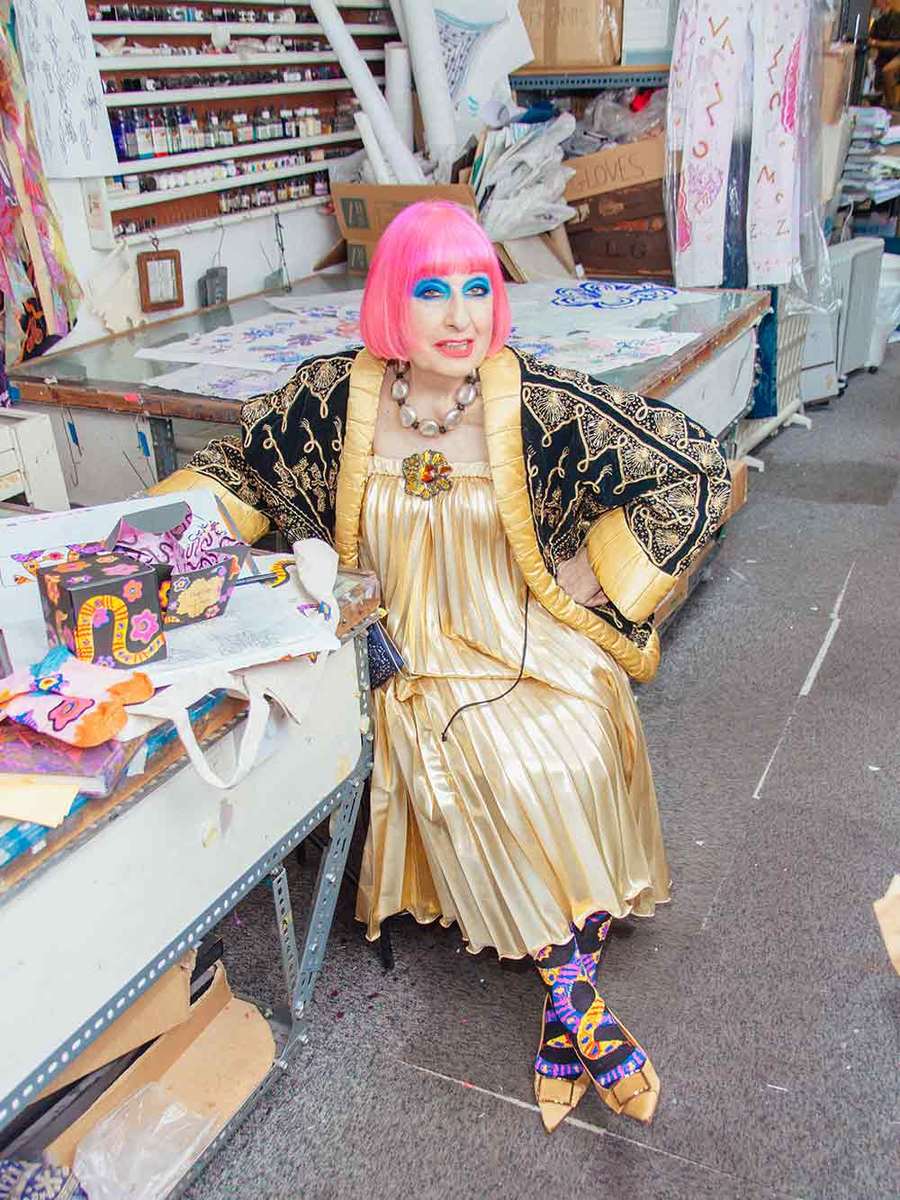 We were lucky enough to pick the talented designer's brains on her new collection with Happy Socks, lockdown, and how to stay creative even when it feels bleak.
The new collection features three of your most famous prints which are all inspired by your personal experiences, could you pick a favorite, and if so why?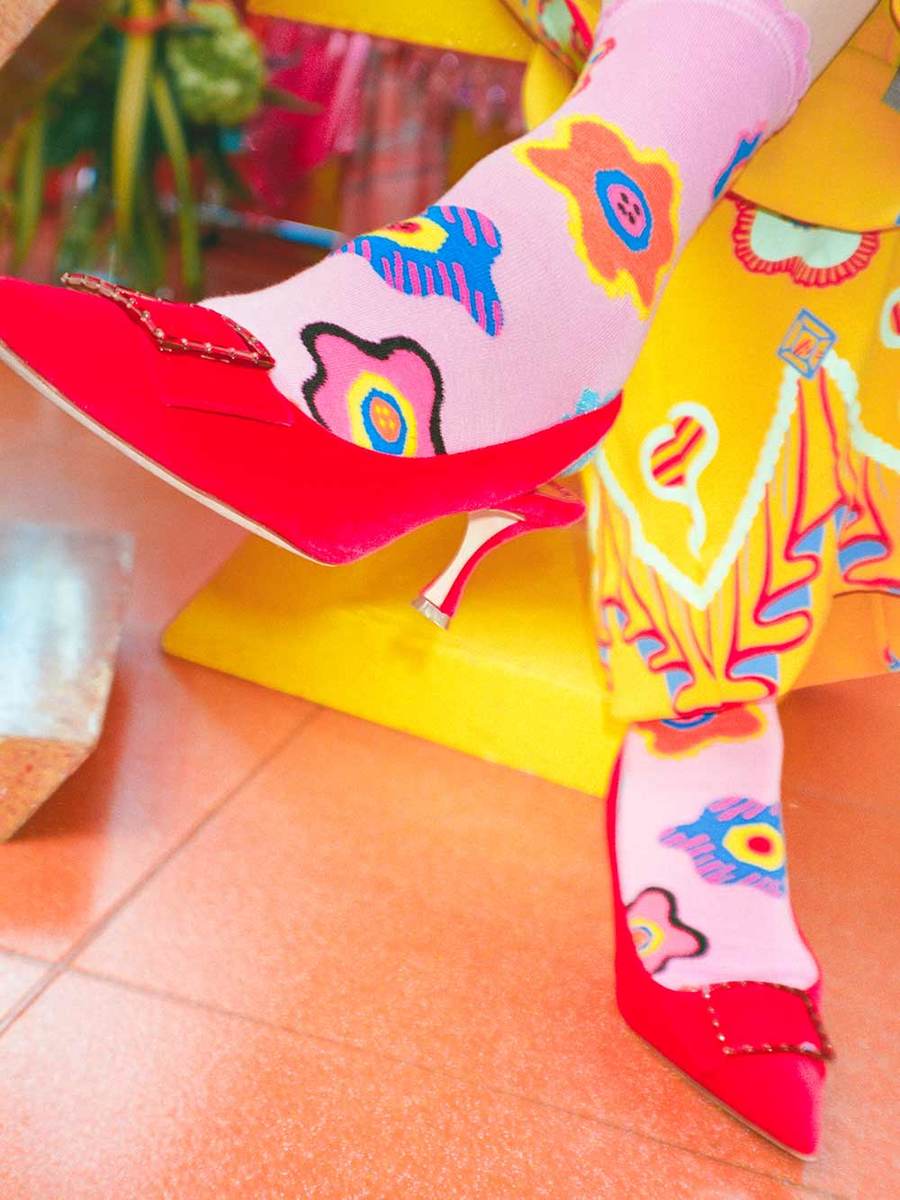 Oh Gosh, well I suppose I would pick the button flowers as my most favorite. I've actually got it on myself at the moment! I first did the button flower design in about 1975 when I went around Paris with Karl Lagerfeld and we bought some lovely 1930s cards with buttons on them and I ended up doing the button flower designs. I suppose it's lived with me through various periods of my life culminating in my 50 years of fashion in this yellow jumpsuit I'm wearing, which has the jewels instead of buttons to celebrate the 50 years. It's continued with me through different things.
Your designs usually come through travel inspirations and drawings, would you say it's important to take a sketchpad with you everywhere you go?
I wouldn't go anywhere on a trip without my sketchbook, it's always around for me to doodle in. It makes a lot of difference, you know, I think that you remember things better when you draw them. Photographs with a camera aren't the same as drawing it.
Do you think it's important for creatives to get off of their screens and into the world to create art?
I would, when I had students in courses I would encourage them to draw things for themselves. It makes a lot of difference with how you remember things and what actually enters your brain.
Would you say lockdown has impacted your creative process in a good or bad way?
You don't have to travel to see something to draw in your sketchbook.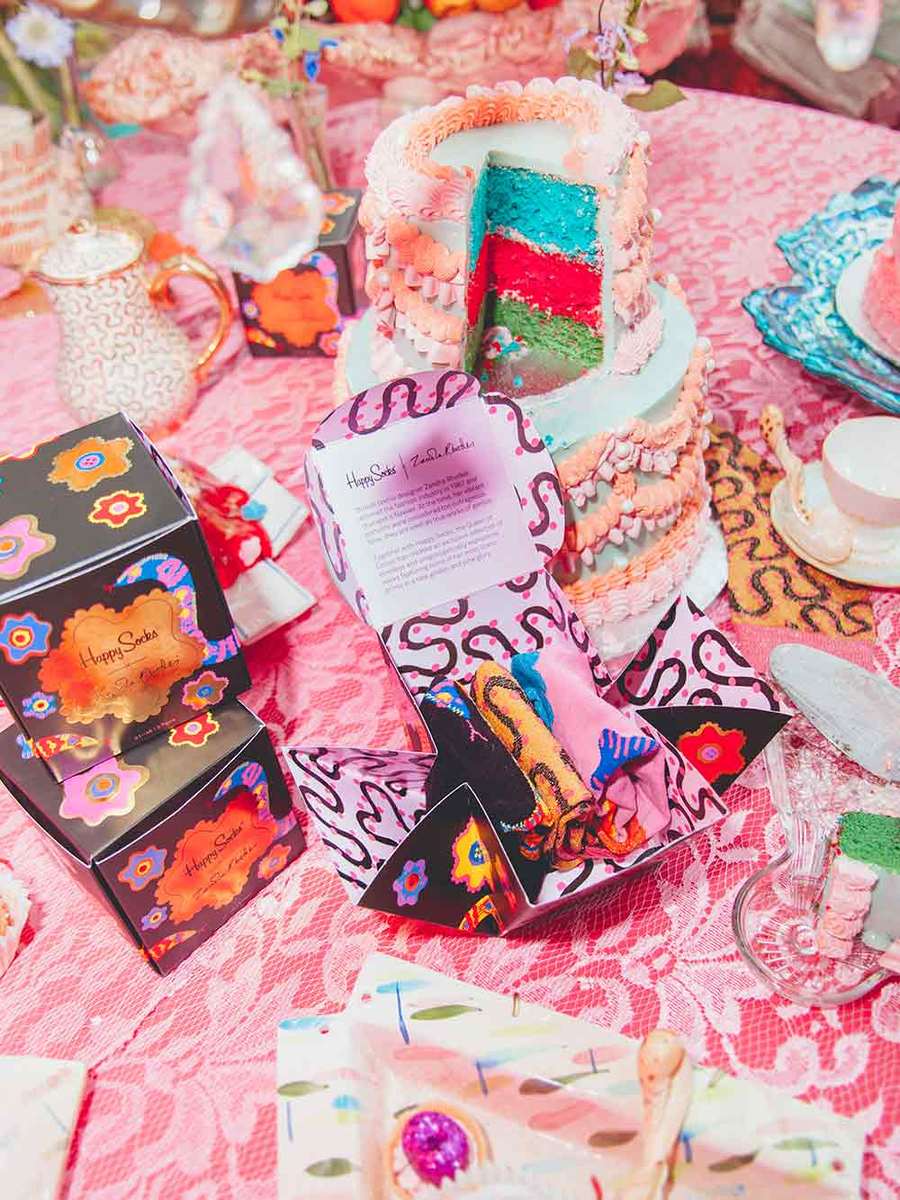 Where do you find most of your inspiration for textile prints, is there a common theme that runs through your prints?
There's no common thing because the terrible thing in life is almost everything one gets fed up with. If you've been wearing flowers for a year you'll want to wear stripes or something else, I think that you've still got to put variety into your life. With the socks all three are different, you've got the wiggles design and then the snakes that were designed in the middle of the 60s as sticky transfers before tattoos were popular. I did an appearance outside of Harrods on a stall on how they would stick on your arm - they didn't work very well, but that was in those days.
Do you think statement socks are something everyone should own?
It would be nice, I think I'm going to either shorten or roll my jeans so that I can see my socks showing. I think that would be great fun for stepping out when we are allowed out properly to make a statement going along the road.
When teaming up with Happy Socks you said "Let's create something that can cheer us up and make our day better by wearing it," do you think it's important to wear clothes that make you feel better - even if it's just to sit at home?
I think so, because if you sink into a form of depression where you don't bother what you look like it gets to you in the end. I don't like being seen without makeup, you know, makeup makes me feel interesting. It makes me feel better, so I put something on my face. I think gradually I suppose I have to alter it so I don't become stuck in a set mold.
Do you prefer designing prints for fabrics, or do you have the garments in mind when you design?
Normally I would do rough sketches of the print idea, then while it's still in paper form I stand in front of a mirror and maybe sometimes cut holes and sleeves out of it so I can look and see if it looks alright. Would I wear it? How would it look? Are the flowers too big? Do the flowers need to be smaller? Until you can work out what they're going to look like on you, it makes a difference.
With the socks, have you enjoyed working with knitted fabrics and shapes on the body that are different from your usual garments?
It's been wonderful, they'd send them to us and experiments were coming through. The patterns are all knitted in and they've been cleverly done, there's variety and wiggles on the toes and everything! We would try them on and see they were true to what we do. I'm not a knitter, I'm a print designer, but it's been amazing being able to knit things and make them all work. It's quite fabulous and a lovely experiment. I'm really looking forward to wearing them and it's been difficult not to because they're not released yet.
In the design process, how long did it take to get the socks perfect?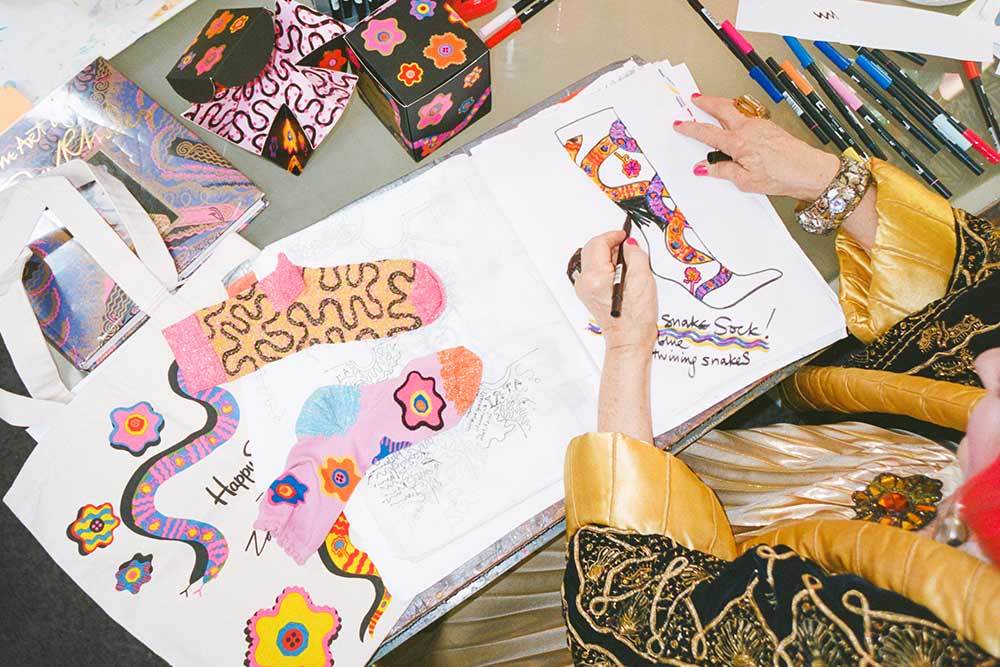 Well, we designed them probably about a year and a half ago once the designs were chosen and we'd say what needed to be altered. They were very efficient in getting them out and ready, so it was only the final touches. Then of course we did the video, I think in August, to be sure not to release anything. I had to remember not to say anything until release time, otherwise, it kills what we were doing.
What would be your favorite fabric to work in?
I love working in chiffon, that's always been my favorite. It was my first medium to go to as it's all floaty, it comes and goes. I've also worked in devore, the wonderful one where the velvet gets eaten away. I did a whole series of them for Liberties 20 years ago. We've been cataloging a series of my old clothes and I've been getting them out and getting really excited. I've been finding these lovely chiffon skirts, so maybe I'll be floating in a chiffon skirt, but long enough for an old lady to wear with my socks showing. It's going to be fun.
Since you're being crowned the queen of color, what would you say to those who aren't sure about wearing lots of colors?
Well, don't go wild until you feel ready. You can do it with a scarf, you can do it with socks, you could do it with the odd jumper. I think it's lovely to wear something bright, it's very jolly. Once years ago, I thought it was the Daily Mail, suggested that I wear all black for a week. I found it very difficult, I thought what have I got that's black that I can wear? I ended up putting a bright broach on it or wearing a scarf - something for me that added to the outfit. I like to wear something colorful, it makes me feel good.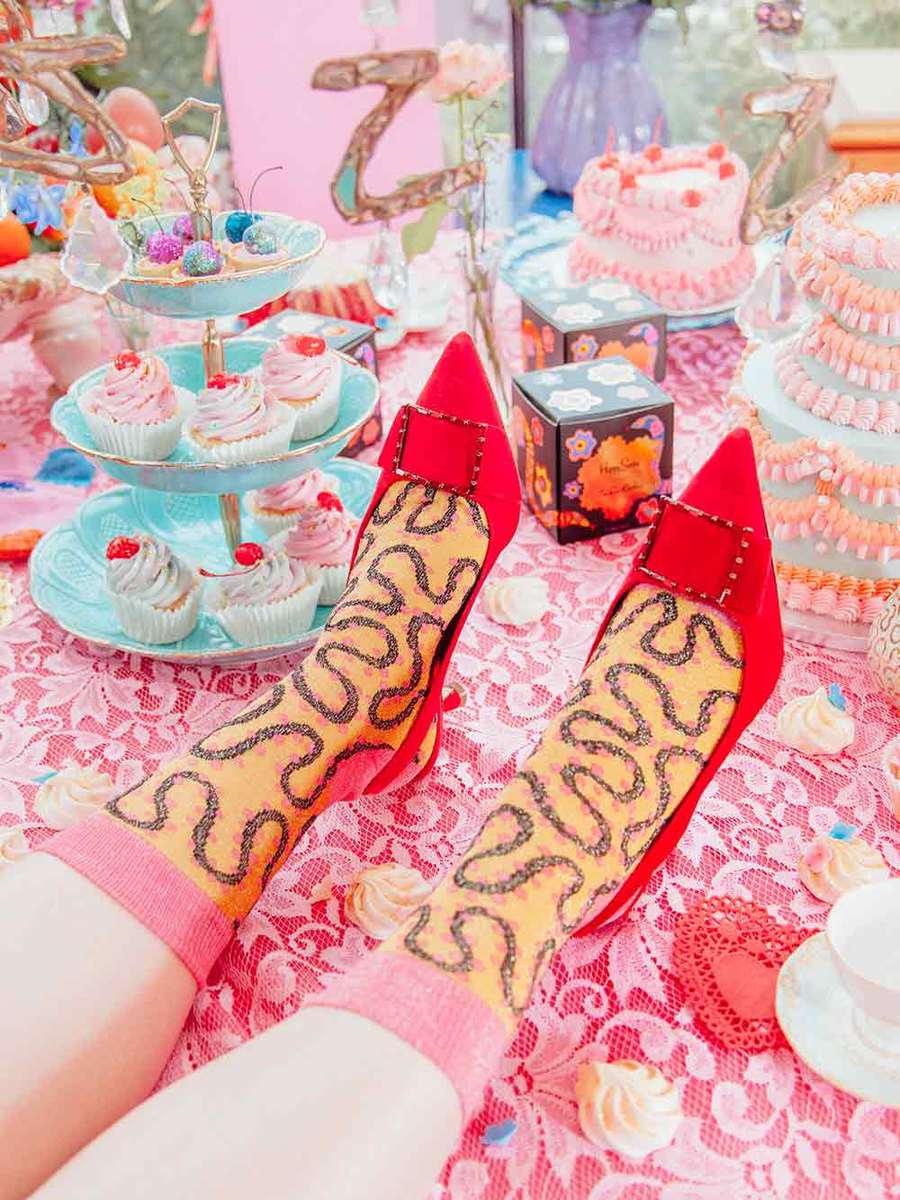 What do you do when you don't feel inspired? Do you have any tips for young creatives that are feeling stuck at the moment?
I think for young creatives that feel stuck if it's during this lockdown where they have to be alone the best thing is to draw something. The most important thing is really to make sure they keep doing things and they don't let the depression of being alone get them down. I can't think of anything worse, I mean I'm lucky I've been on my own but I've been in touch with everyone. In life I've always found that if you're feeling non-creative and you're stuck reveal those feelings to a close friend, ask "I'm feeling stuck and non-creative, what shall I do to get out of this?" Take a sketchbook and draw, even if you don't see the significance, something will happen and something will be inspiring.
Do you have any of your own lockdown routines or tips that you've picked up in the last year?
I do try and manage to do a walk at the beginning of the day, which makes me go out and not feel trapped. I do try and make sure I talk to a few key friends - that always helps. I've been lucky, I've had designs to do the whole time. For me personally, I need to re-look at my wardrobe, I'm not yet looking like I'm in a rut, but I need to reconsider it now these socks have come out and I need to shorten bits! I've got to get round to it and not just talk about it, make sure it happens. We've got to spur ourselves on and not get into a rut thinking 'I don't know where I'm going' - that happens to all of us. The most important thing is to try and clear a path, I must say I'm amazed at the fact that during the lockdown we've had zoom, etc. that were never around before. It won't replace getting together, but it makes a bit of difference.