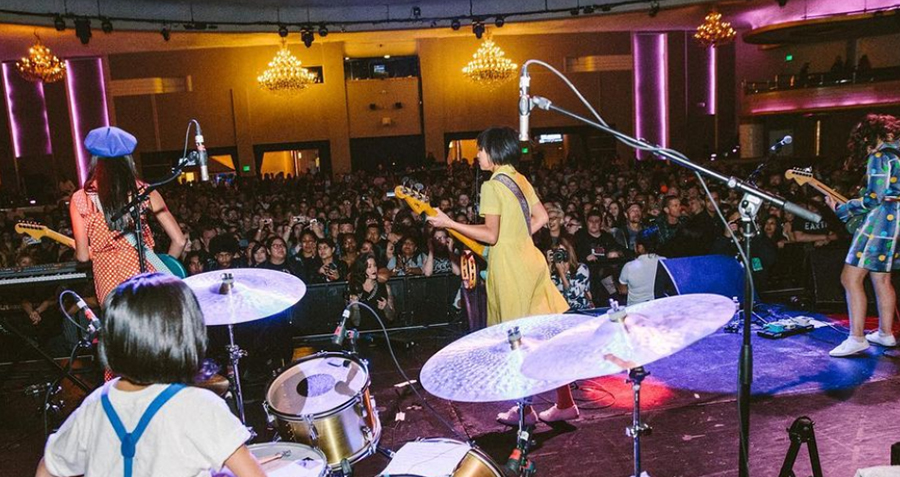 Who Are The Linda Lindas?
Meet the young punk rock band who went viral.
You may not recognize the name, but you may know the video of punk rock group The Linda Lindas that went viral last month. As they gain mass media attention it is time that everyone knows the band and their resolute message.
A video showing a band made up of young girls performing in the Los Angeles public library was uploaded online in May and soon was filling up social media feeds. The video was discovered to be of The Linda Lindas, a punk group made up of girls aged 10-16 performing their song Racist, Sexist Boy. Their raw anger and passion caught the eyes of many as they screamed a message of inequalities they had experienced as a result of their gender and race.
The Linda Lindas is made up of Bela Salazar, Eloise Wong, Lucia de la Garza and Mila de la Garza. Formed in 2018, their name references the 2005 Japanese film Linda, Linda, Linda a film were four classmates form a band.


The notorious video shows the four girls wearing band t-shirts for iconic Riot Grrrl groups such as Bikini Kill. The group's sound is reminiscent of the 80s/90s feminist movement, and their delivery of their message is conveyed in a similar style. Riot Grrrl pioneers such as Kathleen Hanna have praised the group and even invited them to open for her band.
With the video now sat at nearly 900k views what is striking is the group's message. Many would not expect for girls upwards of ten years old to be screaming about such topics like feminism and racism. Women well over that age often feel shy to talk about such topics, yet the Linda Lindas express a feeling of progression and comfort to communicate the injustices that women and especially women of color face on a daily basis.
The group poignantly appeared on The Jimmy Kimmel show a few days ago performing their song Racist, Sexist Boy. The performance was striking, and their brash and bold sound was enticing. They also spoke to Kimmel about the story behind the song. Mila explained it was about a boy that came up to her at school whose parents had told him to stay away from Chinese people, when she said she was Chinese the boy backed away. It's everyday acts like this that make bands like The Linda Lindas so important. Their message is so clearly portrayed within the rage of their music. These young girls have taken the mainstream attention and used it to create a platform for themselves where they can spread their message.
The similarities between Riot Grrrl manifestos and the content of The Linda Lindas lyrics are striking. The fact that these girls aged 10-16 are actively yelling about the numerous injustices that they have already experienced in life is telling of the corruption of a society that is apparently deemed progressive. Their music acts as solace to many young girls who have experienced similar situations but are unsure of what to do about them.
Next up, Solange Creates A Film Showcasing The Work Of The International Woolmark Prize Finalists