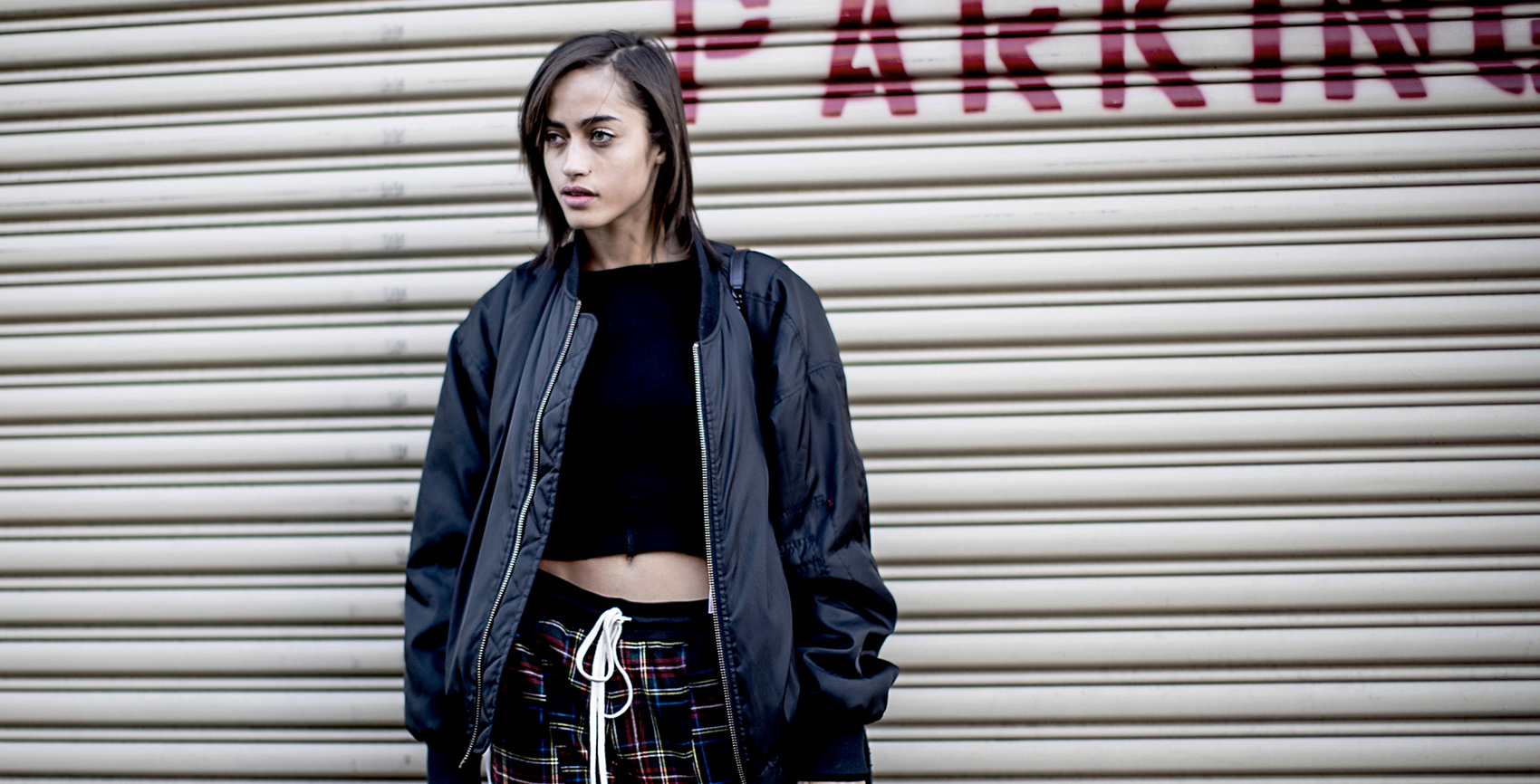 Where To Shop: Our Top 10 Bomber Jackets For Bomb-AF Girls
Take off, baby!
There's no truer measure of an iconic clothing item than a time-honored piece your dear old gramps loves just as much as you do. And no, we're not talking about that dazzling maroon three-piece suit and hat combo that never fails to make you smile – although you could probably write that outfit a love letter of its own. Born out of military utility, created to keep wartime pilots warm in open cockpits, the legendary bomber jacket possesses a rich history which can be traced through various subcultures, including the punk and skinhead movements, gay communities in the 1980s, and of course the fashion pack. Rebellious-looking and yet oh so smart – even Einstein wore his habitually – the easygoing jacket is the wardrobe essential we'll never get enough of. From traditional khaki utility to modern sporty cool, we've put together our top ten explosive edit to get you flying through fall in style.
Haider Ackermann Indigo Onggur Bomber Jacket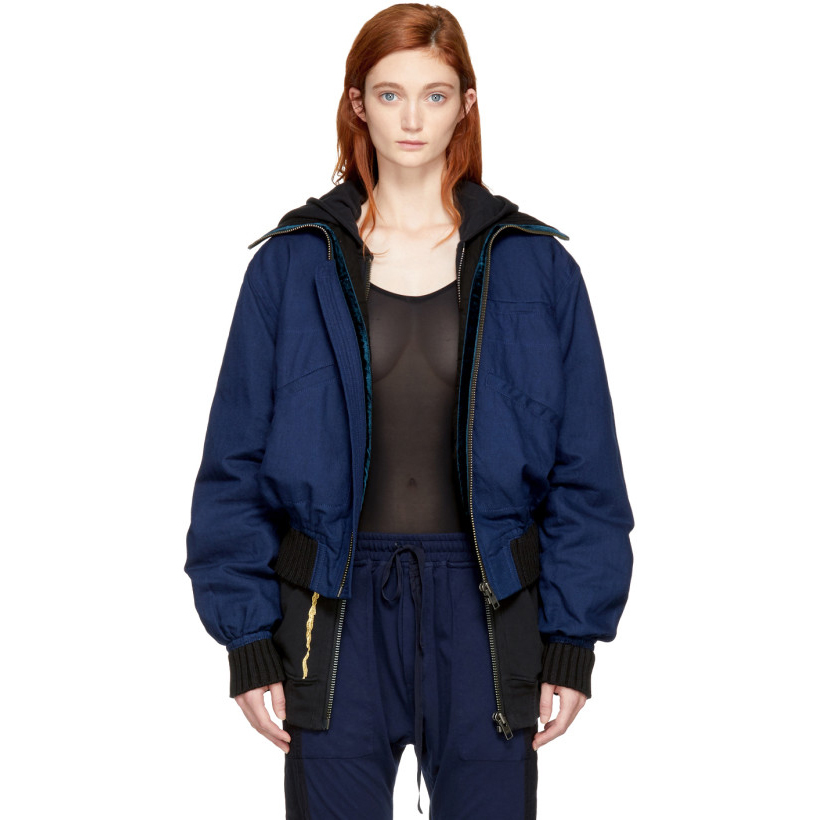 In the traditional waist-length aviator shape and midnight blue color with a statement funnel-neck collar, this pared-down bomber has a versatile workwear edge. We love the velvet trim and gunmetal-toned hardware.
Shop it here for $1580.
Y/Project Khaki Nylon Bomber Jacket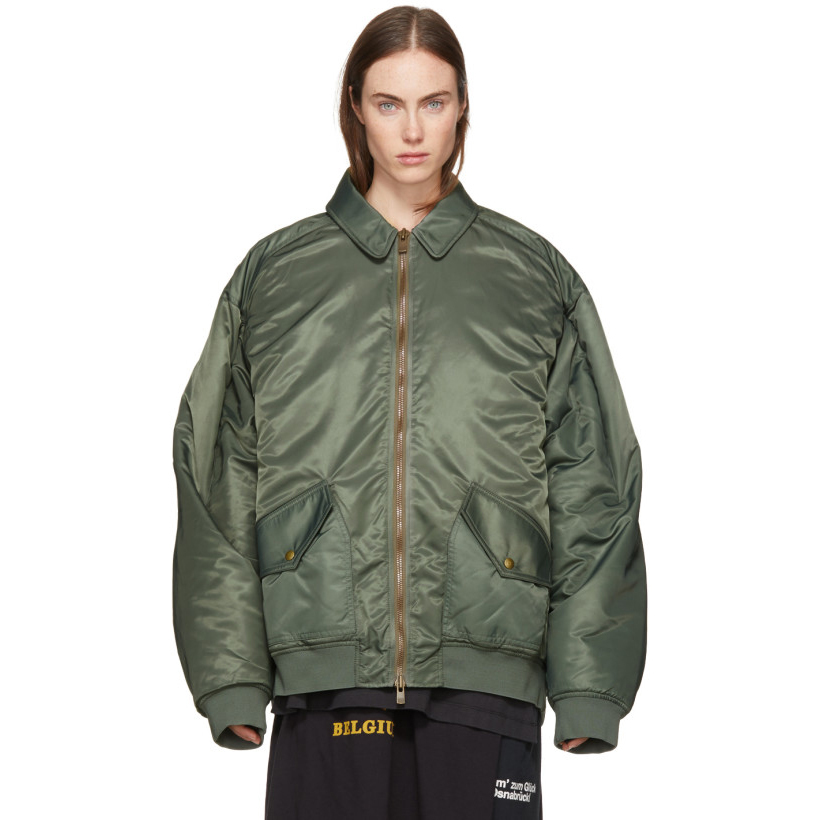 With its oversized fit and in-your-face military vibes, this khaki bomber by Y/Project could have legit been passed down by granddad. The brass-toned hardware and utility pockets add to the unmistakable military vibes.
Shop it here for $1102.
MSGM Navy & Yellow Colorblock Wool Bomber Jacket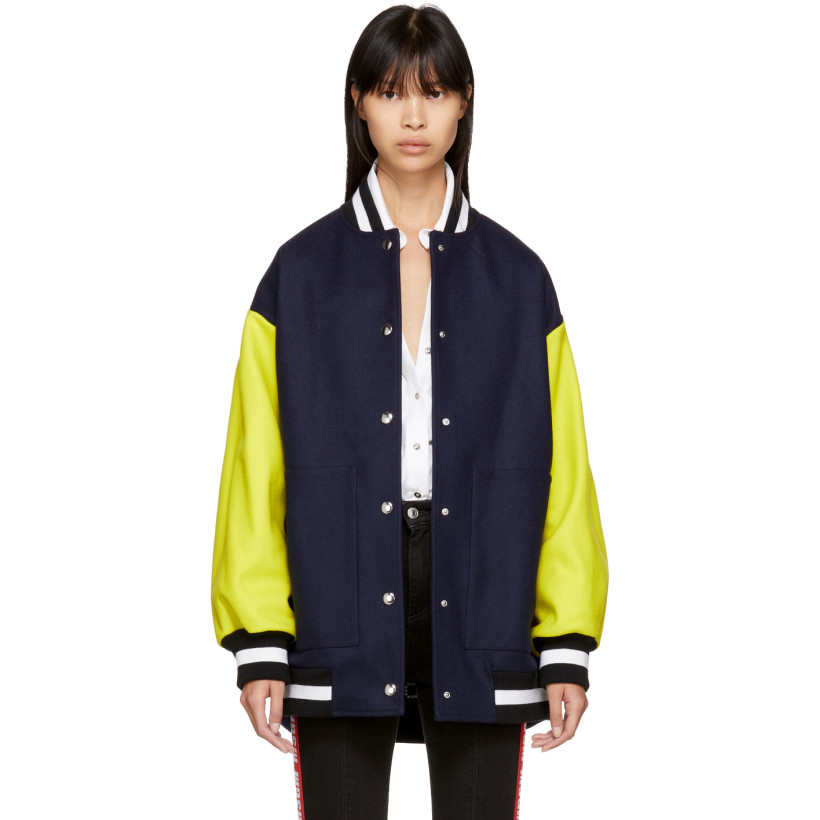 In this sporty wool number by MSGM, you're the sweetheart of an '80s baseball star. The contrasting neon yellow sleeves and striped collar, cuffs and hem evoke Letterman jacket athleisure – and if you ask us, it's got G written all over it.
Shop it here for $731.
Hyke Green MA-1 Big Bomber Jacket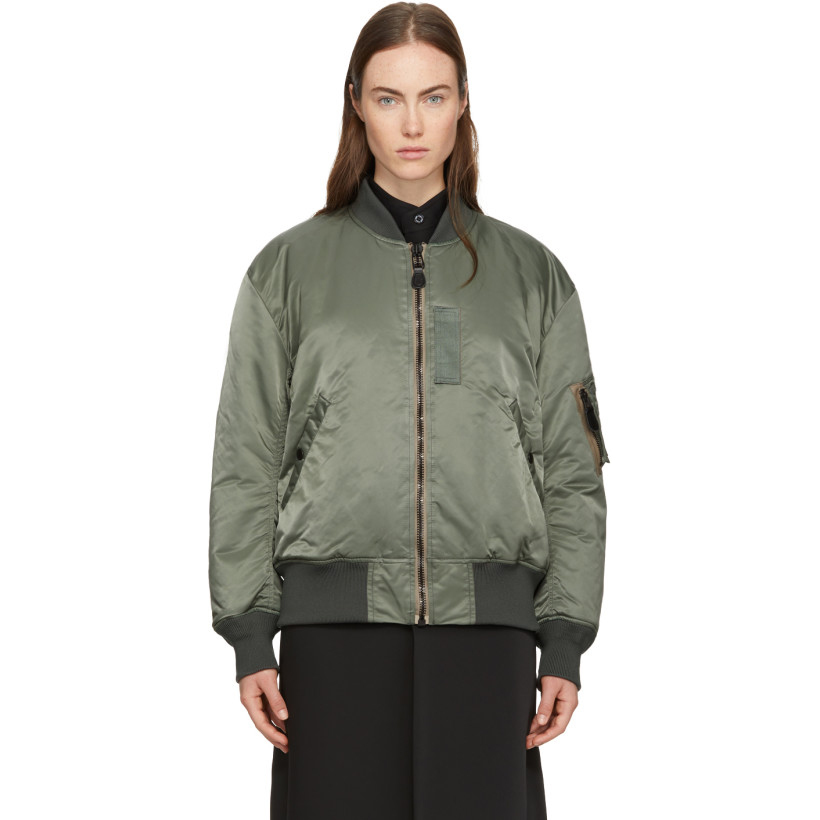 Isn't this "olive grab" green jacket the dreamiest? As if you plucked it from the vintage store, this Hyke Green piece stays true to the style of the original military issue MA-1 with its sleeve pocket, grosgrain patch and antique zip detailing.
Shop it here for $1462.
Acne Studios Burgundy Mills Face Bomber Jacket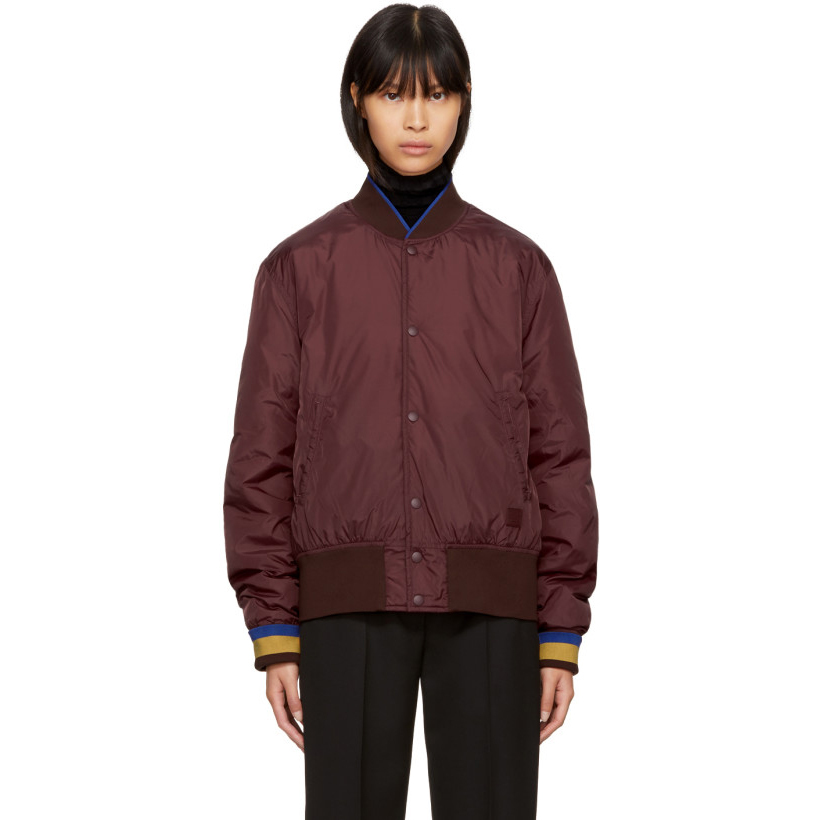 Burgundy-dyed bombers were a punk favorite – a departure from their predecessors as they certainly would have never been released for military use. This Acne Studios take is more on the sporty side, however, with its blue, burgundy and yellow striped cuffs and popper fastenings.
Shop it here for $460.
Army by Yves Salomon Reversible Green & Orange Fur-Lined Bomber Jacket
The military jacket that does what it says on the tin. This Army by Yves Salomon piece has the pumpkin orange lining we all know and love – except it's lamb fur and frickin' reversible. The two-in-one jacket is about as versatile as it gets, sure to endure as a go-to wardrobe staple.
Shop it here for $1998.
Vetements Reversible Grey Alpha Industries Edition Hooded Bomber Jacket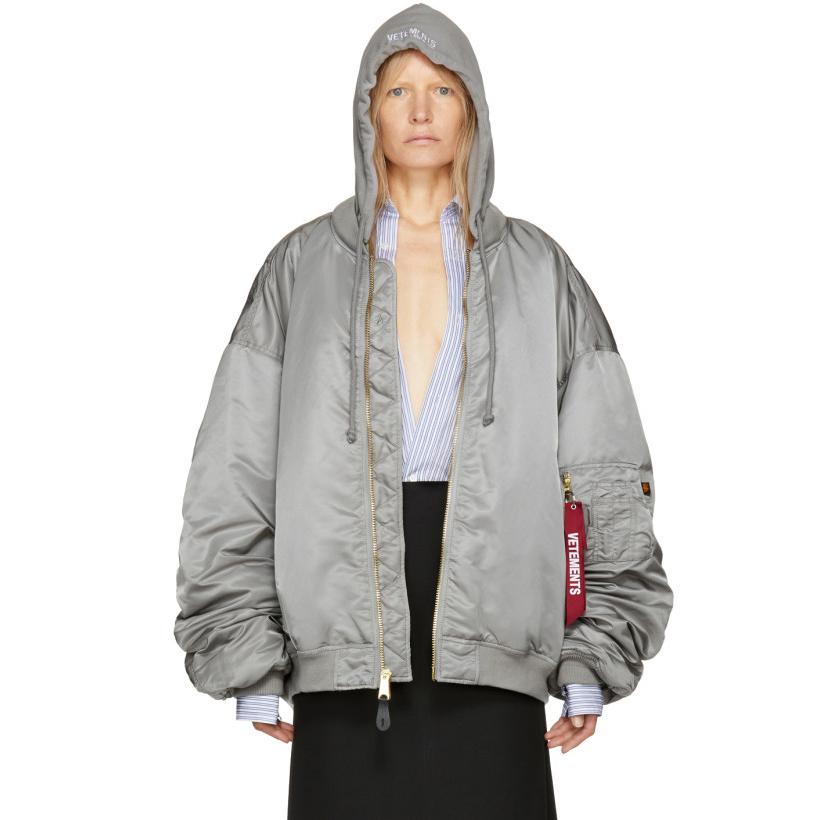 In a color to match the fall skies, this gorgeous gray number, featuring a detachable hood, is the perfect seasonal choice. A step up on the already utilitarian bomber jacket style, this collaborative piece with statement Vetements details will have you covered rain or shine.
Shop it here for $1957.
Opening Ceremony Reversible Black & Orange Nylon Bomber Jacket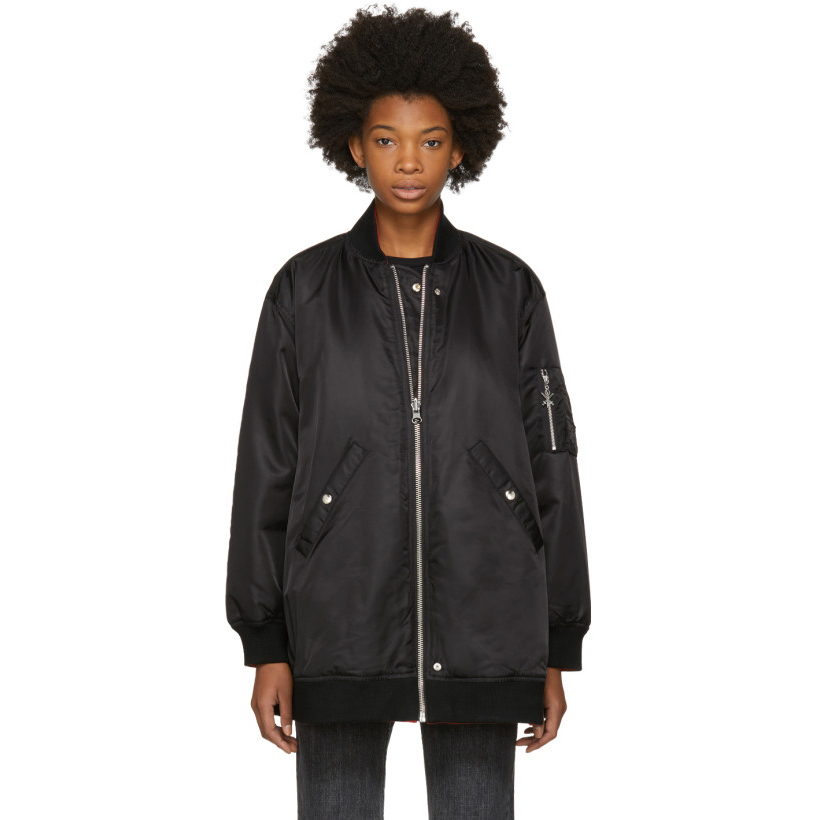 Beholding this beautiful black and orange nylon bomber, you'll be wondering why all clothes can't just be reversible. This no-fuss jacket will look great thrown over just about anything with its minimalist feel and simple silhouette.
Shop it here for $796.
Yang Li Black 'Confrontation' Bomber Jacket
Don't mess with any girl wearing this jacket – she's quite literally got confrontation written all over her. Coming in the classic bomber shape with statement gold-toned hardware, it's a sleek and versatile must-have.
Shop it here for $348.
Perks and Mini SSENSE Exclusive Black Hard Synth Embroidered MA-1 Bomber Jacket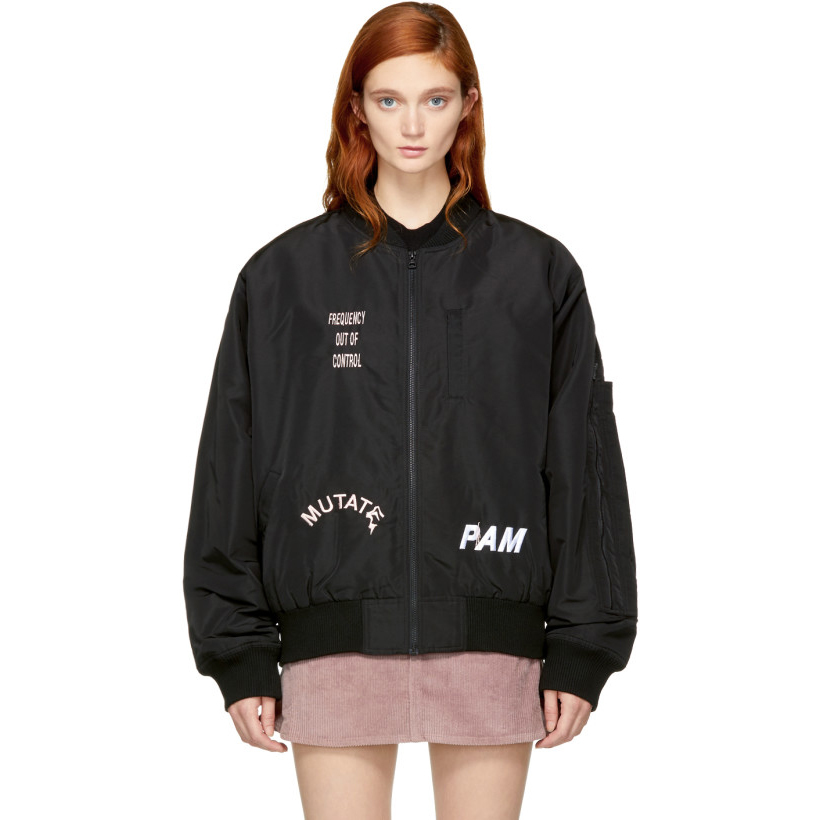 We love the logo and text embroidery on this SSENSE-exclusive Perks and Mini number, bringing the decades-old classic up to date. Much like the previous jacket, a girl in this means business – a fresh addition to your bad-girl uniform.
Shop it here for $926.
For more top tens, take a look at our top ten black sneakers.