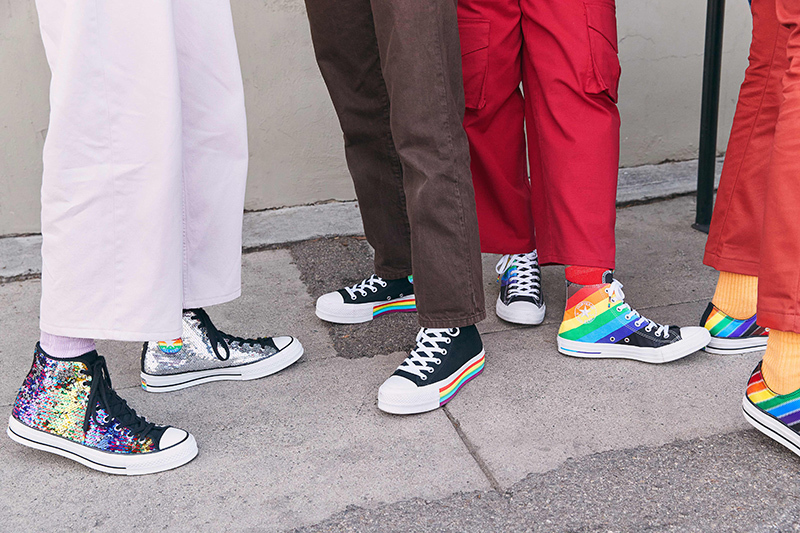 Supportive Sneakers! Our Roundup Of The Brands Supporting BLM and Pride Month
From Pledging Donations To Dedicated Collections
With so much going on in the world at the moment, consumers are being more conscious about where they spend their money and how those brands are reacting and supporting global issues. With Pride Month taking place in June and the Black Lives Matter movement in full force, brands and retailers alike have shown their support and celebration through new releases and donations. If you're not sure where to grab your sneakers from right now and also want to show support, we've rounded up the companies that are giving back.
Converse
The All-Star brand kicked off Pride Month with a release of it's 'Pride' Collection which included classic silhouettes like the Chuck Taylor All-Stars being redone in the rainbow colors of the LGBTQ+ flag. Funds from the collection were shared out between several organizations including It Gets Better Project and Ali Forney Center. Converse has also made donations totaling over $1million USD to both local and global LGBTQ+ organizations. The sneaker brand also recently signed WNBA star Natasha Cloud who dominates the courts and social media as she uses her accounts to speak out about racial injustices, equality for women, and support for the LGBTQ+ community.
New Balance
The sportswear brand is most known for their running trainers and this year decided to use Global Running Day (June 3rd) to give back by donating 10,000 pairs of running shoes to Black Community Organisations in the Atlanta in memory of Ahmaud Arbery, who was shot and killed earlier this year whilst jogging in his local area.
Jordan Brand
Basketball star Michael Jordan and the Jordan brand have committed to donating $100million USD over the next 10 years in the fight against racial equality and social justice. Education is also massively important to the Jordan brand who set up the Jordan Wings program in May to assist in providing access to education and opportunities to Black youth who are faced with systematic racism when trying to access education.
Nike
Alongside a $40million USD contribution to the US Black community with Converse and Jordan brand which will go towards organizations that focus on "social justice, education and addressing racial inequality in America". Nike will also support 20 LGBTQ+ organizations with grants provided by the Charities Aid Foundation Of America.
Next up, 10 Inspiring Black Content Creators To Follow Right Now