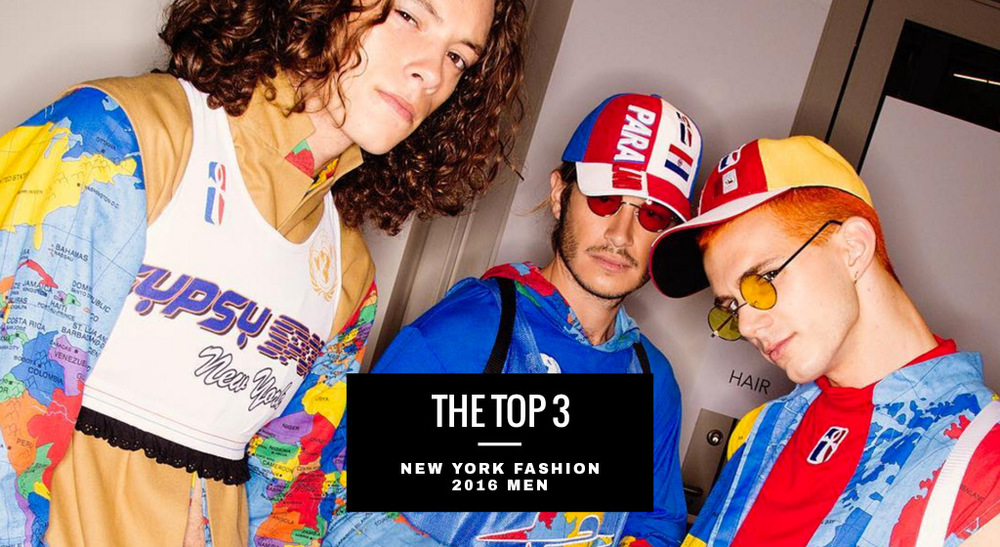 New York Fashion Week Brings Out The Men
Last but not least it was time for New York Fashion Week to bring out their SS17 menswear collections. It's a wrap for this season and we got the highlights for you.
1. Feng Chen Wang
Wang is such a huge name in fashion. Alexander Wang, Golf Wang (geeez, even we are laughing about this association) and of course FENG CHEN WANG.With a strong focus on technical outerwear, Wang's (we mean Feng Chen) garments range from the relatively minimal with a forward-thinking functionality, to the boldly conceptual and wholly futuristic. Each collection is inspired by Wang's life experiences and social interactions – tackling subject matter both deeply intimate, and widely relatable. In a style that has become signature, this subject matter is directly spelled out in each collection through simple word choices that are boldly embroidered across garments.
All Images Courtes of Feng Chen Wang
2. Gypsy Sport
GYPSY SPORT might not be for everyone, but they always know how to show you the real New York: the models represent every age class, gender and sexuality, everything from the Upper East Side to Williamsburg up to the Bronx. Being the sportswear brand for the new world, SS17 shows elongated jerseys, lace, skirts and streetwear.
All Images Courtesy of Gypsy Sport
3. N. Hoolywood
We bet you didn't see this one coming. But N. Hoolywood is on this list because of it's simplicity and the scuba fabric. Scuba Duba Doo! Designer Daisuke Obana founded N.HOOLYWOOD back in 2000 in Harajyuku/Tokyo and is giving us a nautical theme for SS17.
All images Courtesy of N.HOOLYWOOD
Also check out what happened in Berlin, Milano, Paris and London.
Image Slider from here