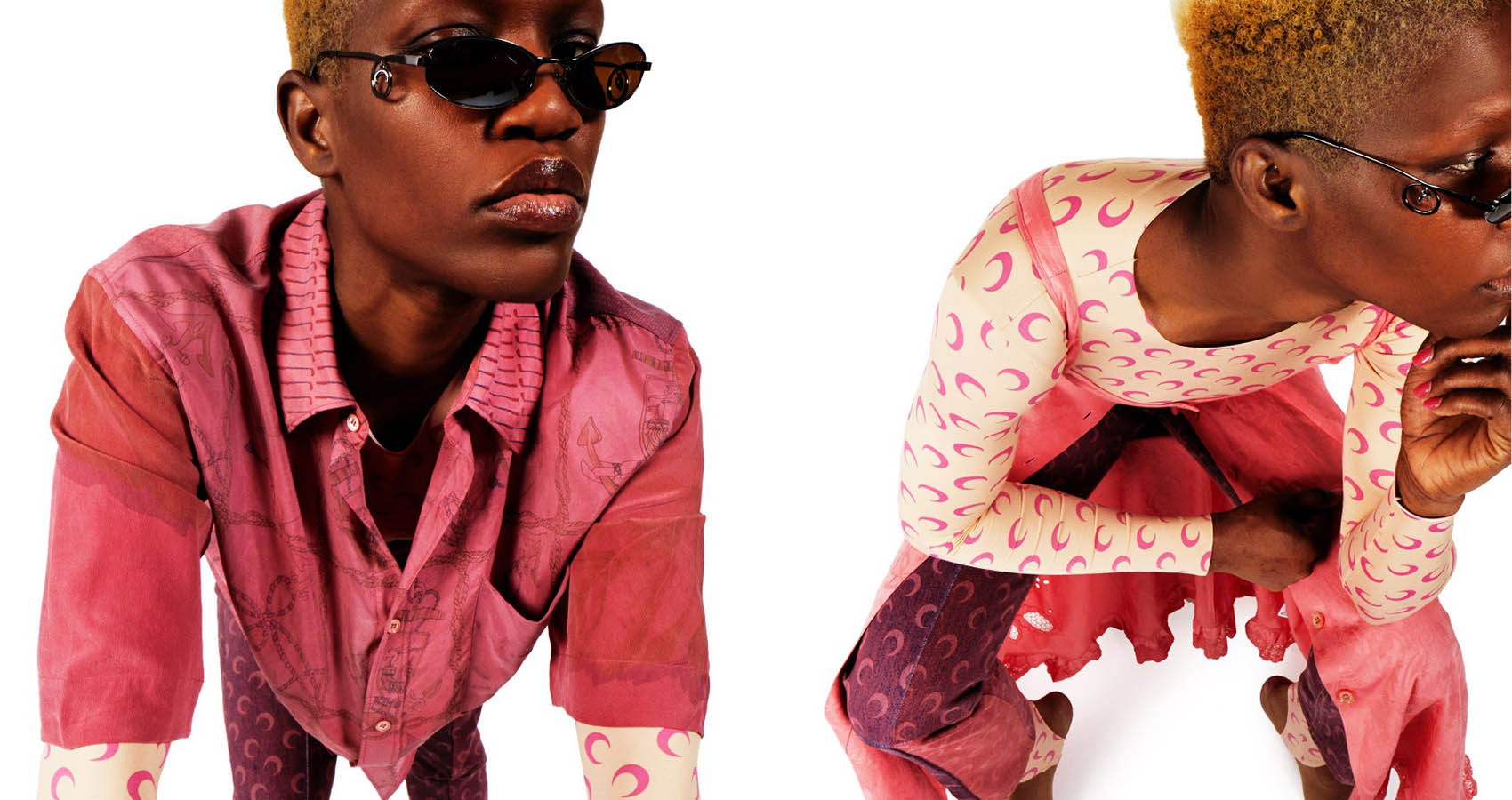 We Love The Webster X Marine Serre 'To The Moon And Back'
Fashion-house and retailer have collabed for a spring capsule collection.
Marine Serre, creator of the iconic moon-print second-skin that Instagram has been fawning over for the last year, has synergized with luxury retailer, The Webster, to create a spring-time capsule collection.
The flamingo pink line is both ecologically sound and aesthetically eye-catching. There are 6 pieces in the collection—dresses, trousers, tops, moon-skins and more—each made from upcycled materials. The tops and second-skins are made from regenerated silk scarves and the dress from upcycled pillow cases. Even the denim pants are made from 'regenerated' material which is one of the hardest materials to find and use sustainably. This sets an important precedent for the future of high-fashion-house sustainable consciousness—making a pair of new jeans uses 1,800 gallons of water so Serre's active rejection of fast-fashion production tactics shows that you can create fire fashion that's also fair for the planet.
Star of Netflix's "Bling Empire", Jaime Xie stuns as the face of the new campaign and rocks the 6-piece collection in a varying range of over-layered-lewks. One of our personal faves being the dress-over-jeans combo that Ashley Tisdale brought to life in the early 2000s and Marine Serre is here to resurrect in 2021.
Serre describes itself as "a hybrid mixture of classic French couture shapes, sportswear references and fabrics, and a decisive ecofuturist thematic and vision," and this continued pledge to upcycling affords just that. The disclaimer that comes with each item makes it clear that this ecological commitment creates individualism in each piece. As the by-line says "Please note, each garment is unique and made from upcycled materials. Each item will differ greatly from the item pictured."
Of the collaboration between Serre and The Webster, it seems the pair's energies have always been on intertwining paths. Laure Hériard Dubreuil, CEO and founder of The Webster said that "Since the moment, we witnessed Marine's unique and thoughtful designs, we knew she would be a standout in our curation. Our clients are absolutely enamored with the styles each season, seeing such a loyal following develop as the brand evolves. Her futuristic approach and passion for sustainability was the start of deep amount of respect and admiration for Marine and the brand she has created. We are so honored to share this capsule with our clients and continue to watch our partnership continue to blossom!"
Serre seems just as gassed about the partnership, commenting that "The Webster has been a great supporter in our regenerating program since the beginning. We are grateful for the trust."
Launched on April 5th, the collection is available in all The Webster locations and online. Check it out here.